Social Club x Facebook Gaming: The AFTER HOURS Live Streams Series
An Exclusive Four Week Series Featuring In-Stream Rewards for Linked Viewers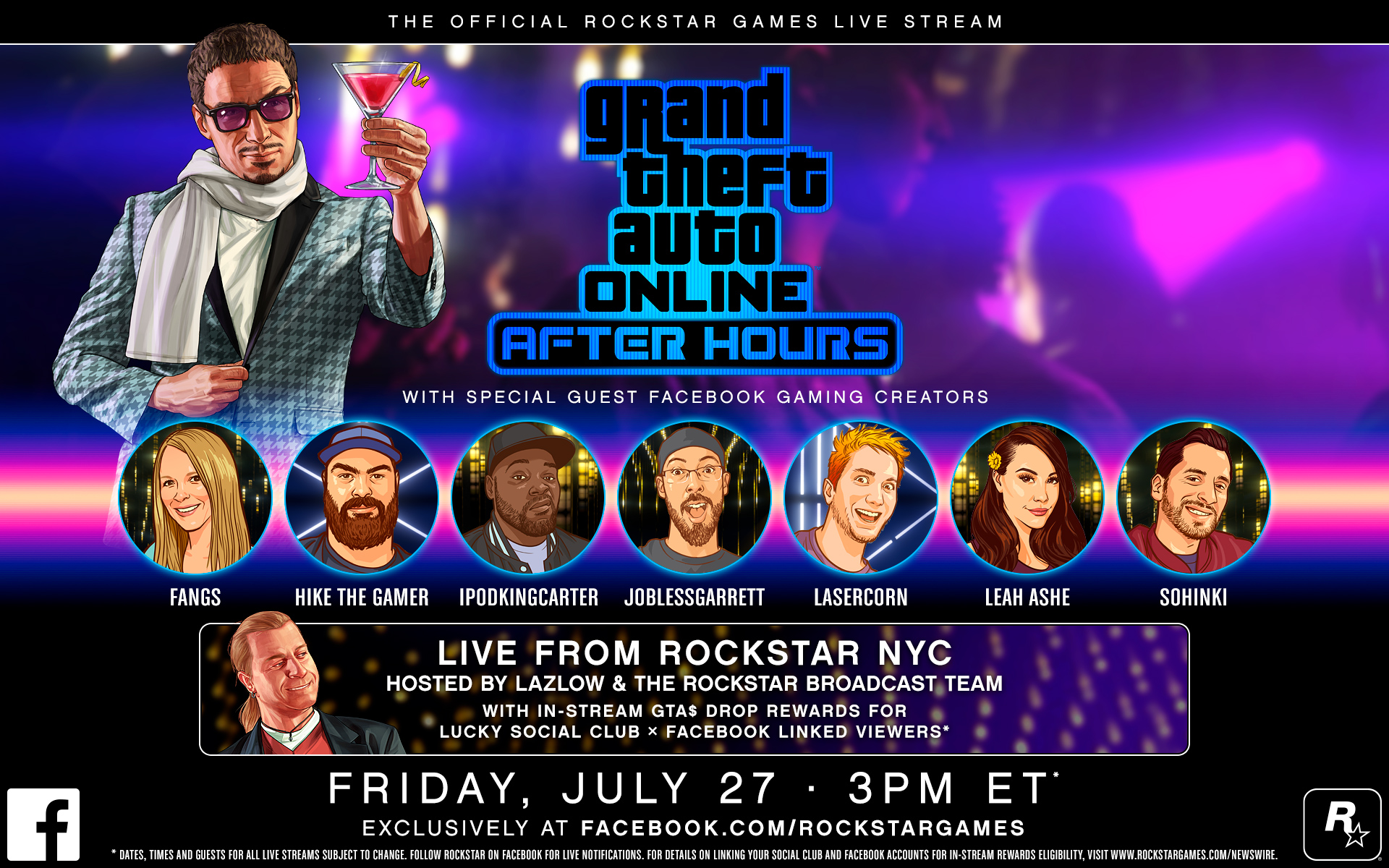 Get ready for the GTA Online: After Hours Live Streams Series exclusively on Facebook where lucky linked viewers will have the chance to score in-stream GTA$ rewards.
The series will kick off with the official Rockstar Games event stream happening this Friday July 27th starting at 3pm Eastern at the Rockstar Games Facebook page: www.facebook.com/rockstargames and at fb.gg, Facebook's new home for gaming videos.

Hosted by Rockstar's own Los Santos lounge lizard Lazlow and the Broadcast team, we'll be joined live at Rockstar NYC by special guest Facebook Gaming all-stars including longtime GTA Online creator friends Hike the Gamer, Jobless Garrett & Leah Ashe, iPodKingCarter, Fangs, plus Lasercorn and Sohinki of the Smosh Games crew. We'll be rolling up to Tony's Fun House in the Festival Bus, tearing up the dance floor, popping bottles of Blêuter'd – then painting the town red doing Club Management Missions to make our club the spot the hottest in Los Santos, fending off rival outfits in Business Battles and more.
And throughout the stream in the chat, Facebook linked Social Club members (details below on exactly how to make sure you're all linked and eligible) should look out for in-stream rewards as we make it rain on lucky linked viewers with GTA$ cash drops.
Then, tune in over the weekend to the first in the series of streams from Facebook Gaming Creator friends with GTA$ drops to be earned and claimed by lucky linked viewers on their channels. This weekend's schedule is as follows and we will be announcing more streams in the series with partner channels next week:

Note that all dates, times and guest channels for live streams are subject to change so make sure you're following Creator channels as well as Rockstar Games on Facebook for live notifications.
Don't miss out on your chance to earn GTA$ by watching this exclusive series of streams on Facebook and playing Grand Theft Auto Online on PlayStation 4, Xbox One, or PC.
To make sure you're all set:

1. Sign in to your Social Club account
2. Link your Social Club account to your Facebook account
3. If you're playing on PlayStation 4 or Xbox One, make sure your PSN ID or Gamertag are linked to your Social Club account

Hook it all up now at https://socialclub.rockstargames.com/rewards/facebook.
Sign in
To gain access to the Social Club you will need to sign in with a valid Social Club account.