New from the Southern San Andreas Super Sport Series: Target Assault Races & The Vapid Caracara
Plus Discounts on the Mammoth Avenger, Weaponized Vehicles & More
New Mode: Target Assault Races
The Southern San Andreas Super Sport Series races on with a brand new mode. Attention all wheelmen and gunners - it's time to team up and test your chemistry in a brand new race mode, pitting speed vs precision in a fight for first place.
In Target Assault Races, now available to play in GTA Online, teams of two strap into a range of weaponized vehicles - one behind the wheel, and the other on the trigger. The Gunner is responsible for destroying targets from a mounted gun, while the Driver races to outmanoeuvre the opposition for additional points on each lap. After each lap the Gunner and the Driver switch roles, and whichever team finishes with the most points wins.
Finishing laps in the top three and passing through Checkpoints ahead of your opponents will earn you bonus points, but accuracy is the name of the game here. You'll score more points for smaller targets, and even more for hitting them dead center. Scatter-shooters may feast on large green targets, but if you're racking up bullseyes on the elusive small red target, you'll soon eclipse them on the leaderboard.
As the Driver, play to your teammate's strengths — if your Gunner's on a streak, ease up on the throttle and let them rip through a few more targets before rushing to the next Checkpoint.
Target Assault Races are available to play today in GTA Online, with seven unique tracks featuring an assortment of assault-minded vehicles, including the new Vapid Caracara. Jump into the Target Assault Series blip on the map and earn Double GTA$ and RP all week long.
New Vehicle: The Vapid Caracara
When it comes to barreling through traffic while your buddy rips through foes with a rear-mounted Minigun, it doesn't get much bigger than the Vapid Caracara. Pick up the Vapid Caracara today exclusively from Warstock Cache & Carry and take it for a spin in the new Target Assault mode.
Discounts
Flex your aerial might over the lowly citizens of Los Santos with the Mammoth Avenger flying base of operations, now 30% off through April 9th. Once you obtain this soaring tower of doom, you'll also find discounts on Weapon & Vehicle Workshops, to upgrade your arsenal of destruction while on the move.
The Avenger will help you dominate from above but you'll still need firepower back on the ground too. Luckily, Warstock Cache & Carry has got you covered — check out this week's full list of discounts below:
ASSAULT VEHICLES
Mammoth Avenger - 30% off
Turreted Limo – 30% off
Karin Technical Aqua – 30% off (Buy It Now & Trade Price)
Karin Technical – 30% off (Buy It Now & Trade Price)
HVY Barrage – 30% off (Buy It Now & Trade Price)
HVY Insurgent – 30% off (Buy It Now & Trade Price)
Brute Armored Boxville – 30% off (Buy It Now & Trade Price)
VEHICLE UPGRADES
Mammoth Avenger Weapon Workshop - 30% off
Mammoth Avenger Styles - 30% off
Mammoth Avenger Vehicle Workshop - 50% off
Mobile Operations Center Vehicle Workshop - 50% off
Engines – 25% off
Turbo – 25% off
Brakes – 25% off
Transmission – 25% off
Liveries – 25% off (includes Aircraft)
Vehicle Armor - 25% off (includes Aircraft)
Premium Race & Time Trial Schedule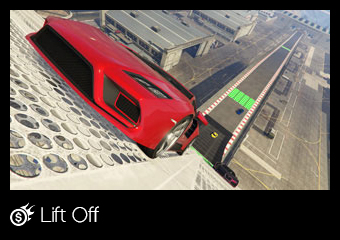 PREMIUM RACE: "LIFT OFF" (LOCKED TO SUPER)
Compete in this week's Premium Race, Lift Off, where the top three earn GTA$ and all participants get triple RP regardless of finishing position. Launch Premium Races through the Quick Job App on your in-game phone or via the yellow corona at Legion Square.
TIME TRIAL: "OBSERVATORY"
Check out this week's Time Trial, Observatory. Set a waypoint to the marker on your in-game map and enter via the purple corona. Beat par time and you'll be duly rewarded with GTA$ & RP.
Sign in
To gain access to the Social Club you will need to sign in with a valid Social Club account.