GTA Online: New Benefactor Streiter, Snowfall and Upcoming Festive Gifts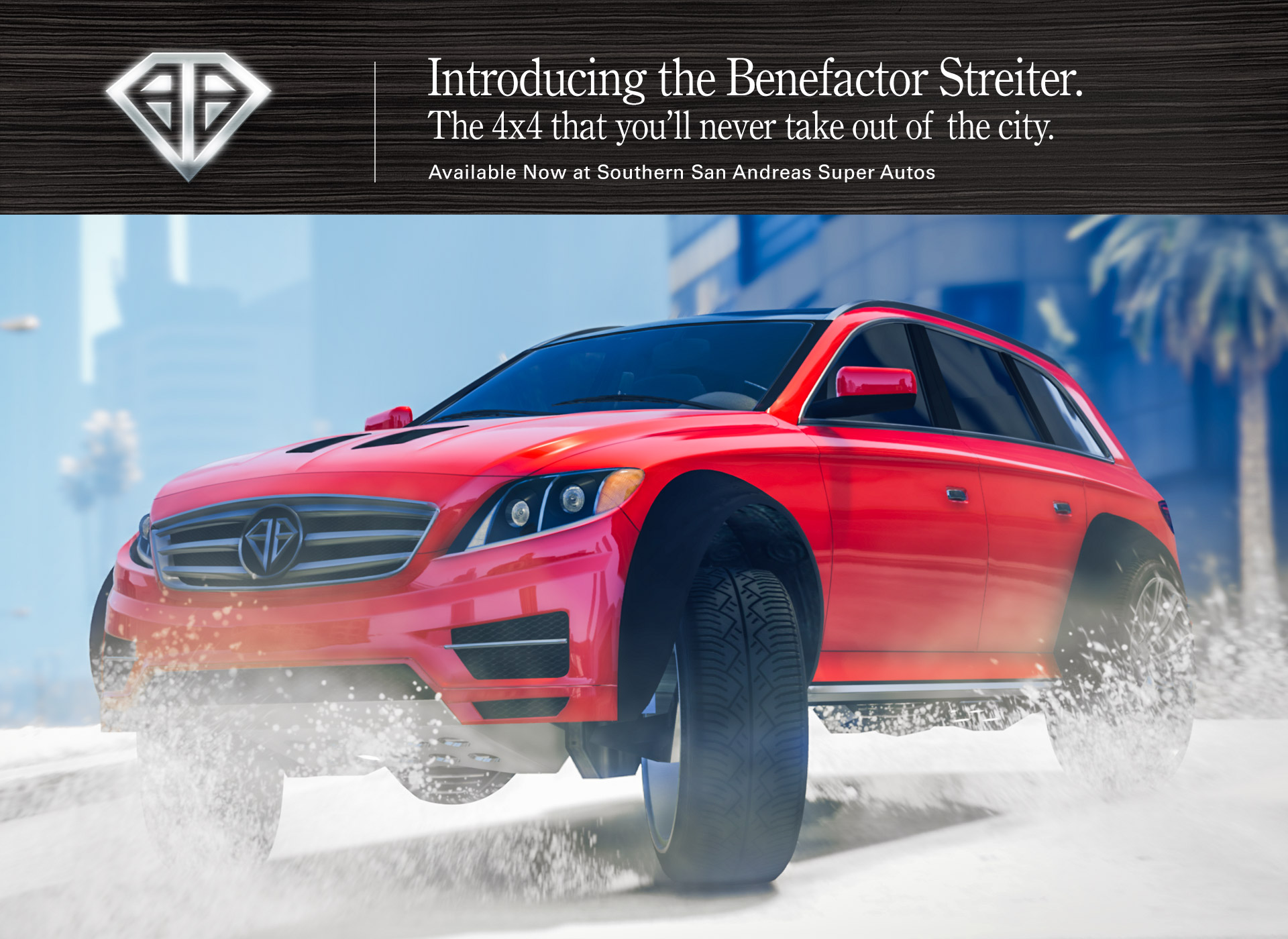 In a world of compromise, the Benefactor Streiter sends a clear message - that despite what your lawyer says, you don't always have to settle. A perfect combination of sleek aesthetics and raw 4x4 power, the Streiter is an all-purpose Sports class vehicle that takes city and country life in its mile-eating stride with ease. Pick yours up at Southern San Andreas Super Autos today.
SNOWFALL COMES TO SOUTHERN SAN ANDREAS
As you peek out of the window of your Executive Office this morning, you'll notice something markedly different about the landscape. An overnight snowstorm has painted Southern San Andreas with a fresh, thick coat of the white stuff and the experts predict it'll be sticking around for the next few days. Pick up snowballs by simply hitting D-pad left or G on your keyboard and hurl a few at some unsuspecting locals for a quintessential holiday experience. And be sure to enter your snow-based shenanigans into the #FESTIVESURPRISE2017 Snapmatic Contest, accepting entries through January 1st.
PICK UP A FREE CAR & MORE THIS FESTIVE PERIOD
Whether you've been naughty or nice this year, there are gifts aplenty for all in GTA Online. Keep an eye out for a sled-load of holiday gifts - including today's 5 free liveries for the Thruster, a celebratory Christmas Eve present plus a gratis Albany Hermes Muscle Car (and much more!) for logging in this Monday, Christmas Day Dec 25th.
Read up on all the festive activity here, and be sure to follow Rockstar on Twitter, Instagram and Facebook to make sure you don't miss out on any of the goodies coming your way. Happy Holidays!
Previously:
Festive Surprise 2017, Ubermacht Sentinel Classic and Occupy Adversary Mode now in GTA Online
Countdown the Days to the GTA Online Festive Surprise with Daily Gifts
Sign in
To gain access to the Social Club you will need to sign in with a valid Social Club account.