L.A. Noire Custom Consoles Giveaway Series (Part 3 of 4): Win the Nintendo Switch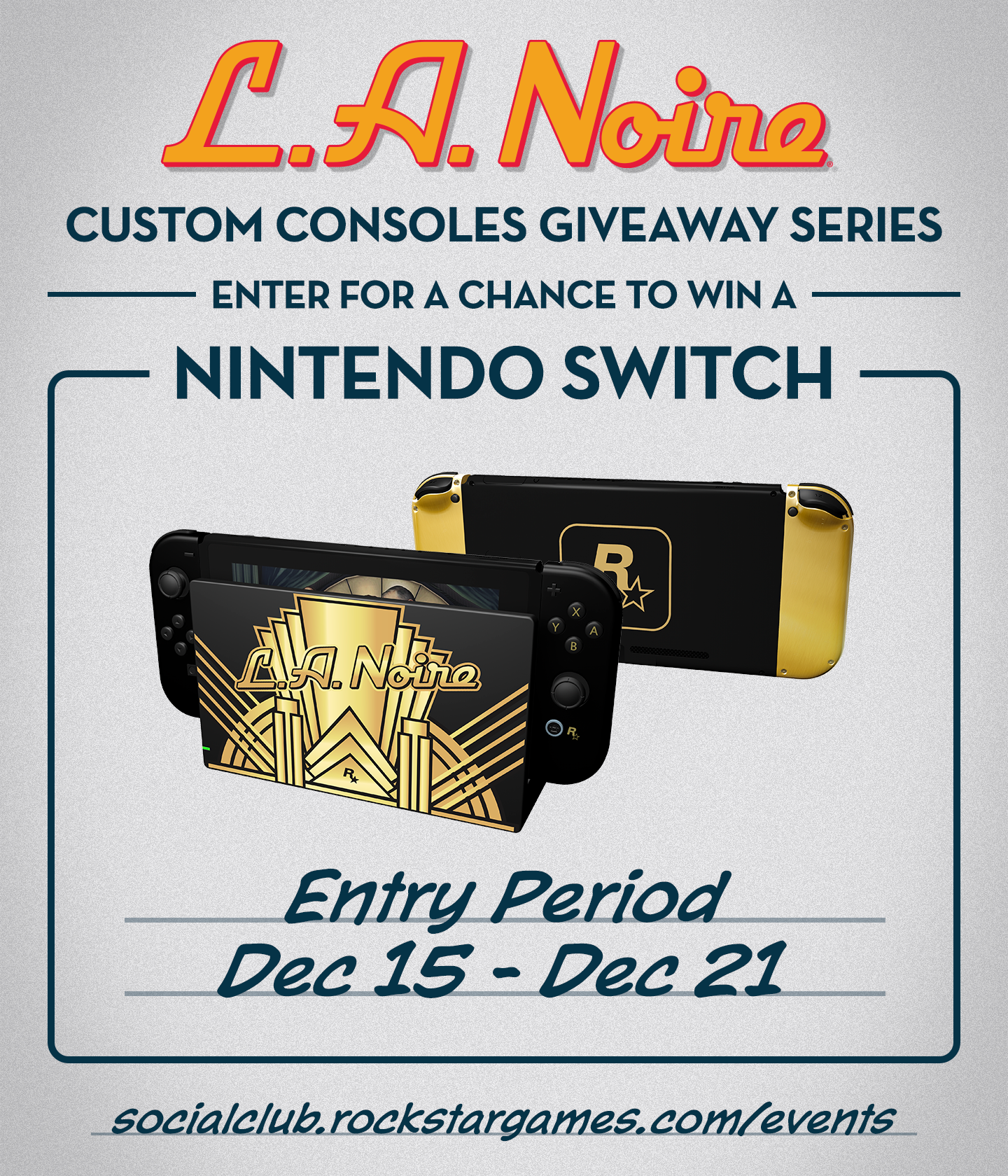 Week 3 in our 4-part sweepstakes series is in honor of the recent release of L.A. Noire on Nintendo Switch with the chance to win an exclusive custom Nintendo Switch console, featuring an intricate, retro-inspired L.A. Noire design.
Through Thursday, December 21st at the Social Club Events page, enter the L.A. Noire Custom Nintendo Switch Social Club Sweepstakes for the opportunity to claim this one-of-a-kind console. L.A. Noire for the Nintendo Switch features the complete original game and all additional downloadable content, with specific enhancements, including a Joy-Con mode with gyroscopic, gesture-based controls, HD rumble and new wide and over-the-shoulder camera angles, plus contextual touch screen controls for portable detective work.
Be on the lookout next week for our final L.A. Noire Sweepstakes giveaway, featuring a custom gaming PC and HTC Vive to celebrate the recently released L.A. Noire: The VR Case Files.
NO PURCHASE NECESSARY. Void in certain countries and where prohibited. Must be 18 years or older. See Official Rules and Privacy Policy for eligibility details.
 
Previously:
The L.A. Noire Custom Consoles Giveaway Series: Enter Now to Win the Xbox One X
L.A. Noire Now Available
L.A. Noire Official Nintendo Switch Trailer
Sign in
To gain access to the Social Club you will need to sign in with a valid Social Club account.