The Rockstar Warehouse Holiday Sale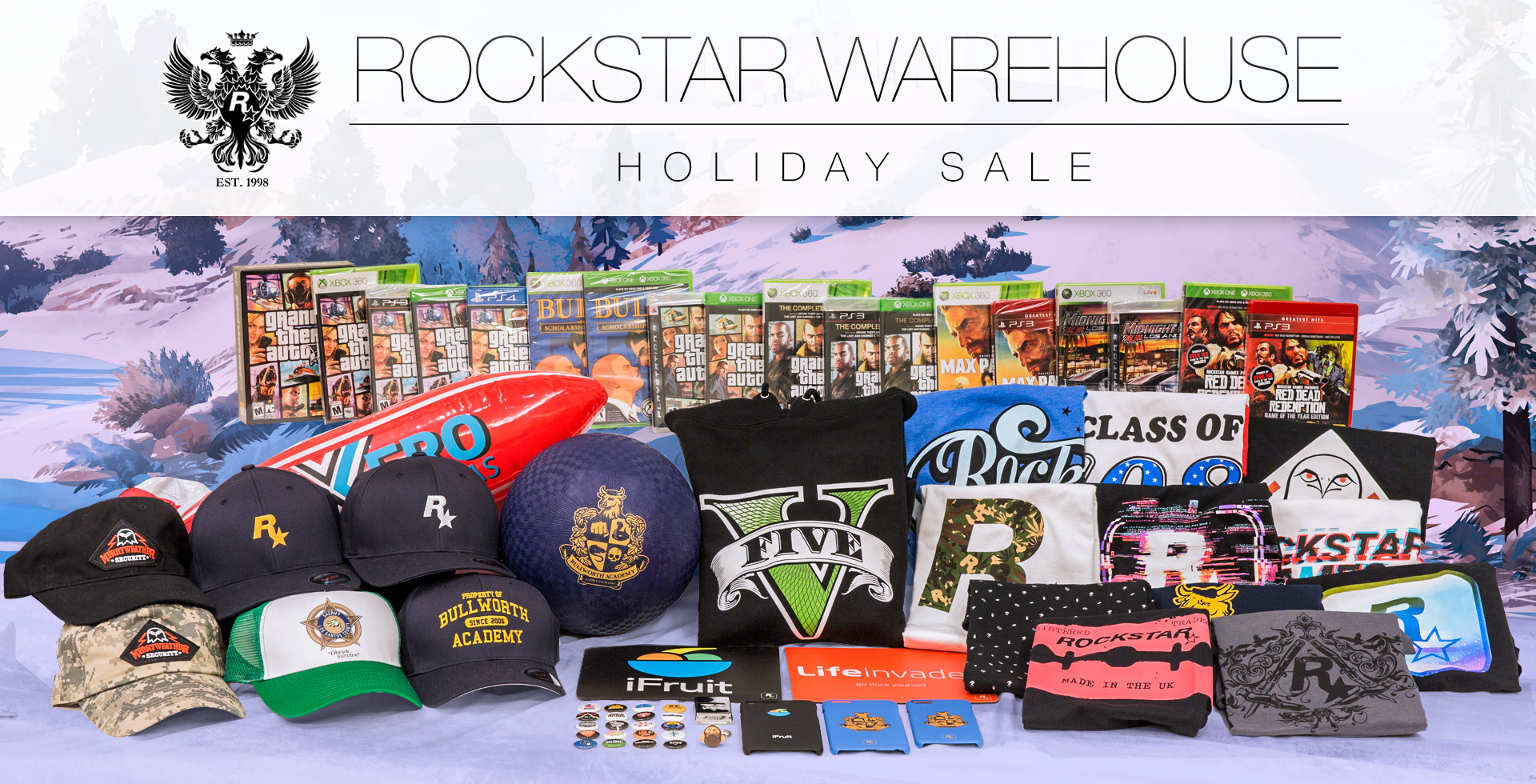 Now through Thursday, December 21 hit up the Rockstar Warehouse and get 40% off select games including Grand Theft Auto V, Red Dead Redemption, and Bully along with all gear and collectibles, including recently released apparel like the Rockstar Logo Black Out and White Out Tees as well as trusty favorites like the Los Santos Est. Tee, the GTAV Tee and much more.
Also, when you purchase GTAV on PlayStation 4, Xbox One or PC you'll score a bonus GTA$1,250,000 – some seed money to get you started in Grand Theft Auto Online as you prepare to tackle the apocalyptic adventure in The Doomsday Heist.
Finally, just for the holidays, we've got two bundles featuring some fan favorite gear at the Warehouse. The Rockstar Gear Bundle includes the popular Noise Rockstar Logo Tee, and Navy & Gold Rockstar Baseball Cap. Proud Bullworth alumni can take home the Bully Gear Bundle that includes the Bullworth Academy Crest Tee, Dodgeball and the Property of Bullworth Academy Cap.
Make sure to submit your Warehouse orders by December 14th if you're in the US or Canada, and by December 19th if you're in the UK, to ensure you can receive your items in time for Christmas.
Offer valid on rockstarwarehouse.com only. Offer excludes pre-orders, select Grand Theft Auto Online digital products, and L.A. Noire games for PlayStation 4, Xbox One, Nintendo Switch, and HTC Vive. Offer does not apply to previous purchases, credits, or gift cards. Offer not valid in Russia. Limitations may apply, offer may not be available to all users, and quantities per user may be restricted. Bonus $1,250,000 for Grand Theft Auto Online offer valid on PC, PlayStation 4, and Xbox One formats of Grand Theft Auto V only. Bonus $1,250,000 for Grand Theft Auto Online is delivered as digital code via email upon purchase. Codes expire on 11/01/2018. PC platform game purchases will receive PC bonus code. Xbox One platform game purchases will receive Xbox One console bonus code. PlayStation 4 platform game purchases will receive PlayStation 4 console bonus code. PLEASE NOTE: PSN codes are not valid in all countries. Please check code validity in your country before purchase. Discount applied before shipping and taxes are added (if any). Offer valid through Thursday, December 21st, 2017, 11:59pm EST. EST is local time in New York City, USA. Offer cannot be redeemed for cash. Details of offer are subject to change and may be canceled without notice.
Sign in
To gain access to the Social Club you will need to sign in with a valid Social Club account.