#Doomsday Event Week
To celebrate today's release of The Doomsday Heist in GTA Online, we're giving players the opportunity to score big in more ways than one. Try your luck in the Doomsday Social Club Sweepstakes for a chance to walk away with a stockpile of GTAV gear, put your Snapmatic skills to the test in the #DOOMSDAY Snapmatic Contest and take advantage of in-game bonuses with double GTA$ on Bodyguard/Associates salaries and a wide-ranging Ammu-Nation sale running through December 18th.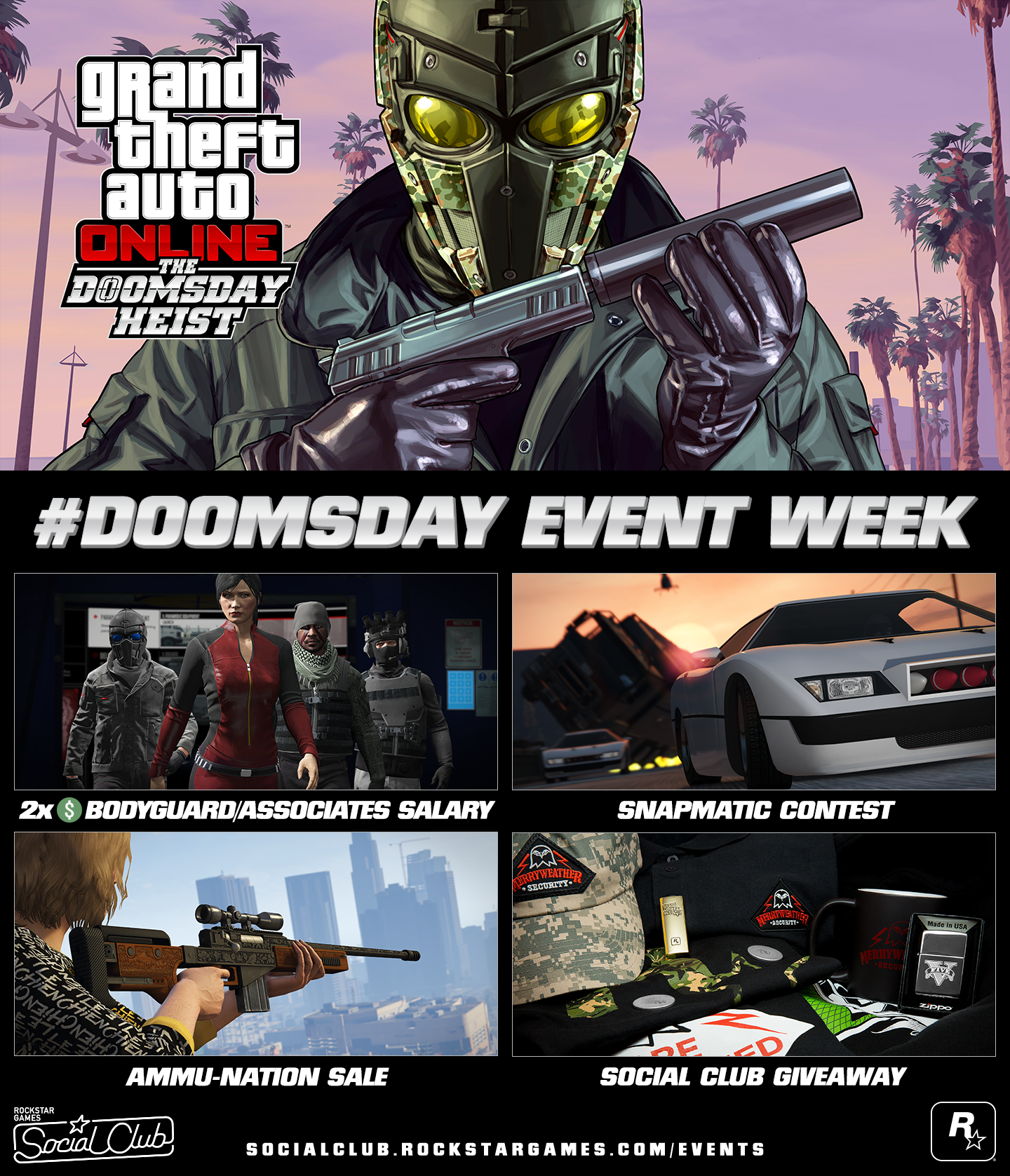 THE #DOOMSDAY SNAPMATIC CONTEST
Whether you're exploring the ocean depths in the Stromberg or raining fire from above strapped to a fully-armed Thruster, we're challenging the GTA Online community to share their greatest Doomsday moments on Social Club in the #DOOMSDAY Snapmatic Contest. The five winning Snapmatic photographers will be awarded a cool GTA$1,000,000 for their in-game handiwork using either the iFruit camera or framing up the perfect shot with the Rockstar Editor.
Valid submissions will need to be tagged with #DOOMSDAY on Social Club and submitted by Monday December 18th to be eligible. Please see the Official Rules and Privacy Policy for eligibility details.
AMMU-NATION SALE AND DOUBLE GTA$ SALARY FOR BODYGUARDS & ASSOCIATES
Pulling off The Doomsday Heist requires a disciplined and motivated crew of morally flexible individuals. Keep team morale high with Double GTA$ Salary for Bodyguards & Associates in Freemode, now through December 18th.
To keep you fully locked and loaded for all your heisting needs, take 25% off the following items at Ammu-Nation:
SMGs

Pistols

Shotguns

Sniper Rifles

Machine Guns

Body Armor

Explosives and Throwables

Luxury Finishes

DOOMSDAY SOCIAL CLUB SWEEPSTAKES
The Doomsday Social Club Sweepstakes is offering up an impressive haul for five lucky winners, including the Camo Merryweather Security Hat, Black Merryweather Tee, Merryweather Polo, GTAV Hoodie, Black Rockstar Camo Tee, Merryweather Heat Changing Mug, GTAV Gold Bar USB, GTAV Power Magnet and GTAV Chrome Zippo. Enter at any time between now and Monday, December 18th at the Social Club Events Page.

PREMIUM RACE & TIME TRIAL SCHEDULE
Compete for serious GTA$ & RP with this week's Premium Stunt Race and Time Trial:
Premium Stunt Race - "East Coast" (Locked to Super)
Time Trial - "Up Chiliad"
Launch Premium Races through the Quick Job App on your in-game phone or via the yellow corona at Legion Square. The top three finishers will earn GTA$ and you'll get Triple RP regardless of where you place. To take a shot at the Time Trial, set a waypoint to the marker on your in-game map and enter via the purple corona. Beat par time and you'll be duly rewarded with GTA$ & RP payouts. Now through December 18th.

Previously:
GTA Online: The Doomsday Heist Out Now
P-996 Lazer and New Creator Tools Now Available in GTA Online, Plus Two Weeks of Double GTA$/RP Bonuses and Discounts
Sign in
To gain access to the Social Club you will need to sign in with a valid Social Club account.