Karin Technical Custom Now Available in GTA Online Plus Overtime Rumble Bonuses Extended, New Discounts & More
Originally introduced with Heists, the turret-mounted Karin Technical (also known as your favorite hillbilly death truck from Series A Funding) has reemerged from the seedy backwoods, deadlier and more customizable than ever before. Upgrade the Karin Technical in your Mobile Operations Center's Vehicle Workshop Module to bolster your armor and get access to a mountain of new modifications. Enlist the help of your Bunker research technicians to unlock even more firepower, livery and armor options. After upgrading to the Karin Technical Custom, store your beefed up war machine as a Personal Vehicle in one of your personal Garages.
GUNRUNNING MANUFACTURING BOOST, EXTENDED BONUSES IN OVERTIME RUMBLE & HOODIE UNLOCK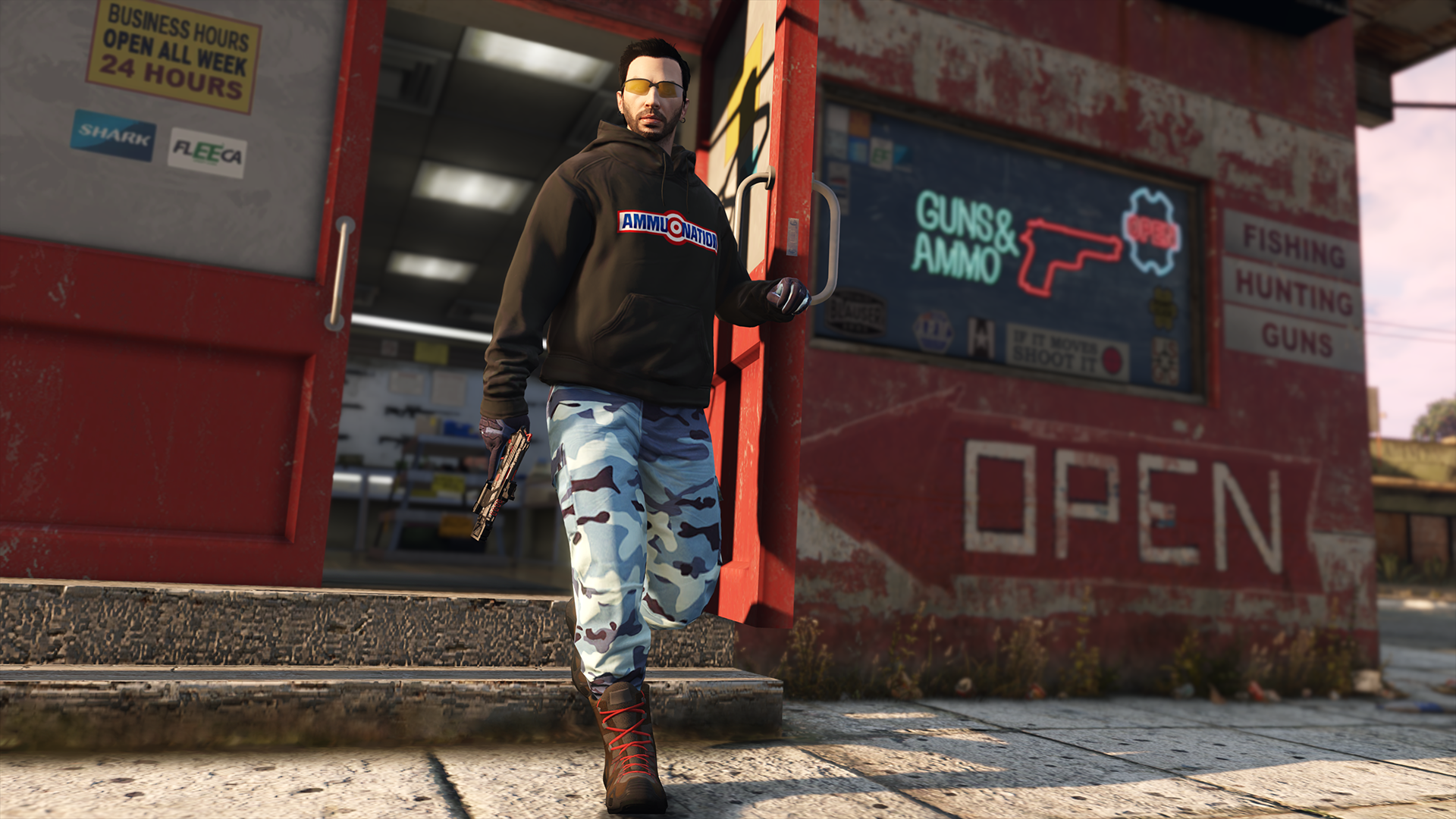 Complete a Gunrunning Sell Mission to unlock the Black Ammu-Nation Hoodie
Time is money, and those late nights spent slipping Bullshark Testosterone into your Manufacturing Team's coffee are starting to pay off. Arms Manufacturing is now boosted by 25% through July 24th, so keep an eye on your Stock levels to move more product and maximize your profits. Completing a sell mission from your Bunker at any point between now and July 24th also grants you the Black Ammu-Nation Hoodie, and to make sure your squad of shooters are satisfied, we're doubling the salaries for all Bodyguards and Associates over the same time period.
Plus, you can still earn big with extended Double GTA$ & RP in the popular new Overtime Rumble Adversary Mode, now running all the way through July 24th. Jump right in via the prompt that appears during the initial GTAV loading screens or select it from the Featured Adversary Mode blips on the in-game map.
VEHICLE & ARMOR DISCOUNTS
Keep your squad and your shipments safe with 25% off the following items:
Phantom Wedge (both standard and SecuroServ trade prices)
Annihilator
Buzzard
Vehicle Armor 
Bullet Proof Tires 
PREMIUM RACE & TIME TRIAL SCHEDULE
If you're looking to bulk up your Maze Bank account balance, try taking part in this week's Premium Race & Time Trial:
From July 18th – July 24th:
Premium Race - "Into the Dam" (locked to Blazer Aqua)
Time Trial - "Sawmill"
Launch Premium Races though the Quick Job App on your in-game phone or via the yellow corona at Legion Square. The top three finishers receive GTA$ payouts and all participants are awarded Triple RP. To participate in Time Trials, set a waypoint to the marker on your in-game map and enter via the purple corona. Ample GTA$ & RP rewards await those who can beat the par time.
PREVIOUSLY: 
The Grotti Cheetah Classic, New Overtime Rumble Mode & Latest Bonuses Now in GTA Online
New in GTA Online: The Dewbauchee Vagner Supercar, Dawn Raid Mode, Independence Day MOC Liveries & More
Sign in
To gain access to the Social Club you will need to sign in with a valid Social Club account.