Rockstar Class of '98 Tee Now Available at the Rockstar Warehouse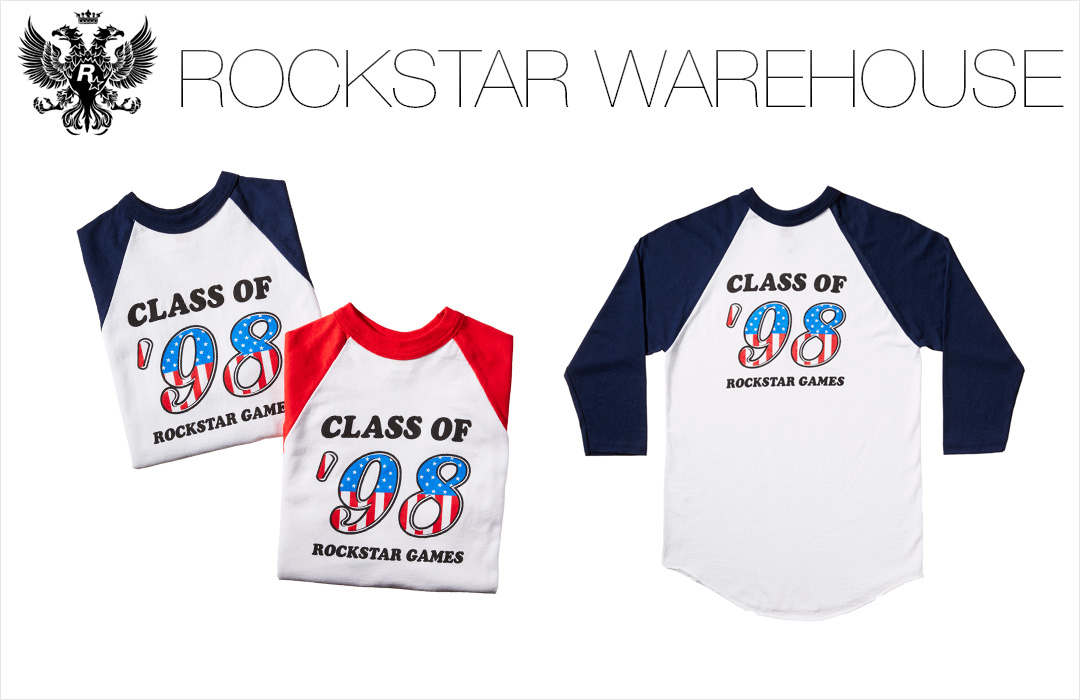 Celebrate the first class of Rockstar Games with this collegiate style ¾ length sleeve tee, now at the Rockstar Warehouse. This initial release from a brand new collection of Rockstar Games gear is a 3 color print soft white cotton/polyester blend crewneck, available in both navy and red sleeve editions.
In addition, you can now grab the high-res graphic from the Class of '98 Tee for desktop, mobile, social media, and tablet backgrounds from the Rockstar Downloads page. You'll also be able to unlock this design as a GTA Online t-shirt style for your in-game character - stay tuned for details on that soon.
And look out for many more new designs to be released from this year's Rockstar collection of gear in the weeks and months ahead including styles as seen rocked by some of our friends.
Also at the Warehouse this week, get 30% off Grand Theft Auto V on PS4, Xbox One or PC with a free bonus GTA$1.25M for GTA Online. PC players can also get 30% off Megalodon, Whale and Great White Shark Cards this week (ends Wednesday, June 14th).
Offers valid on rockstarwarehouse.com only. 30% Off GTAV + Bonus $1,250,000 for Grand Theft Auto Online offer valid on PC Physical, PC Download, PlayStation 4, and Xbox One formats of Grand Theft Auto V only. 30% Off Select PC Shark Cards offer valid on Megalodon, Whale, and Great White PC Shark Card products only. Offers valid through Wednesday, June 14th, 2017, 11:59pm ET. Offers cannot be redeemed for cash. Offers do not apply to previous purchases, credits, or gift cards. Discount applied before shipping and taxes are added (if any). Details of offers are subject to change and may be canceled without notice.
Sign in
To gain access to the Social Club you will need to sign in with a valid Social Club account.