Rockstar Warehouse Update: Bully Collection + Last Chance to Transfer GTAV Sale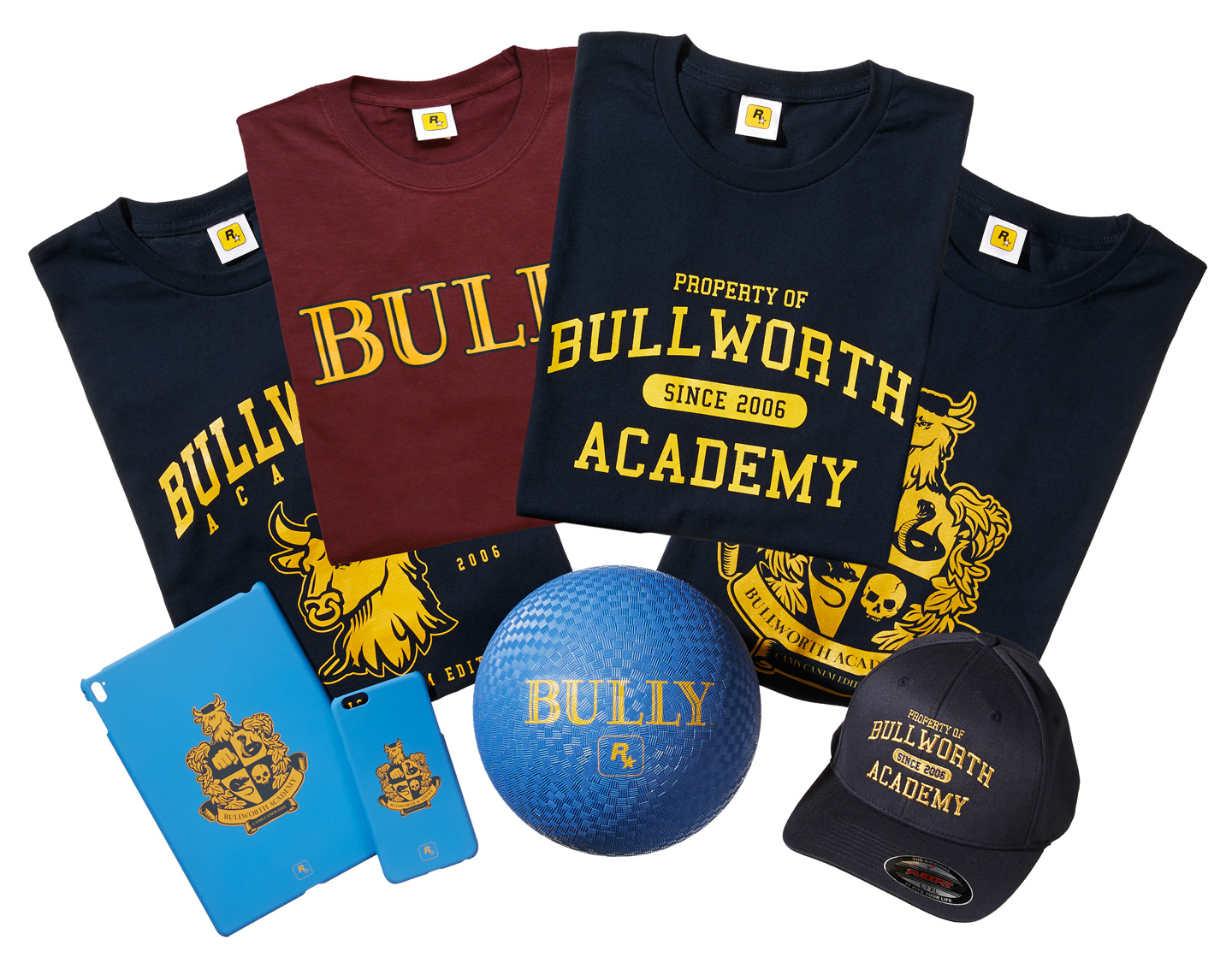 In honor of the recent releases of Bully for mobile devices and for Xbox One backward compatibility, we've got a whole new collection of celebratory Bully gear available at the Rockstar Warehouse. 
This sought-after gear was previously only available to winners of last month's Social Club Bully sweepstakes giveaway, but can now be attained by proud Bullworth alumni the world over.
The Bully collection includes the Property of Bullworth Academy Cap, four new t-shirts (Bullworth Academy Crest Tee, Bully Logo Tee, Bullworth Academy Mascot Tee, Property of Bullworth Academy Tee), and the Bully Dodgeball. Plus there are also new iPhone and iPad Pro cases available (all products can now be ordered and will ship by February 24th, 2017).
Also, take advantage of a special pre-transfer deadline sale and get 30% off of Grand Theft Auto V on PS4, Xbox One or PC, along with a bonus of GTA$1,250,000 to pad your Maze Bank account in GTA Online. Time's running out to transfer your characters and progress from PlayStation 3 or Xbox 360 to PlayStation 4, Xbox One or PC and experience the definitive version of GTAV. For PC Physical, PlayStation 4 and Xbox One formats, this offer is only valid through Tuesday, February 21st, while PC Download is available up until the March 6, 2017 transfer deadline.
If you plan on purchasing GTAV and want to transfer your GTA Online Character by the aforementioned March 6, 2017 deadline, please make sure to place any pre-release orders separately to ensure you receive your game in time.
Offer valid on rockstarwarehouse.com only. Offer valid on PC Physical, PC Download, PlayStation 4, and Xbox One formats of Grand Theft Auto V only. Offer valid for PC Physical, PlayStation 4 and Xbox One formats through Tuesday, February 21st, 2017, 11:59pm ET. Offer valid for PC Download format through Monday, March 6th, 2017, 11:59am ET. ET is local time in New York City, USA.  Offer cannot be redeemed for cash. Offer does not apply to previous purchases, credits, or gift cards. Discount applied before shipping and taxes are added (if any). Details of offer are subject to change and may be canceled without notice. Bonus $1,250,000 for Grand Theft Auto Online is delivered as a digital code. Codes expire on December 31st, 2018.
Sign in
To gain access to the Social Club you will need to sign in with a valid Social Club account.