Rockstar Fan Art: Retro Red Dead, Los Santos Google Map, Lamar Speed Art and More
This week's Rockstar Fan Art features Red Dead-inspired throwback art, a refreshing roundup of GTA Online caricatures, a detailed Google Map of Los Santos and more. Be sure to follow us on Twitter and Instagram, where we always feature great fan creations on the regular. And as always, if you've got some fantastic fan art or Snapmatics to share, be sure to drop your work in the comments below for the Social Club community to appreciate.
A member of the Iranian Rockstar Fans Facebook group, Ehsan Vaezi, has masterfully created this detailed pixel art interpretation of Red Dead Redemption. From the signature Western frontier sunsets to the individually posed pixilated characters, these clips give John Marston's America a comparatively new school and yet still old school effect.
"Beta Cats are a wonderful, creative group who I've been following for quite some time now. If you're a fan of cosplay and Achievement Hunter they're right up your alley." For those looking to terrify their enemies, take a page from mistywren's ode to nothingofeden's GTA Online character Pyro. The Pyro Chronicles 1 video from Beta Cats serving as inspiration, mistywren artfully captures the avatar's Orange Face Paint, Black lips and flames reflected in Possessed Contacts.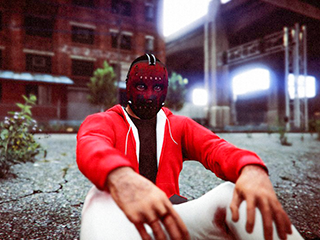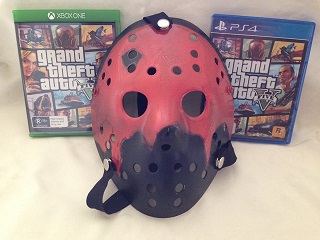 Black Bloody Hockey Mask by FroudeyBrand
Kudos to SC member FroudeyBrand, who sent in this awesome recreation of his character's Black Bloody Hockey Mask via Mouthoff. Froudey sanded down and painted an average Halloween mask to make it look as close as possible to his in-game character's version that he's been using since late 2013.
| | | |
| --- | --- | --- |
| This leather-clad biker girl comes compliments of Chinese DeviantARTist Jinchao. Fresh from a heist, this fuchsia-haired fashion maven looks to be making a clean getaway. |   | A suppressed weapon is a girl's best friend. Check out HendryRoesly's alternate GTA Online character, drenched in all-black and looking for trouble. |

Kaine and Hudson by GalooGameLady

Adding to her caricature repertoire, GalooGameLady hits us with her first GTA Online-inspired commission of Grogpole's dynamic duo, Kaine and Hudson. These sharp-dressed men are all business in their finely tailored suits and cocked Pistol and Assault Rifle.


 

Joining the GTA Online commission club, GK-7 adds RayTheMax's GTA Online avatar to the mix. Toting a Shotgun, blood-splattered clothing and an Owl Mask that's seen better days, this character is due for a bit of R&R.

 

Lamar Davis by GnarlyPaintBrush
As a follow up to his Red Dead Redemption speed art back in June, GnarlyPaintBrush's latest Rockstar fan art is a homage to the incomparable Lamar Davis.
Trevor by Maximillian-V

"Wanted to make a realistic version of Trevor from GTA5... never expected the result to be SO creepy." Trevor Philips, dark and calculating, in Maximillian-V's portrait.


 

Though this retro style Pißwasser poster ad looks like it has endured a bit of wear and tear over the years, it is still quite the impressive piece by Argentinian graphic artist Francis As AKA TOUGHPAPER22.
Have you seen or created an exceptional bit of fan art or great Snapmatic photo that you'd like to share? Be sure to drop a link to it in the comments below for the Social Club community to enjoy, or send our way via Mouthoff and we'll check it out. And if you aren't already, make sure you're following us on Twitter and Instagram, where we regularly share awesome community creations.
 
Previously:
GTA in a Bottle, 8-Bit Bully, Red Dead: The Board Game and More
Rockford Hills Diorama, Merryweather Security App Inspiration, Mona Sax Nails, Red Dead CYA Cover Design and More
A Real Life BF Bifta Over 6 Months in the Making
Sign in
To gain access to the Social Club you will need to sign in with a valid Social Club account.