Tips for Creating Stunning Cunning Stunt Races with the Creator (Part Two: Props, Tracks, Courses & Terrain)
If you haven't yet, make sure to check out Part One of this Stunt Race Creator tips series with a lot of guidance straight from the Rockstar dev team on planning and designing your stuntastic masterpiece. And read on for Part Two, where we delve into the finer points of getting the most out of your Props, tracks, courses and the Los Santos and Blaine County terrain.

PROPS PRO-TIPS: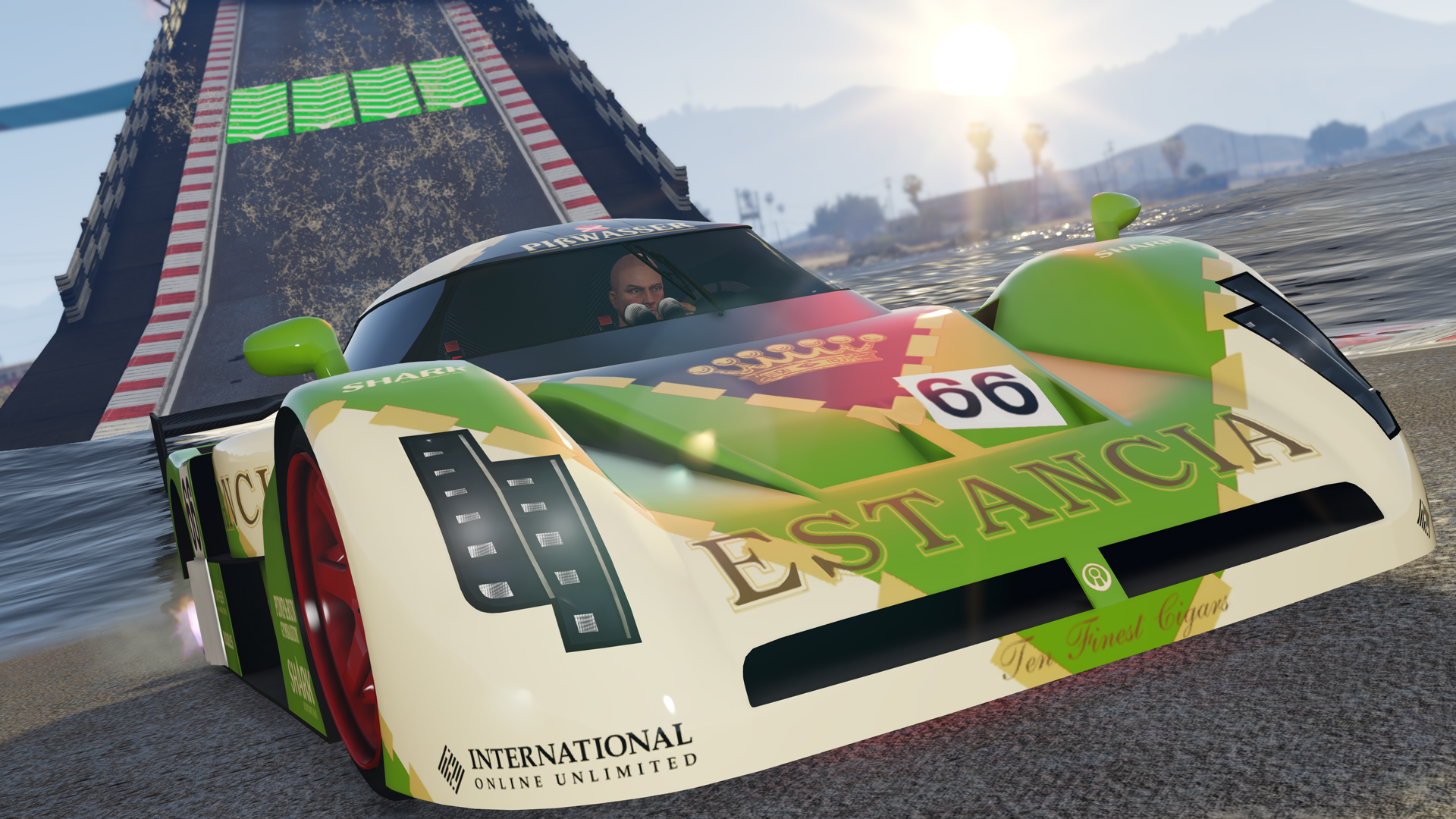 Strategically placed Boosts can be helpful at moving the player through difficult terrain, such as shallow water.
There's no shortage of new Stunt Props to play with in the Stunt Race Creator and with hundreds of options to choose from, you can supply GTA Online racing enthusiasts with an infinite supply of inspired tracks. Here's some fine points on just a few of the varied Prop options awaiting you:
Templates (found in the Props categories) are useful for building set pieces of combined Props that you can duplicate and reuse in your Race. This is useful if you want to repeat a particularly awesome section of your course.
When you have a Prop selected, you can still use Fast Zoom to adjust the height of the Prop in quicker fashion. Fast Zoom is the Triangle (PS4), Y (Xbox One) button or L Ctrl and mouse wheel zooming (PC).
Stunt Props don't just have to be used for their most obvious and originally designed purpose. Experiment by rotating them in different ways and try them out for decorations, barriers, even bigger set pieces – whatever you can dream up!
Where possible, use larger Props instead of several smaller ones to save on Prop count. For example, the Prop piece 'Tube Extra Long' is the longest track available so use it for long straight sections.
Smaller Props such as some of the Building Blocks are helpful in making the move between track pieces much easier.
Stunt Tubes provide a great way to transition from one section of the course to the next as they're very malleable. They can be made to spiral upwards, downwards, over terrain and buildings, and even submerge into the ground.
Line up your Stunt Tubes carefully and with precision. Uneven placement means you could come across unwanted elevation change or speed-stopping bumps - unless you're into that sort of thing.
Circular checkpoints are the perfect size for Stunt Tubes.
Building Blocks are handy for filling in unwanted gaps on your course. When put together and rotated/angled, some also make for excellent ramps.
Ramps aren't just for jumping – they can provide smooth transitions when driving onto steep, vertical track pieces.
Stunt Specials, such as Boost and Slow Down can change the dynamic of a Race dramatically.
Boosts can be helpful at moving players through difficult terrain, such as shallow water or steep inclines. Multiple boosts can also drastically change how much velocity a player can get to achieve that perfect jump.
Slow Down, on the other hand, set at the top of a steep downward slope can potentially stop racers from driving clean over the top.

TRACKS AND COURSES: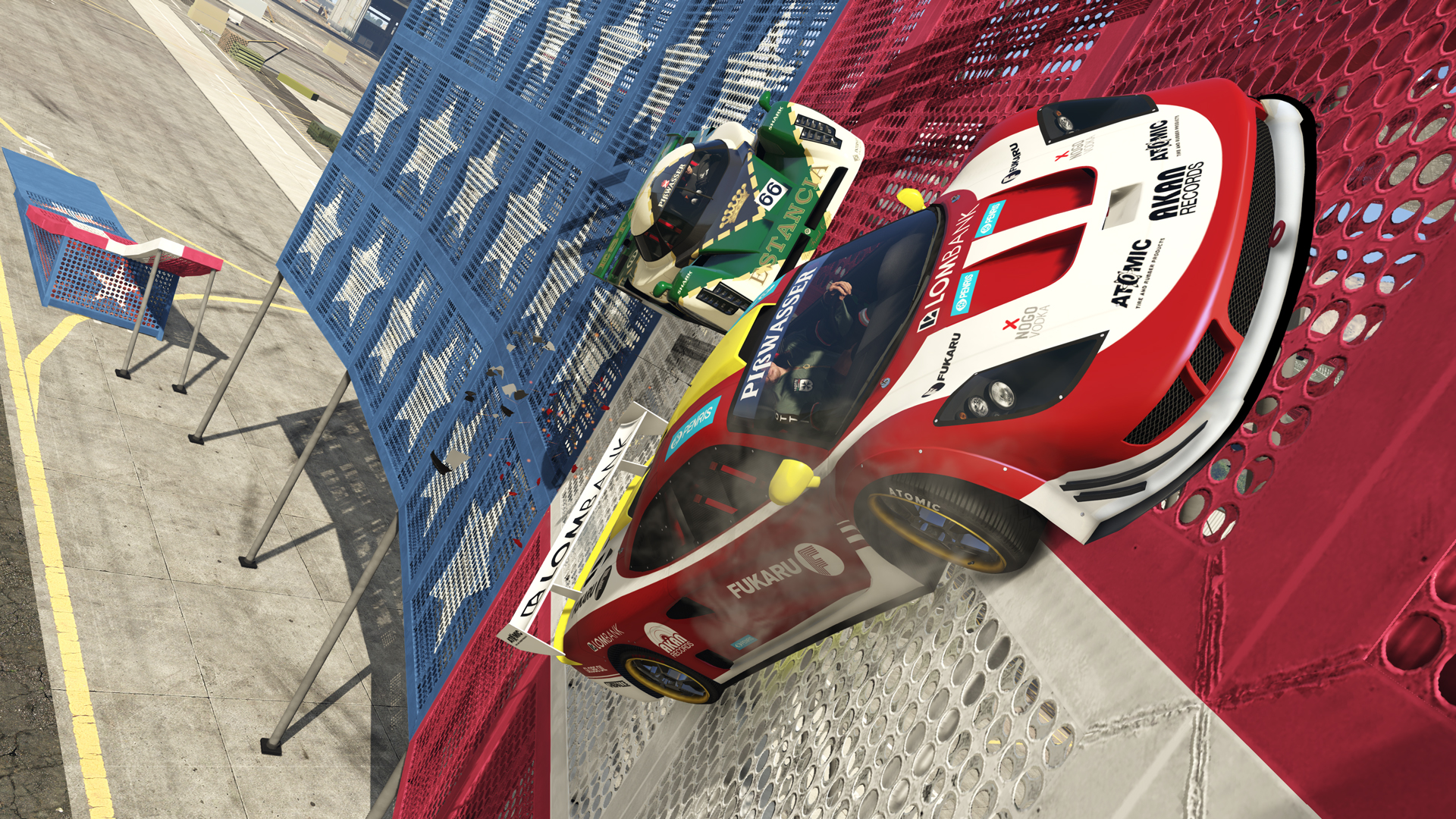 If you really want to stand out and impress with your Stunt Races – the wilder, bolder and bigger the better.
While you're mapping out your madcap, challenging tracks, it's worth bearing these strategies in mind:
Testing tracks as you go along will help resolve any problems that pop up early on. To quickly test your Race, press the Touch Pad (PS4), View Button (Xbox One) or Tab key (PC) and you'll be transported onto the track in whichever vehicle you've chosen as the default.
Roughly laying out the Prop pieces before fine tuning their positioning will help you determine how many Props the track will require.
When attempting more than one track type in your Race, use Blends. There are a couple of Tube Blend Props that are of great use, especially when starting off a section of track made from the Tube Props.
Use the Track Link Prop in Stunt Tracks when moving between Stunt Track and Stunt Raised Track pieces in order to keep a tidy course.
With one of the new features of the Stunt Creator being Secondary Checkpoints, you can now create a second route for players to take in Races. It may be easier to visualize where you want the track to split off when you have a Primary set of checkpoints down from start to finish.
Be sure to set the new Stunt Grid layout option on the initial Checkpoint when using a Start Grid track piece.
Make sure Checkpoints are placed in a way that will allow players to complete a set piece on a respawn. You can try this yourself in Test mode by manually respawning at a Checkpoint before your set piece.
Don't like your Checkpoint placements? The Delete All option now takes Secondary Checkpoints into account, just in case you want to redesign your Checkpoint layouts again.
Remember when putting down Checkpoints that there's a limit of 68.
Building a Race with the intent to perform flips and tricks? Turn on the Award Stunt RP Bonus in Race Details to reward players for landing stunts during your Race. However, consider where and how players will land after big jumps.
To give your Races a bit of extra flair during set pieces, place down fireworks, flares, alarms and sounds that can be triggered by players. You have control not only over who can trigger them and when – first place or everybody and every lap or just the last lap – but also how often. The distance at which they're triggered can also be changed.

MAKING THE MOST OF SOUTHERN SAN ANDREAS: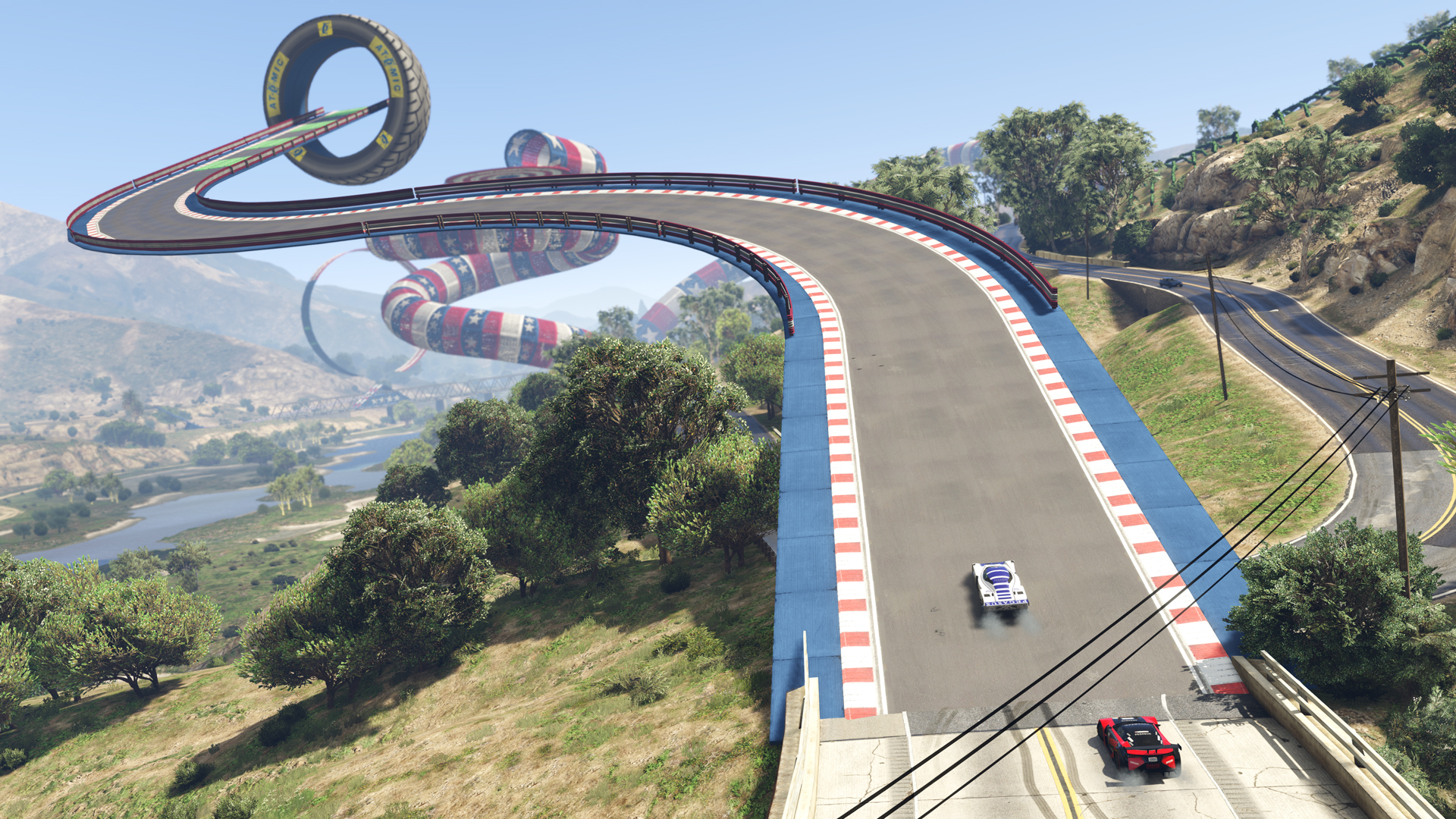 Existing roads provide a great way to link your track when making lap races, as well as reducing your Prop count.
Sometimes, the most surprising Stunts elements will be right before your eyes. When planning and preparing your ideal Race course, let the surrounding environment and landscape of Southern San Andreas lend a hand:
Make use of present landmarks and buildings. These can be massively useful in joining your track pieces together, as well as making it feel more memorable and unique.
Finding places to combine with your Race Props around the already available map, such as existing roads and bridges, will not only aid you in creating longer Races but also help reduce Prop count.
Use the straight lines of road structures to help you measure your straight tracks.
For better or for worse, elements such as water can provide a great hazard - take notice! Remember that you can submerge Props, but think of the shifting tides and the effect it might have on the pace and speed of your racers.

All the above just scratches the surface on the vast possibilities available with the Stunt Race Creator. There's plenty more to discover for those champing at the bit to get started.

We're anticipating some spectacular player-made Races to come from you imaginative Creator folk and look forward to seeing and playing those that are most inventive and brilliant and sharing them here on the Newswire.

If any keen creators out there have some Stunt Race track making tips of their own to share, definitely share them in comments here for others – or share your personal Stunt Race creations so that other Social Club members can help playtest them with you.


Previously:
Tips for Creating Stunning Cunning Stunt Races with the Creator (Part One)
GTA Online Stunt Race Creator and Entourage Mode Now Available
Sign in
To gain access to the Social Club you will need to sign in with a valid Social Club account.