Tips for Creating Stunning Cunning Stunt Races with the Creator (Part One)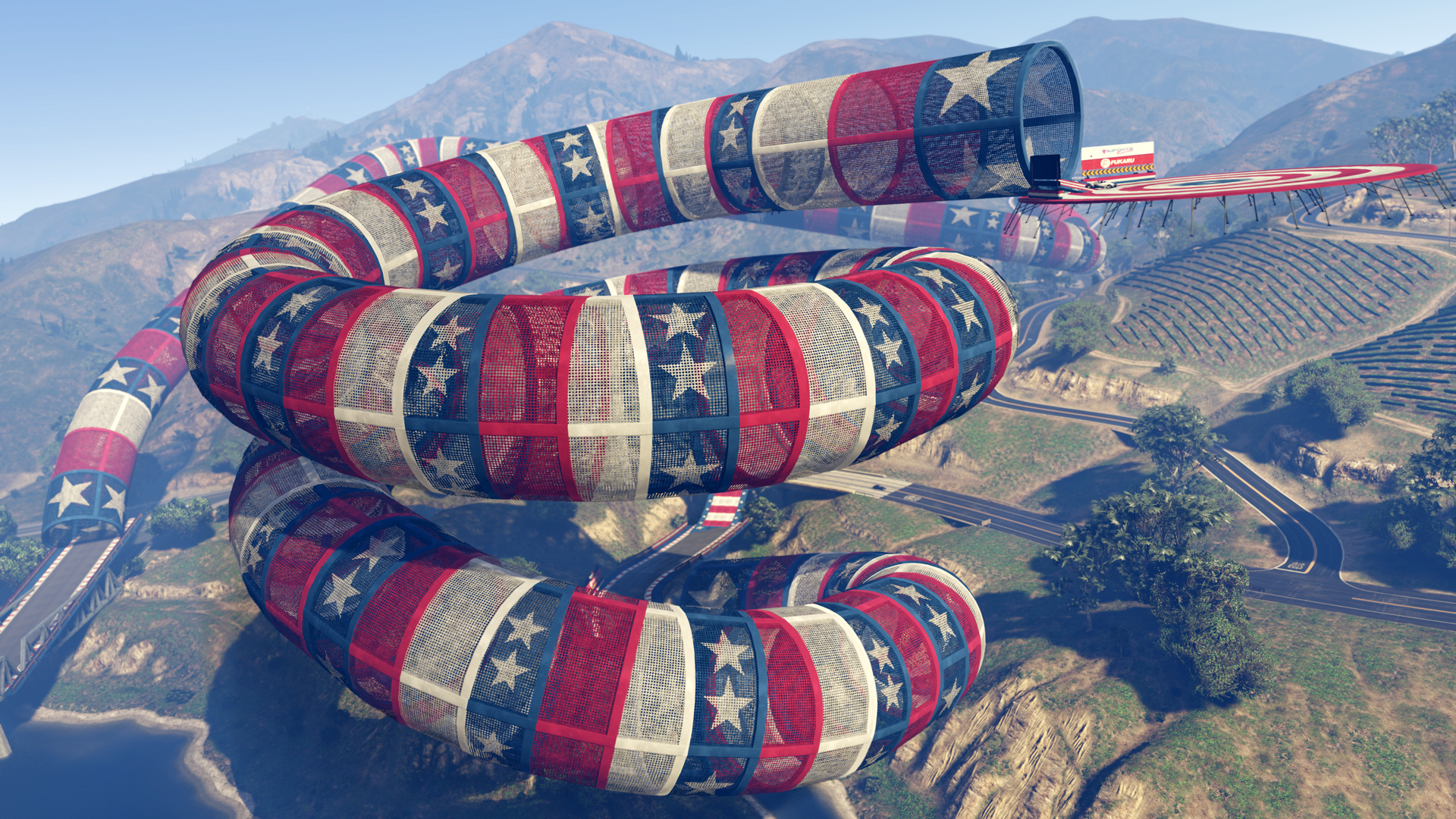 With the Stunt Race Creator, the sky - and your imagination - is the limit.
This week's just-released Stunt Race Creator has unleashed hundreds of unique Stunt Props and new features for the mad scientists of the amazing Job Creator community to hit the lab with.
Ahead of diving in to begin constructing your Stunt Race masterworks, consult the official Stunt Race Creator Guide, which provides a proper tutorial of the new Creator tools, to get you started on creating and sharing your own Stunt Races. And for those either experimenting with the Creator tool for the first time, or wanting a primer on the overall GTA Online Creator suite, we encourage you to peruse all of the official tutorials available at the Rockstar Games Social Club website - including the original Race Creator Guide.
In this special two-part edition of Rockstar Game Tips here at the Newswire, we present sage advice from our dev team that will help you make the most out of all the new features of the Stunt Race Creator. If you're especially aiming to get your original Stunt Race Job featured at the Newswire in the future, or to make it a fierce contender in the upcoming Verified Creator Stunt Races contest, the pointers below may prove to be especially helpful.

GETTING STARTED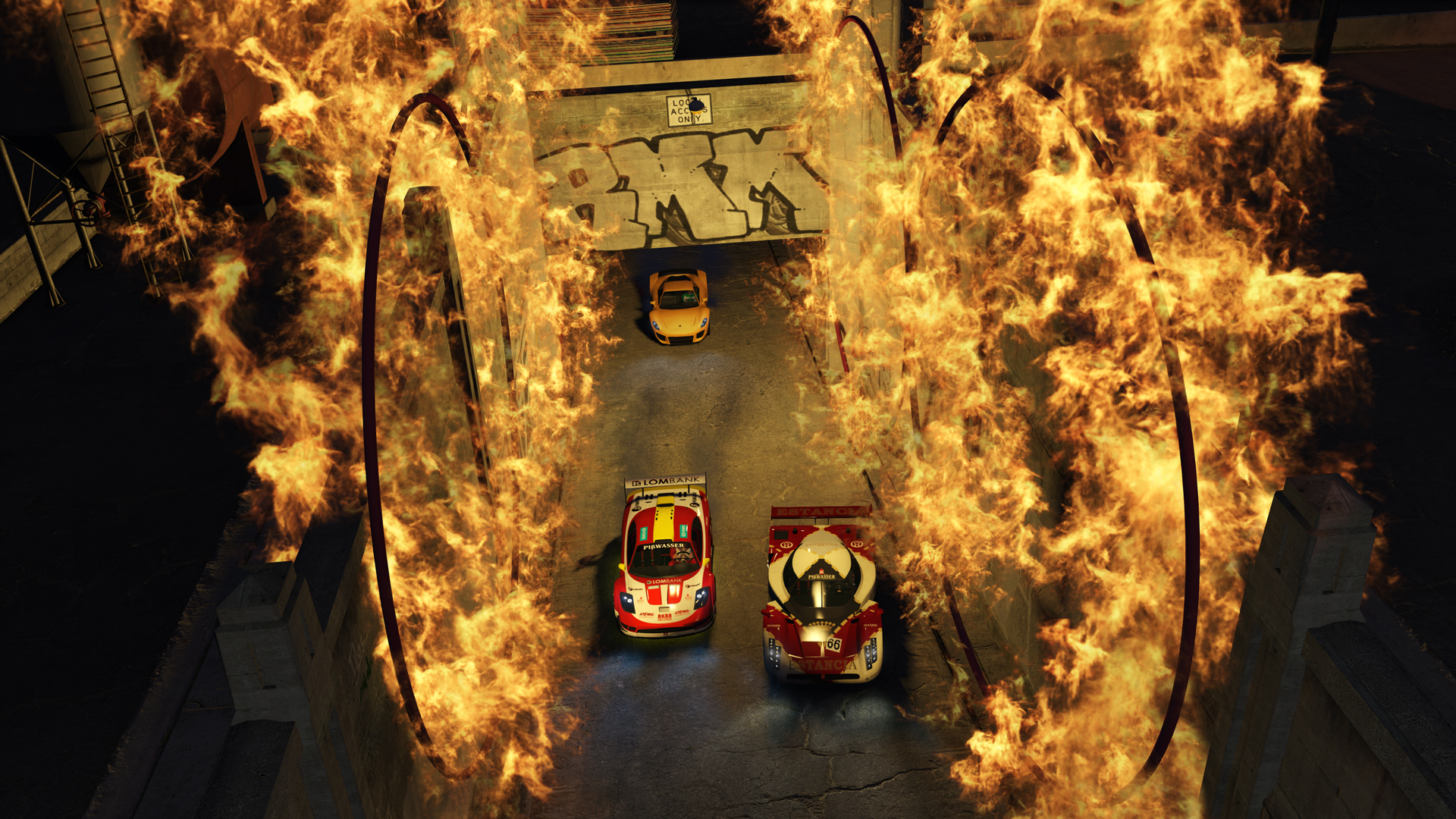 Stunt Props don't just have to be used for their original purpose; experiment by rotating them in different ways, to see if they can be used to create something wholly unique and unexpected for your track.
As inspiration strikes and you flex your fingers to create the Stunt Race track of your wildest dreams, here are a few important starting points to consider.

With hundreds of Stunt Props to choose from, it's worth going through the list and familiarizing yourself with them before you start designing a Race; by planning your track prior to laying down the pieces, you'll save yourself the headache of having to resolve problems later on.

Keep in mind that while you can use up to 150 Props in a single Race, there are also 20 Dynamic Props such as the Giant Bowling Pins and Soccer Balls. If your Model Memory tops out before you reach your Prop limit, you will no longer be able to place any additional ones; in other words, use them wisely!

Once you've given the Props a thorough inspection, make sure to choose the appropriate car or bike for your course; you don't want to wait to discover during play-testing that the vehicle class you selected is entirely inappropriate for the track you laid out.

This goes the same for choosing a color scheme for your Stunt Race Props; it's best to decide this early on, rather than having to change the color of individual Props down the line. You can look through the color options of any of the new Stunt Props at any point when creating your Race.

Last, but by no means least, remember that Rockstar-Created Stunt Races are locked to Standard. However, by creating a Stunt Race in the Creator, you can choose to make it Standard, GTA, Rally or Non-Contact. Additionally, if you pop a Stunt Prop into a regular Land Race, it will automatically convert to a Stunt Race.


NEW TO THE STUNT RACE CREATOR: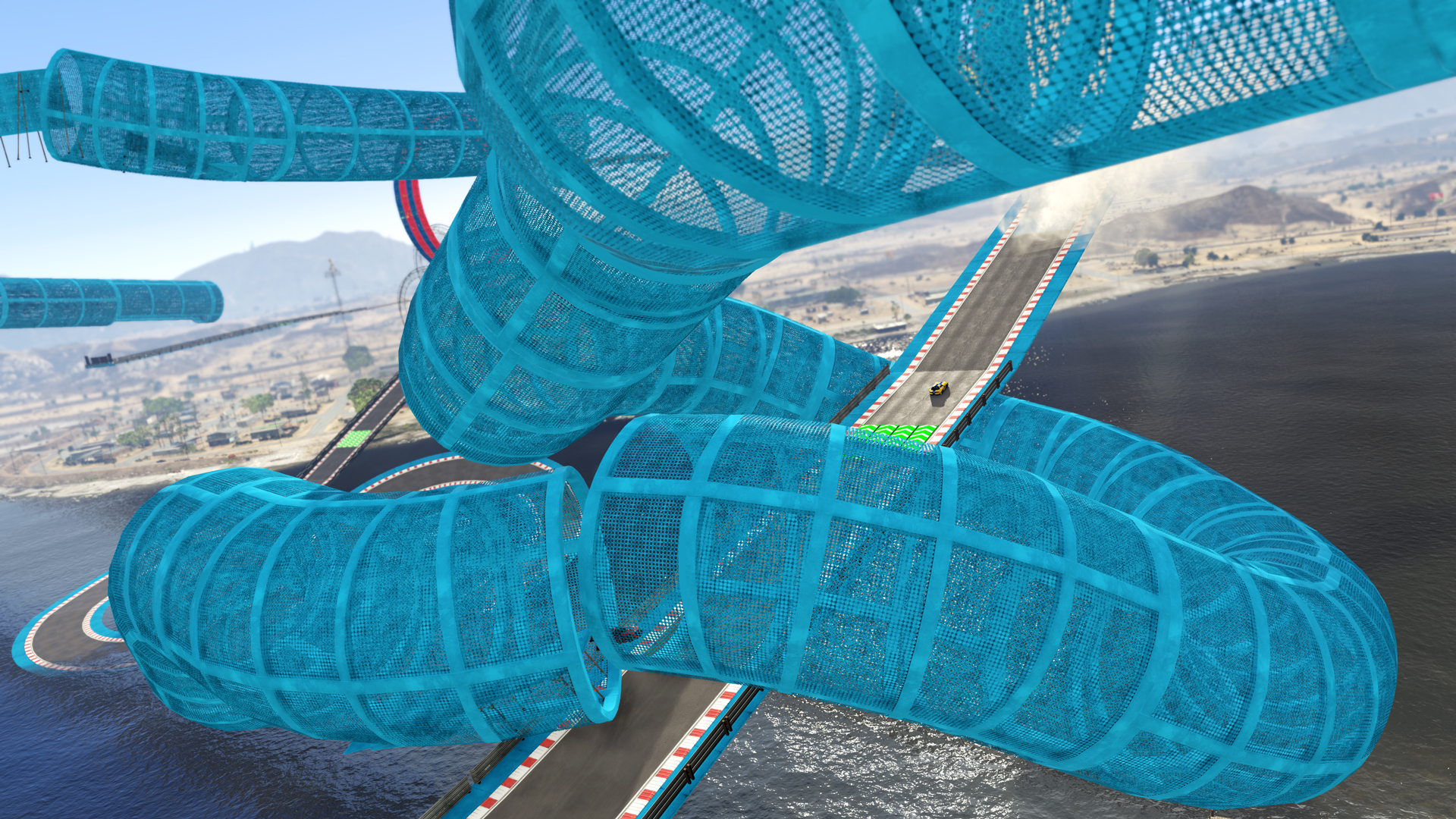 Tube tracks provide a great way to transition from one section of the course to the next, since they can be quite malleable. They can be made into a spiral upwards or downwards, or to go over terrain and buildings.
Alongside the hundreds of new Props come some very nifty tools to literally take your Races to new levels – the Prop Snapping, Stacking and Override options. Here's some pro-tips to master using them:

Prop Snapping:
Prop Snapping is a quick and easy way to place one track piece next to another, thereby speedily building up your Race. Look to see that you have this option turned on, and when you're snapping away, use the shoulder buttons to adjust the angle of your next piece of track.
For more control over when Stunt Props snap together, tweak the options to Triggered Snapping. This allows you to click Props together at the press of the Square (PS4), X (Xbox One) or Space Bar (PC).
Prop categories with snapping abilities can snap to other Prop categories as well; this means that snapping together Stunt Tracks, Stunt Raised Tracks, Stunt Tubes and Stunt Building Blocks will be a breeze.
Chain Snapping repeats the last Prop you used, and snaps it into place, easily creating multiple builds of the same Prop. It's worth remembering that when turning Prop Snapping on, Chain Snapping will also be on by default; switch this off in the Advanced Options of Props to snap without chaining Props together.
Prop Stacking:
Want flexibility with Prop placement? Always check that you have Prop Stacking turned on!
HOWEVER, when attempting to edit a Prop, it's best to turn Prop Stacking off, otherwise when you press the X (PS4), A (Xbox One) or Enter (PC) button to edit, another Prop will be placed on top of what you're trying to edit – rather than the one you've highlighted.
Observing the name of the Prop in the Tool Tip to make sure you have the correct one selected will also help; with Prop Stacking turning on, you don't want to lose track of what you've highlighted.
Override Rotation and Override Position:
If you're having trouble placing Props, Override Rotation and Override Position are your go-to choices. Enter the Position and Rotation Override options to maneuver the Prop until it's perfectly placed, by changing the X, Y and Z axes.
HOWEVER, remember that once the Prop is placed, you can no longer change the Position and Rotation without editing it.
Make Override Position your best friend – it will help when making those final flourishes and tweaks to your Race.
Use the Triangle (PS4), Y (Xbox One) or L Ctrl (PC) button for Fast Zoom, speeding up your movement when you're adjusting Props.
For perfectionists with a discerning eye, when using the Override Position menu on Props, change the Prop's alignment to 'Local'; this will allow you to fine-tune the Prop, moving it based on its orientation rather than where it is in the world.
Look for Part 2 of this special Stunt Race Creator tips series, coming to the Newswire very soon, with a focus on Props, tracks, courses and terrain.
Sign in
To gain access to the Social Club you will need to sign in with a valid Social Club account.