Crew Cut: Custom Classics Car Meets, Arthouse Collectives & More
The Crew Cut highlights exceptional grassroots community activity, events, accomplishments and other happenings across the thriving Social Club Crew scene. If your Crew is doing something special that you think the Social Club community needs to know about, tell us all about it at mouthoff@rockstargames.com  – you might see your Crew featured in an upcoming edition of the Crew Cut.
This week, check out Crews who have been actively hosting Car Meets to show off their latest customized Lowriders, a spotlight on prominent arthouse collective Crews, a currently active grassroots tournament and more.

NEW CREW MANAGEMENT FEATURES
First off, we'd like to let all you Crew Leaders, Commissioners and Muscle alike know that there are some new oft-requested updates to the Crew Management page on Social Club, adding the ability to filter Friends and Crew Hierarchies by Online Service (e.g. PSN, XBL or Facebook), and search by Gamertag / PSN ID within them.
We've also made it easier for you to see other Crew Members' Gamertags / PSN IDs and Active Crews when managing the Crew Hierarchy. It's now much simpler to promote or demote Crew Members, review pending Join Requests and scan for applicants playing on a particular platform. If there are any further improvements you'd like to see made to Crew Management or any other aspect of GTA Online, be sure to hit us up at gtaonline@rockstargames.com with your suggestions.

CAR MEETS GET SLAMMED
GKstance98 and his PS4-based Crew, Stance Lovers Only, rallied together to show the Slamvan some serious love at a recent car meet. Be sure to keep an eye on Power GK's YouTube channel for upcoming live streams of Stance Lovers Only's car meets.
GANGSTANCE crew meet.#Snapmatic #GTAOnline #RockstarGames #GTAV #Editor #GANGSTANCE #GTAV @RockstarGames pic.twitter.com/RHitmpHvFY
— Rl.Angel (@srmk3598) March 21, 2016
RL.Angel and the G A N G S T A N C E Crew held one of their recent car meets on a hazy day out at Vespucci Beach; see a glimpse above cozying up close to the interior dash and hydraulics of the Vapid Slamvan via the Rockstar Editor.
Then there's AZcrAZydog from the Xbox One chapter of the reddit-based GTAAdventures Crew, who injected some aerial stunting and a raucous demolition derby into their Lowriders Meet before scaling Mount Chiliad in their Willard Faction Custom Donks.
Never ones to shy from their ongoing obsession with dropped vehicles, TheLowlyGentlemen Crew recently went all out to celebrate the new Custom Classic Vapid Slamvan at an official car meet. Pimping out their rides with every imaginable livery and color variation, and driving models that appear both antique and fully refurbished, TheLowlyGentlemen stay true to their name in this stylish video.

If you and your Crew have some awesome Lowriders Custom Classics car meet footage or Snaps, share 'em in comments below.

ARTHOUSE CREWS
Beyond some of the pre-eminent and long-standing Snapmatic Crews such as Snapography and GTAPhotographers, we wanted to shine a light on some other Crews that have been pushing the creative boundaries of the medium from pure photography into something best described as "Snapmatic Art." Using Snapmatics as a source asset, these Crews take Snapmatics to the next level by applying creative photo editing, experimenting and innovating with in-game Meme Text, creating original images with bullets and even applying their own coloring techniques and illustration skills to existing photos.
Presenting two particularly prolific arthouse collective Crews whose members inspire and innovate day in and day out:

The Magnificent Team
Referring to themselves as an "exclusive Snapmatic movement," The Magnificent Team have attracted the likes of prestigious Snapographers Basimatic, Sariska and FirewoodDog,meme art manipulator xX19scorpius83Xx and bullet art maestro aizakkusan to their ranks. With a booming community on Twitter and Instagram, a special congratulations goes out to TMGT (and their fearless leader empiretimes aka Snaplord_TMT) as they recently celebrated their one-year anniversary. Here's just a scant bit of some of the talent among their 100+ member roster.
xX19scorpius83Xx makes clever use of filters and layering techniques to create stunning scenes and an amusing hand-drawn self-portrait in the Meme Text editor. 
#BulletArt #Lowriders #CustomClassics Official Art https://t.co/id8ffgoErw #TheMagnificentTeam #Snapmatic #GTAOnline pic.twitter.com/z8p2efDfsr

— アイザックさん (@aizakkusan) March 22, 2016
An unconventional marksman, aizakkusan's amazing work with bullets involves carving out everything from familiar faces to pop icons, and even a spot on recreation of their affiliate Crew Visual Moods Central's emblem. 
#GTAV #RockstarGames #Snapmatic #TMGT #SnapmaticArt #creativeR6inc @RockstarGames pic.twitter.com/rmwjTnIWKi

— Basimatic (@tc_404432) February 8, 2016
TMGT member Basimatic is an accomplished Snapmatic photographer, Rockstar Editor and much more – here, she camped out and photographed the same vista across several times of day and night to display a stunning color palette along the LS skyline. You're going to want to follow her on Twitter to keep up with the amazing things she shares every day.

CREATIVE R6 INC
Another artistic collective impressing on a daily basis is mitar0su's CREATIVE R6 INC, housing incredible talents such as ryophotolic, Wolf_Gang776, and ARIBABABAN. From 3D GIFs to stylized, cel-shaded style Snapmatics, RSIX's Crew Members are constantly looking to push the envelope.
3D Faction #GTA #RockstarGames #creativeR6inc @RockstarGames @GTASnapmatic @GTAJunkies @PlanetRockstar @GTA_Society pic.twitter.com/qsS9RtZBft

— ryophotolic (@ryophotolic) March 15, 2016
You can find more eye-catching work like this on ryophotolic's official Twitter account, and additional artwork and snaps at #creativeR6inc.
\コンパクトライフル/#GTAV #snapmatic #rockstargames #GTAOnline #CREATIVER6INC #RSIX @RockstarGames pic.twitter.com/xBZvNUJQI1

— Teamごりあて (@TeamGoliath_RP) March 15, 2016
Yu-nosuke aka TeamGoliath_RP applied some eye-catching filters on this shot showing off the new Compact Rifle that makes for the look of a fully sketched color pencil drawing.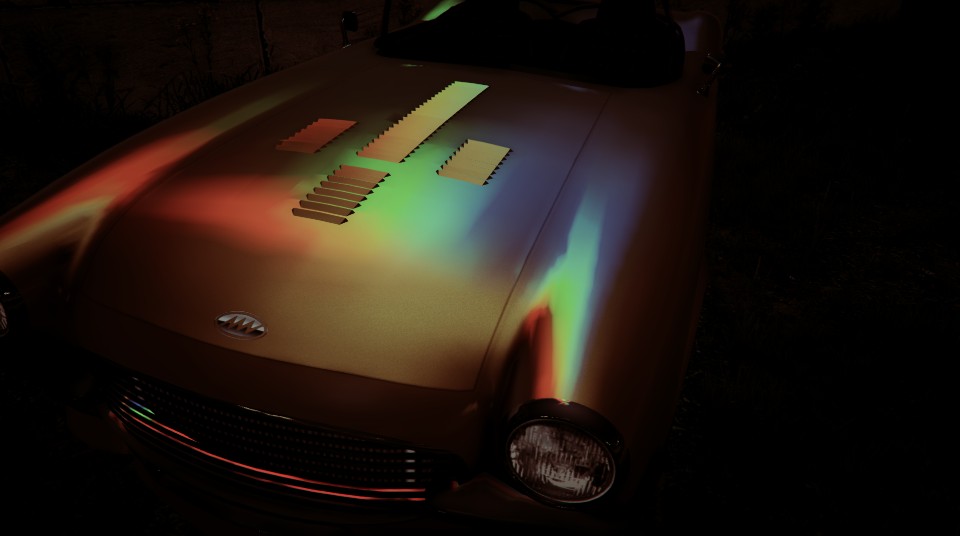 Gorgeous and creative car photography is also a specialty; enjoy this stunning play on the color spectrum in this piece by R6 member mitar0su. 

REBL ONE YEAR CREW ANNIVERSARY
Another prominent Crew celebrating their one-year is REBL PC. These guys have consistently impressed with fun presentations like their REBL - GTA Yacht Parties and REBL - The Lowriders. In this Crew video, the REBLs have an absolute free-for-all blast, engaging in a massive Karin Rebel demolition derby and shooting fireworks from the top of the Rebel Radio station to celebrate their first anniversary in true REBL style.

CREW TOURNAMENT UNDERWAY: DETESTED FOUR BRACKET
CHEEkSx0x0 of the battle Crew Detested reached out recently to let us know they are hosting a Free Aim (PS4) tournament, and have been working exhaustively to put together elite Crews for the first round such as ineffable arts, CAP PILLAS, Cureless Aim and the Temple Drive Ballas. Tournament rounds will be routinely streamed on the BAETRED | RED7 YouTube channel, along with highlights of best moments. Upcoming Crew brackets are posted in the video description here. Contact PreciousYvette @ kik or yv.xo Baetred @ kik .babez for further details.
Round 1 Results: In the first round, 7DeadlyGlobalHiTaz took a narrow, one-kill lead against The Classic Crew, but DOPE turned it around considerably in the second round to take the match win. Cureless Aim soundly trounced The Damned Brotherhood in the initial round, but faced a disqualification for breaking agreed-upon tournament rules. Finally, the Temple Drive Ballas squared off against Baggy Nation, squashing and shutting down their opponents in both rounds for an uncontestable win. 
Previously:
A Look Back At 2015's Top Performers
Crews Living the Low Life, a Real Life Skydiving Crew & More
Top Daily Objective Crews & The Off-Road All Stars
Sign in
To gain access to the Social Club you will need to sign in with a valid Social Club account.