GTA Online Game Tips: Sumo, Rhino Hunt & Drop Zone
Sumo-style derbies have long been a GTA Online fan favorite, with many Community creators taking it upon themselves to create their own interpretation of the heavyweight sport. Now, we've added a bit of method to the madness with the introduction of Sumo, one of our latest Adversary Modes. And the recently released Rhino Hunt introduces some new and fun challenges for those who truly enjoy the thrill of the hunt, while Drop Zone features teams airdropping to battle over a contested area. Whether you're a big game hunter seeking out a well-armored challenger, a mighty behemoth crushing your adversaries via tank tread, or a vengeful skydiver looking to rain down death from above – we've put together the latest series of tips to help you establish dominance in the wild kingdom otherwise known as Los Santos. Take note especially of the Rhino Hunt tips today, as they'll certainly come in handy as you capitalize on today's Double GTA$ and Double RP Adversary Mode Playlist.

Using reverse and sharply turning can trick your opponent into driving out of the area completely.
Sumo
While the sport of Sumo is typically a mano-a-mano match up, this Adversary Mode is all about how you perform, not only solo, but as a team (depending on which variation you find yourself playing). In either case, you must first choose your vehicle carefully: each has its advantages and weaknesses. Large, heavy vehicles have ramming power, but their higher center of gravity may leave them more vulnerable to being scooped by vehicles with a low hood. Smaller cars are more easily able to squeeze out of tight spots, but can be overwhelmed.
If you're playing on a team, you may choose a combination of vehicles. You could use the smaller, quicker vehicles to lure opponents to the edge of the map before more robust teammates deliver the killer blow. You may often see two cars deadlocked against each other in a war of attrition; supporting your teammate with a nudge from behind can tip the scales, but runs the risk of seeing them go over the edge as well as your enemy. Of course, if you have the players to spare, sacrificing a team mate could be the smart decision. If you've found yourself in one of these face-to-face (or bumper-to-bumper) pushing matches – using reverse and sharply turning can trick your opponent into driving out of the area completely. Alternatively, if you're determined to win the push war, remember to properly manage your power; coming off the throttle ever so slightly to allow your tires to find traction provides much more pushing power than going pedal-to-the-metal and wheel spinning.
Sacrificing a team mate can be a clever way of taking out an opponent if you have the players to spare.
If you're playing solo, don't always drive at full speed when trying to push your opponent out. Vehicles in Sumo have the handbrake disabled, so it takes a lot longer to stop your charge if you miss them. Try to think strategically instead of relying strictly on brute force; watch your opponent's patterns of movement so that you can anticipate where they are headed next. By the same token, try to be unpredictable!
 
Make use of the terrain around you; some parts of the arena will see more casualties than others. Establish the safest point in the arena and keep close to it to stay out of trouble. On larger maps, the center of the area is best to reduce your chances of being knocked off.
 
If it's looking like a stalemate, there is a sudden death area that will appear after normal game time. Try to control the center of the play area as quickly as possible, as the area will become smaller and smaller as time ticks down. Last player left in the center wins!
Rhino Hunt
As the nimble Hunters, your lives are dispensable but your time to bring down your prey is limited. The lumbering Rhinos are afforded no such luxury, as they are granted a single life to survive the duration of the 3 minute round. Powerful, but slow to aim and maneuver, savvy Hunters will use their superior speed to get around the Rhino's cannons in a nuanced dance of death and destruction.

The Rhino will suffer a greater amount of damage when attacked from behind.
MESS WITH THE BULL - Hunter Tips
Depending on Sticky Bomb placement, Rhinos can be destroyed with 7 to 10 well thrown detonations. The Rhinos take more structural damage from the rear so exhibit patience when aiming if you have the time and the means to land a calculated shot.
 
Hunters have strength in numbers, so use this to your advantage. Coordinate your attacks to come from all directions; someone is bound to breach the Rhino's defenses and hit the target. Sacrifice equals victory.
 
To the point above: the Rhinos have strict area bounds, but the Hunters don't. Consider taking the scenic route to surprise them.
 
Sticky Bombs can be detonated at any time (as long as you're alive); consider luring the Rhino into a trap or placing down Sticky Bombs in high traffic areas ahead of time.
 
Similar to Adversary Mode Come Out To Play, make sure to cut off your lights when playing at night, as the Rhinos will have more trouble getting a bead on you in the darkness.
 
Hunters, use your environment to your advantage: make full use of obstacles and small structures in order to hinder the Rhinos or better, to get them hung up and stuck, making them stationary targets.
 
Multiple Sticky Bombs can be placed and detonated at once, so a Hunter can deal massive amounts of damage to a Rhino with one detonation, given the chance. Load one of your fellow Hunters up with Sticky Bombs and send them kamikaze-style towards the target.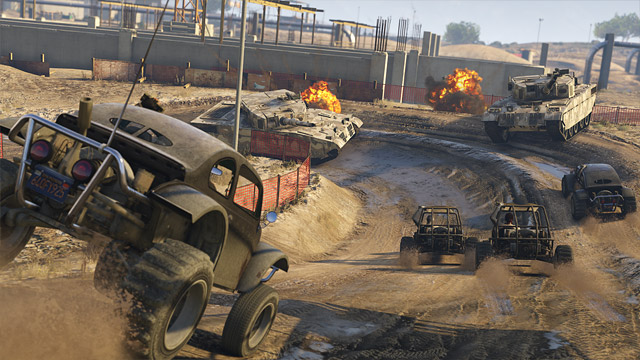 Holding your ground and digging in with a fellow Rhino may be your best bet when squaring off against multiple enemies.
YOU GET THE HORNS - Rhino Tips
When there are two Rhinos (six or more players in the mode), you need to work in tandem to cover a wider firing area. This can be carried out as a two man patrol in a set area, where both Rhino drivers circle about looking for prospective targets, or you can take the opposite approach and fortify your position by parking side-by-side and covering each other's backs. The latter approach requires a bit of trust in your partner's aiming abilities to ensure victory.
 
Want to play as the Rhino in the next round? Make sure that you deal the killing blow and the victorious Hunter will become the Hunted.
 
The Rhino doesn't merely have a cannon as its only means of defense; try running over your opponents if you're cornered. You can also use the ramps in the play area to gain a momentary aerial advantage. A Rhino launching off a ramp and crashing down is not something a Hunter wants to see above them. That said, you can sustain damage from direct vehicle impacts or explosions, so be cautious when your vehicle damage bar is low.
 
Be constantly on guard, checking all sides as the Hunters will be trying to approach you from every angle. Staying out in the open gives you a full 360 degree view but backing against a wall or into an enclosure funnels the Hunters into a guaranteed approach, putting them at a disadvantage.
 
Beware of going out of bounds, as you will only have 15 seconds to return to the battlefield.
 
If you are riding solo, don't get cornered or remain stationary, staying mobile makes you a tougher target to hit.
Drop Zone

If incoming enemy paratroopers are too far away to shoot, aim for their canopy to send them off course.
Adrenaline junkies will enjoy one of our faster-paced Adversary Modes, Drop Zone. Barrel through the air at top speed with your team towards the demarcated area and lock it down for as long as you can.
While holding down the fort, keep on the move as a strategically placed Sniper bullet to the head could be just around the corner.
 
Although your bar increases quicker if you have more team members inside the smoke, there are plenty of tactical opportunities to be had by staying just out of sight with a long-range weapon so you can better provide cover fire and draw away the enemy from your team.
 
To the point above, this also enables you to cover for fallen comrades and make a dash for the smoke, to keep the bar filling whilst waiting for their return to the battlefield.
 
You'll be taking a lot of hits when you're out in the open, so make strategic runs to pick up health and armor in between attacks.
 
Players within the zone can also stave off incoming enemies by shooting their Parachutes and thus turning them around or pushing them away from their intended target.
 
For those unlucky enough to have their chute gunned down, quickly detach and open your reserve to save you time trying to run back to the area.
Looking to up your game in all Adversary Modes? See below for a list of tips for other modes and stay tuned here at the Newswire for strategies on more to come.

Previous Adversary Mode Game Tips:
Every Bullet Counts, Running Back, Slasher, Relay & Keep the Pace
Offense Defense, Cross the Line & Hunting Pack
Hasta La Vista, Siege Mentality & Come Out to Play
Sign in
To gain access to the Social Club you will need to sign in with a valid Social Club account.