The 2016 Red Hook Criterium Championship Cycling Series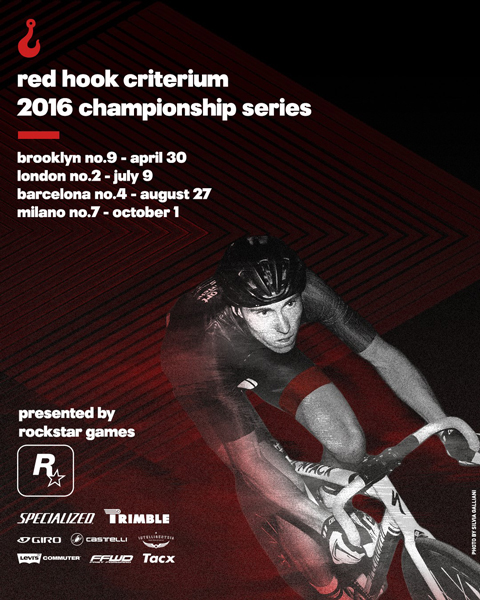 Rockstar Games is proud to announce the return of the Red Hook Criterium Championship Series in 2016, continuing our ongoing support as title sponsor of the international track bike racing series for the 4th straight year.
With four spectacular events scheduled in Brooklyn, London, Barcelona and Milan, competitors will race laps around an approximately 1km circuit filled with turns, chicanes, and hairpins – on brakeless, fixed gear track bikes hitting speeds up to 35 mph. Taking cues from international motorsport, athletes first compete in timed qualification rounds to establish grid positions for the finals. These finals, traditionally raced at night, are held in front of thousands of cheering spectators who bring the crit's signature festival atmosphere to life at every destination.
2016 SCHEDULE:
•    April 30: Brooklyn, NY, USA
•    July 9: London, UK
•    August 27: Barcelona, Spain
•    October 1: Milan, Italy
Athletes accumulate points for finishing each race, traveling from one city to the next, vying for a position on the championship podium. With the continued, four-race schedule, riders will need to perform consistently if they are to contend for the series trophy with each race undoubtedly bringing its own dynamism throughout the season. 2015 Series Champions Ivan Ravaioli (Team Cinelli Chrome, Italy) and Ainara Elbusto (Conor WRC, Spain) will return in 2016 to defend their titles against fierce rivals and ambitious newcomers alike.
 
For those who don't always net points but race with tenacity and determination, there's the coveted Rockstar Games Top Antagonist Trophy to be awarded in both the men's and women's feature races to the athlete who without consideration for their final position, most affects the outcome of the race through a combination of tactics, determination, and sheer strength.
For more details, visit redhookcrit.com and make sure to follow the official Twitter, Facebook, Instagram and YouTube.

Previously:
Red Hook Crit Milano No. 6 Recap
Sign in
To gain access to the Social Club you will need to sign in with a valid Social Club account.