Presenting the Official Music Video for "Wanderer" by Little Dragon (Rockstar Editor Contest Winner)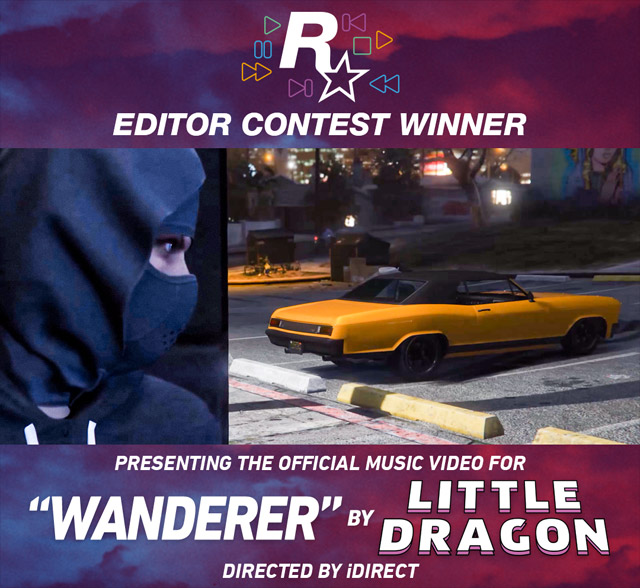 Rockstar Games and Little Dragon are pleased to present the winning official music video for "Wanderer" by Little Dragon (from the Welcome to Los Santos LP) created entirely using the Grand Theft Auto V Rockstar Editor. Congratulations to iDirect, who can claim not only the prestige of being selected as the creator of Little Dragon's official music video, but also an exclusive grand prize package featuring the rare and personalized GTAV Varsity Jacket, the Rockstar Editor-branded director's chair and a choice of a customized gold Xbox One or PS4 controller or a G510 Proteus Core Gaming Mouse.

The challenge was to create an original music video for "Wanderer" purely using the Rockstar Editor telling the story of a rogue – a very clever double-agent or double-crosser who plays two sides of a criminal enterprise to her or his own advantage.
The members of Little Dragon had this to say about the contest winners:
"First of all, it was hard choosing a winner out of all the great videos. You were all great!! Congrats to the very talented iDirect who made such a nice, classic story with the smart sharp lady outplaying everyone else - including us!"

THE WINNER
WANDERER - LITTLE DRAGON MUSIC VIDEO by iDirect
iDirect bad gal gone good takes us on a trip through the dangerous life of an informant caught in the act. iDirect? Certainly does. This cinematic music video has some fantastic sequences as it spins the tale of a car thief with exceptional guile playing the police and a chop shop ring against each other.
THE RUNNERS-UP

A shout out to the creators of these impressive runner-up videos – both of whom will be receiving a deluxe prize pack of official GTAV gear and an additional $100 Rockstar Warehouse gift credit.
WANDERER [V2] by laurent.do
A really well-made clip with some amazing shots and editing about a Bonnie and Clyde type criminal couple who rip off a crime syndicate together but ultimately are undone themselves by betrayal and revenge. laurent.do paints a vivid picture of the fiery consequences of crossing a femme fatale in this action-packed entry.
LITTLE DRAGON – WANDERER (MUSIC VIDEO) by shorty2001
shorty2001 has climbed up the Rockstar Editor contest totem pole over the past few months, having received honorable mention for both his Wavves and Ill Gotten Gains entries. In this latest creation of renown, shorty2001 depicts a double-crossing rogue gangster playing both The Families and The Ballas for the ultimate payoff.

HONORABLE MENTIONS

And finally, thank you to all the editors worldwide who submitted entries – there was an astounding level of passion and effort put into these videos and we look forward to seeing more from the community at large. On that note, here are a couple of additional honorable mentions also worth checking out. Stay tuned for the next Rockstar Editor contest to be announced soon.
LITTLE DRAGON - WANDERER (FINAL CUT) by Modojo
Modojo's editing skills are a force to be reckoned with in this tale of a rogue IAA agent tasked with infiltrating the Vagos and Ballas to bring down a gang leader – only to discover she's been set up for a fall herself and must navigate a crafty way out.
WANDERER BY LITTLE DRAGON by BigBabyBam
Explosions and crosses singular, double and triple - BigBabyBam's protagonist will have you guessing whose side she is really on right to the bitter end.

Previously:
Rockstar Editor Contest: Create the Official Music Video for Little Dragon's "Wanderer"
Announcing the Winner of the #illgottengains Rockstar Editor Contest
Sign in
To gain access to the Social Club you will need to sign in with a valid Social Club account.