Crew Cut: A Look Back at 2015's Top Performers
The Festive season has come and gone, with the final snows in GTA Online marking the end of another year of carnage on the blood-soaked streets of Los Santos and Blaine County. To help commemorate some of the great Crew-fueled activity of 2015, we're taking this opportunity to highlight top performing Crews in select categories for the latest edition of the Crew Cut.
Acknowledgement is also in order for the countless legions of Social Club Crews out there also doing great stuff in less quantifiable areas of creativity and competition - and look for continued features on these types of squads throughout 2016. But for now, feast on some cold, hard data we've collected about some equally cold, hard Crews.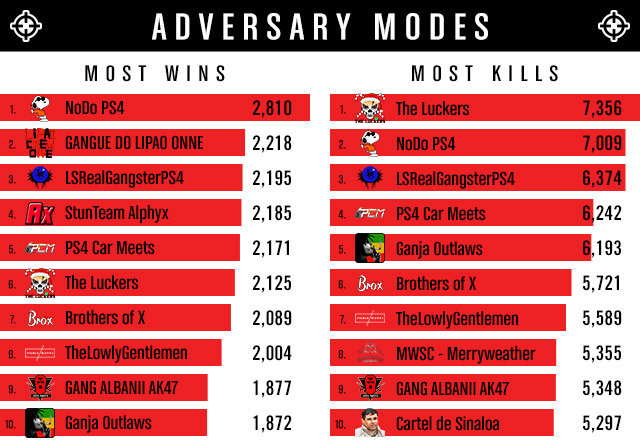 ADVERSARY MODES: MOST WINS & KILLS
2015 brought the debut of Adversary Modes to GTA Online. Whether you're making Every Bullet Count, or teaming up with fellow Slashers to bring down the Beasts, communication is key when it comes to dominating the various Adversary Modes in GTA Online. Of course, the ability to rack up the kills doesn't hurt, particularly in Come Out To Play and Siege Mentality. 
LSRealGangsterPS4, PS4 Car Meets, Ganja Outlaws, GANG ALBANII AK47, The LowlyGentlemen and The Luckers prove this point with appearances on both sides of the board. Particular credit must go to NoDo PS4 whose 'Nonchalant Dominance' has them holding the #1 spot in wins, and second place for kills among all Crews.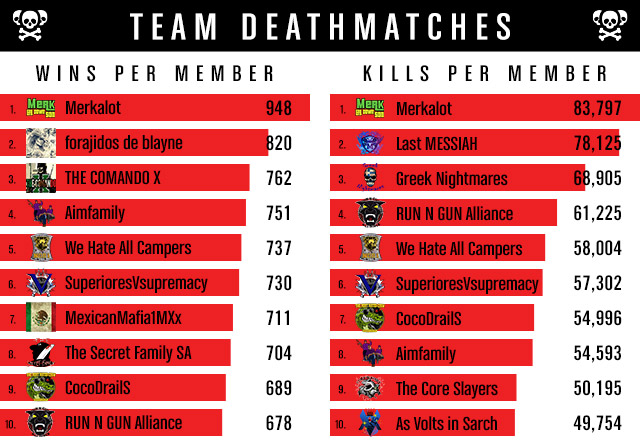 To account for variations in membership, we've averaged the figures in the table above by the headcount of each Crew.
TEAM DEATHMATCH: WINS & KILLS (PER MEMBER)
Team Deathmatches are all about body count, so it's no surprise to see one Crew holding down the top spot in both matches won and kills made. Merkalot, previously featured in the Cut for a video showcasing their incredible marksmanship, and only 24 members deep, racked up an average of over 80,000 kills per member on their way to winning 948 Team Deathmatches in 2015.
Shout to We Hate All Campers, SuperioresVsupremacy, Aimfamily and CocoDrailS as well, who all have great showings on both sides of the board. And of course no surprise to see headshot maestros Last MESSIAH (and the aforementioned We Hate All Campers) make it in to the top 5 Kills Per Member standings.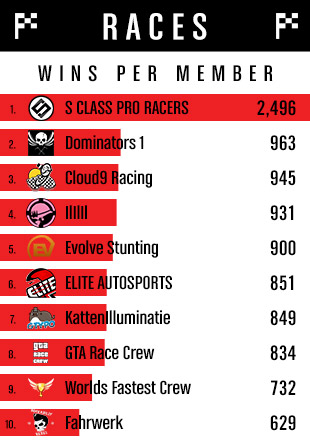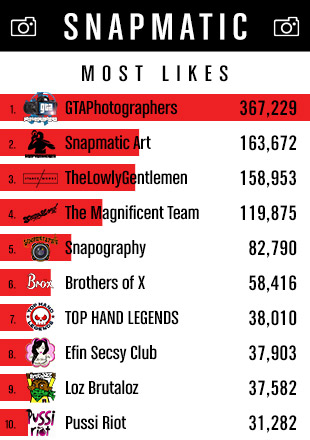 RACES: WINS (PER MEMBER)
When it comes to racing the streets of Los Santos, the incredible performance by S CLASS PRO RACERS puts them head and shoulders above the competition with 2,496 wins - more than double the tally of their nearest competitor, Dominators 1. Notable YouTube collective Evolve Stunting (recently featured in this article about the GTA Online stunting scene from The Guardian) clock in at 5th, proving that they have more than just flashy stunts in their repertoire.   
SNAPMATIC: MOST LIKES
And while many come together specifically in the spirit of competition, there's also a long standing and thriving community on GTA Online with a specific eye for beauty and detail. We're continuously impressed by the ever-growing collection of fantastic and imaginative photos from the Snapmatic community and the thoughtful Crews that have formed around this pastime. Snapmatic stalwarts GTAPhotographers and Snapmatic Art would surely be disappointed at anything less than podium finishes on this list - congrats to both on living up to the name. Many other well-known Snapmatic Crews make up the rest of the list. Make sure to follow us on Twitter as we regularly highlight some of the best offerings from Crews such as Brothers of X, Efin Secsy Club and Loz Brutaloz and many more.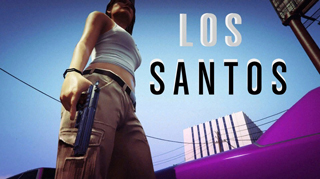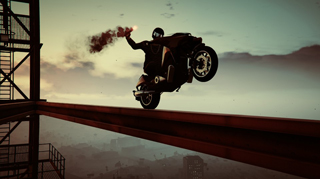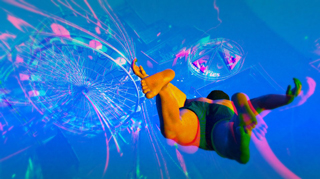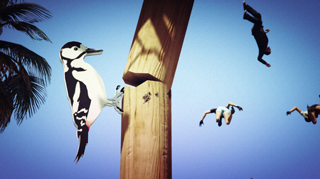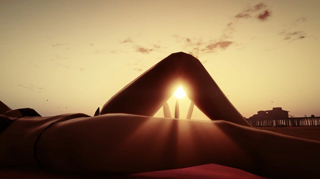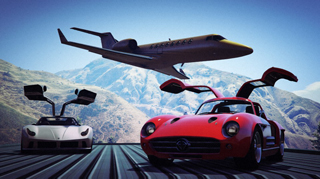 Sensational, sultry and in some cases subtle, here are just a few of many standout shots from the galleries of 2015's most popular Snapmatic Crews. Taken by Crew members: wittyBlack-Mamba, Vinewoodonfire, MAKAVELl, Nemosphene, slimsy1901 and I_Miss_U_Liza.

The Crew Cut highlights exceptional grassroots community activity, events, accomplishments and other happenings across the thriving Social Club Crew scene. If your Crew is doing something special that you think the Social Club community needs to know about, hit us up at mouthoff@rockstargames.com and tell us all about it – you might see your Crew featured in an upcoming edition of the Crew Cut.
 
Previously:
Crews Living the Low Life, a Real Life Skydiving Crew & More
Top Daily Objective Crews & The Off-Road All Stars
Car Meet Carnivals and the Top Head Hunter Crews on Social Club
Sign in
To gain access to the Social Club you will need to sign in with a valid Social Club account.