Rockstar Livestreams feat GTAV Soundtrack's CURREN$Y & A Creators Showcase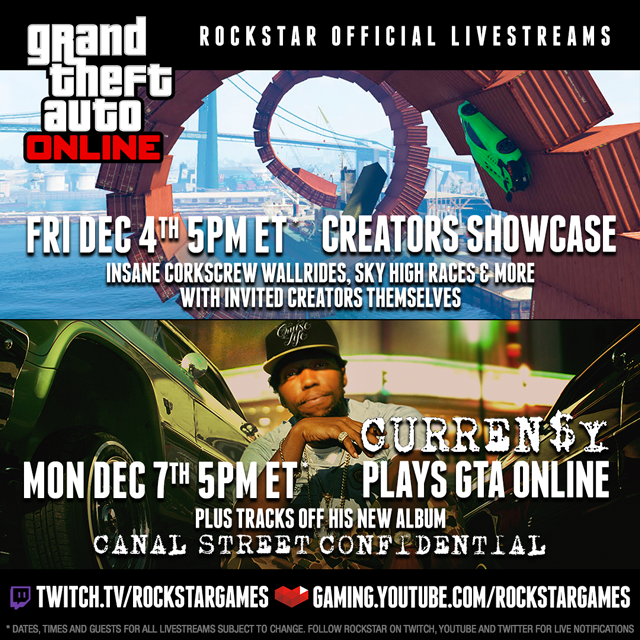 Tune in over the next few days at the Rockstar Twitch and YouTube Gaming channels for the next scheduled livestreams featuring GTAV Soundtrack's own Curren$y as well as a special Creators Showcase:
Friday Dec 4     5pm ET*
CREATORS SHOWCASE
With special guests Jelly, PetayPanMofo, LadyMiss80s & many more
We'll be playing through inventive original corkscrew wallrides, sky high ramp Races, intense Captures, spiral staircase Deathmatches, RPG versus aircraft Last Team Standings and lots more that were featured in this week's Jobs on Film column here at the Rockstar Newswire with some of the Job Creators themselves and other guest players from the GTA community. We'll also be pulling out the t-shirt cannon at the end of the stream blasting out rare in-game collectible t-shirts for lucky winners in Twitch chat, so don't miss out.
Monday Dec 7     5pm ET*
GTAV Soundtrack's CURREN$Y SPITTA
As heard on The Lab's "Fetti" on your Los Santos radio dial and the GTAV Welcome to Los Santos original soundtrack album, Curren$y is not only a well-known Grand Theft Auto fan (his very first album was inspired directly by GTA Vice City) but is also a tremendous lowrider aficionado – so expect a GTA Online: Lowriders heavy session as we deck out some custom lolos at Benny's, throw down in a hydraulics challenge bounce off, then race and bash 'em in some rounds of Destroy Last Place plus Keep the Pace and other new modes together. All set to the tune of new music off his brand new album out this week Canal Street Confidential. Make sure you're following Rockstar on Twitter as well as we'll also be giving away some rare prize packs on Monday night after the stream is over including autographed copies of Curren$y's new album along with GTAV tees and more.

* Please note that with all livestreams, dates and times are very much subject to change. Follow twitch.tv/rockstargames, gaming.youtube.com/rockstargames and twitter.com/rockstargames to get live notifications of when streams begin. And stay tuned for many more Rockstar livestreams in the weeks ahead to be announced.
Sign in
To gain access to the Social Club you will need to sign in with a valid Social Club account.