Fan Art Gallery: Art Deco GTA Cars, GTA Online Mask Makeup Efx, A Burger Shot Meal Constructed out of Candy & More
From GTAIV pixel art homages, to a German artist who's fashioned a Burger Shot value meal out of candy, to a special makeup efx maestro transforming herself into famous GTA Online masks just in time for Halloween – check out this week's gallery of exceptional fan art. Make sure to follow us on Twitter and Instagram where we feature great fan creations on the regular. And as always, if you've got some fantastic fan art or Snapmatics to share, be sure to drop it in the comments below for the Social Club community to enjoy.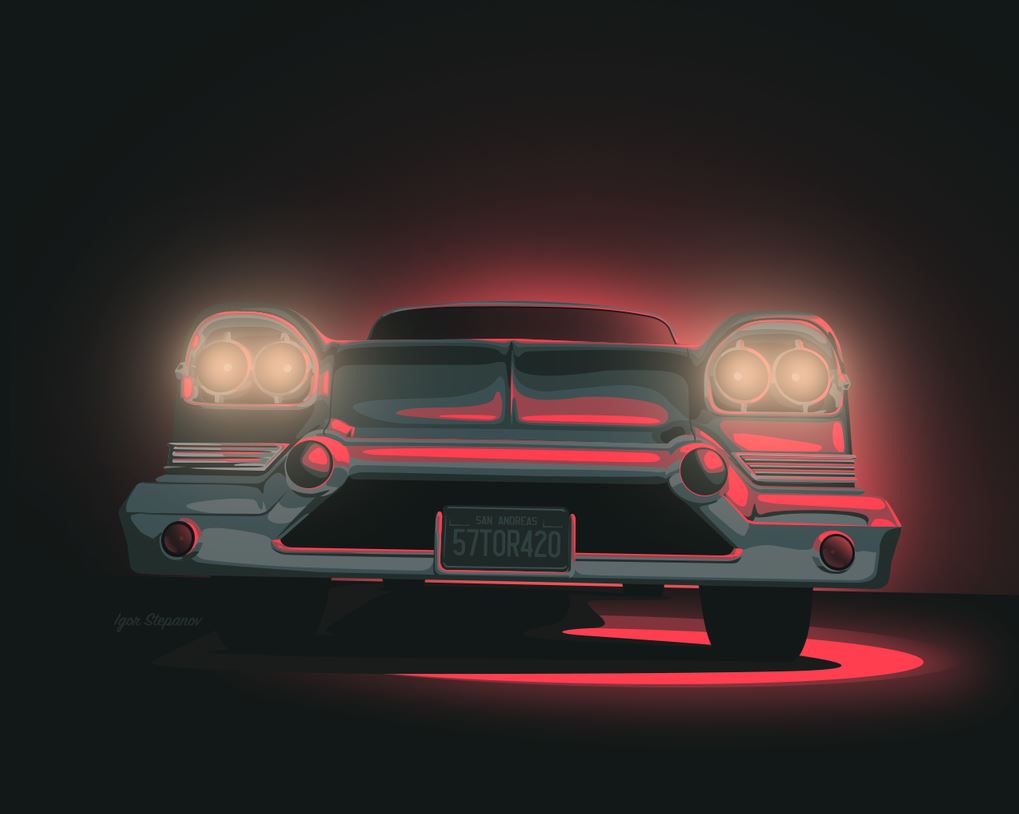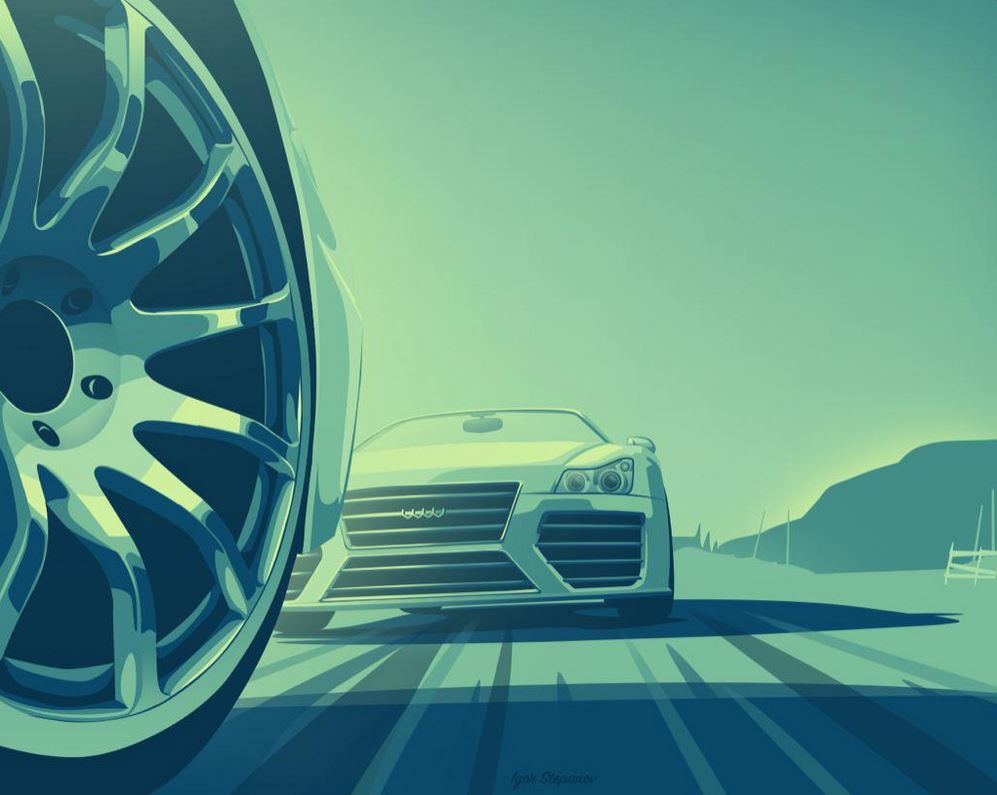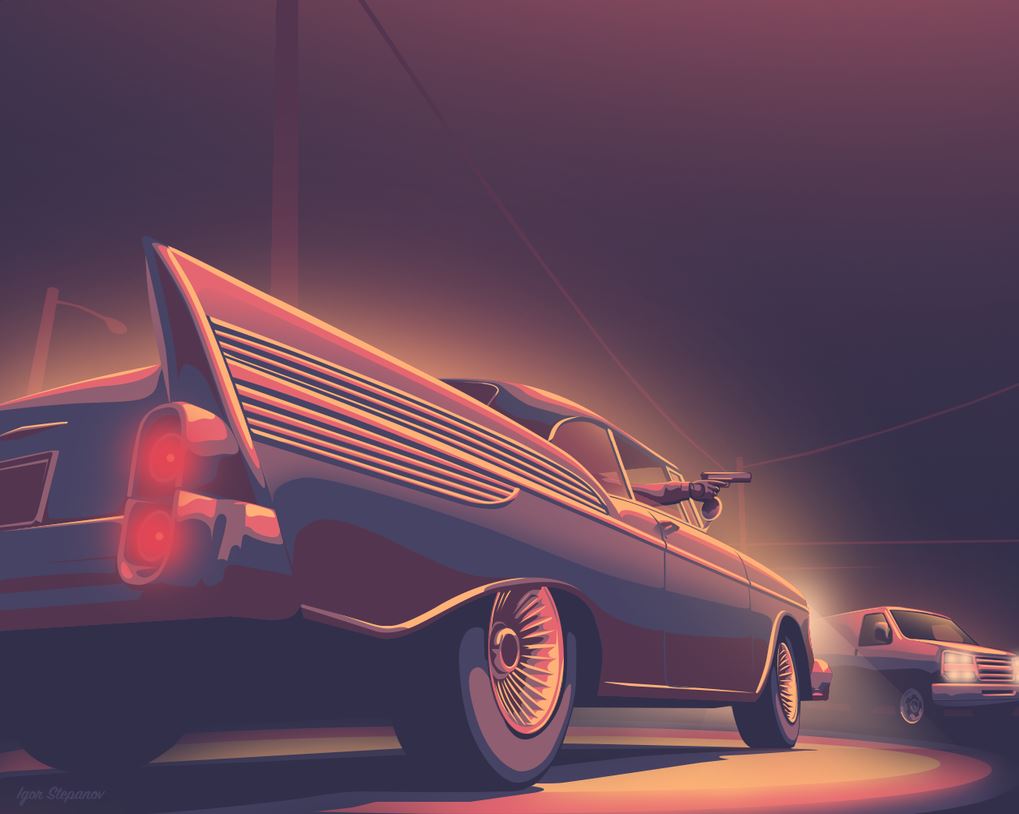 "Tornado" (Top), "Race" (Middle) & "Risky Business" (Bottom) by Igor Stepanov
Artist and car enthusiast Igor Stepanov just recently joined DeviantArt and posted this trio of original illustrations calling them simply "My first Grand Theft Auto inspired fan art." The first time is a charm – with a striking and appropriately deco-styled tribute to classic cars from GTAV and more.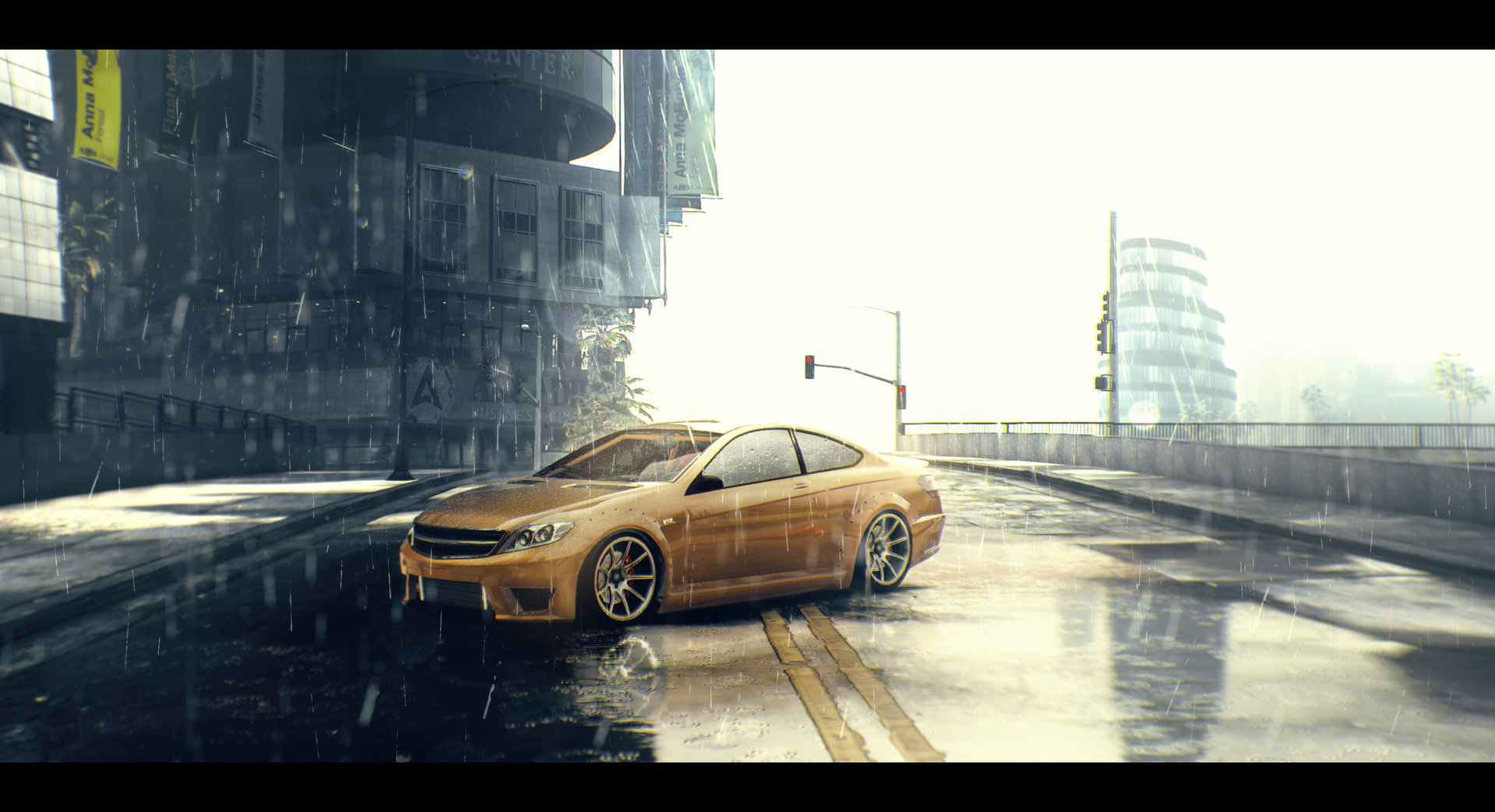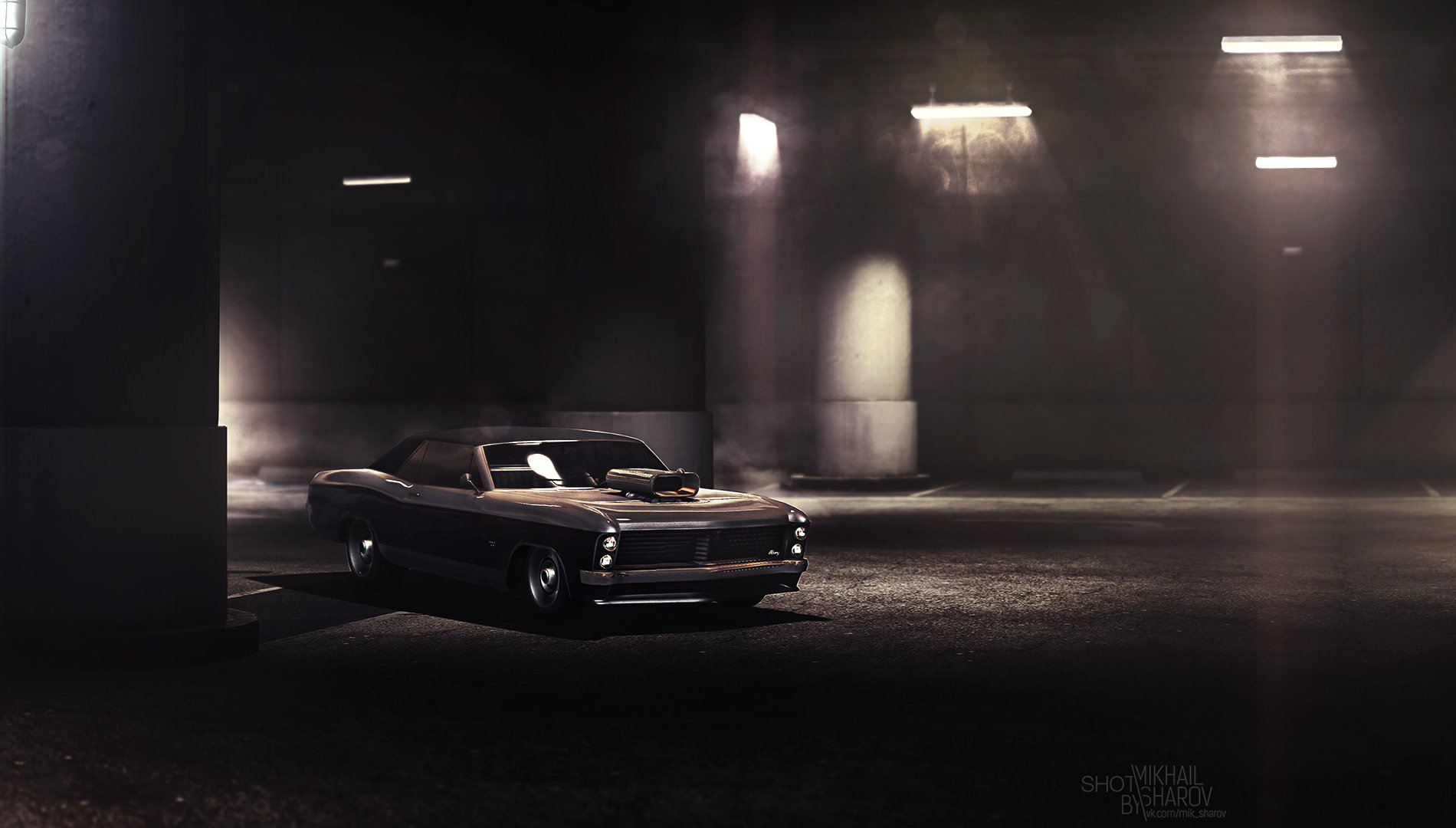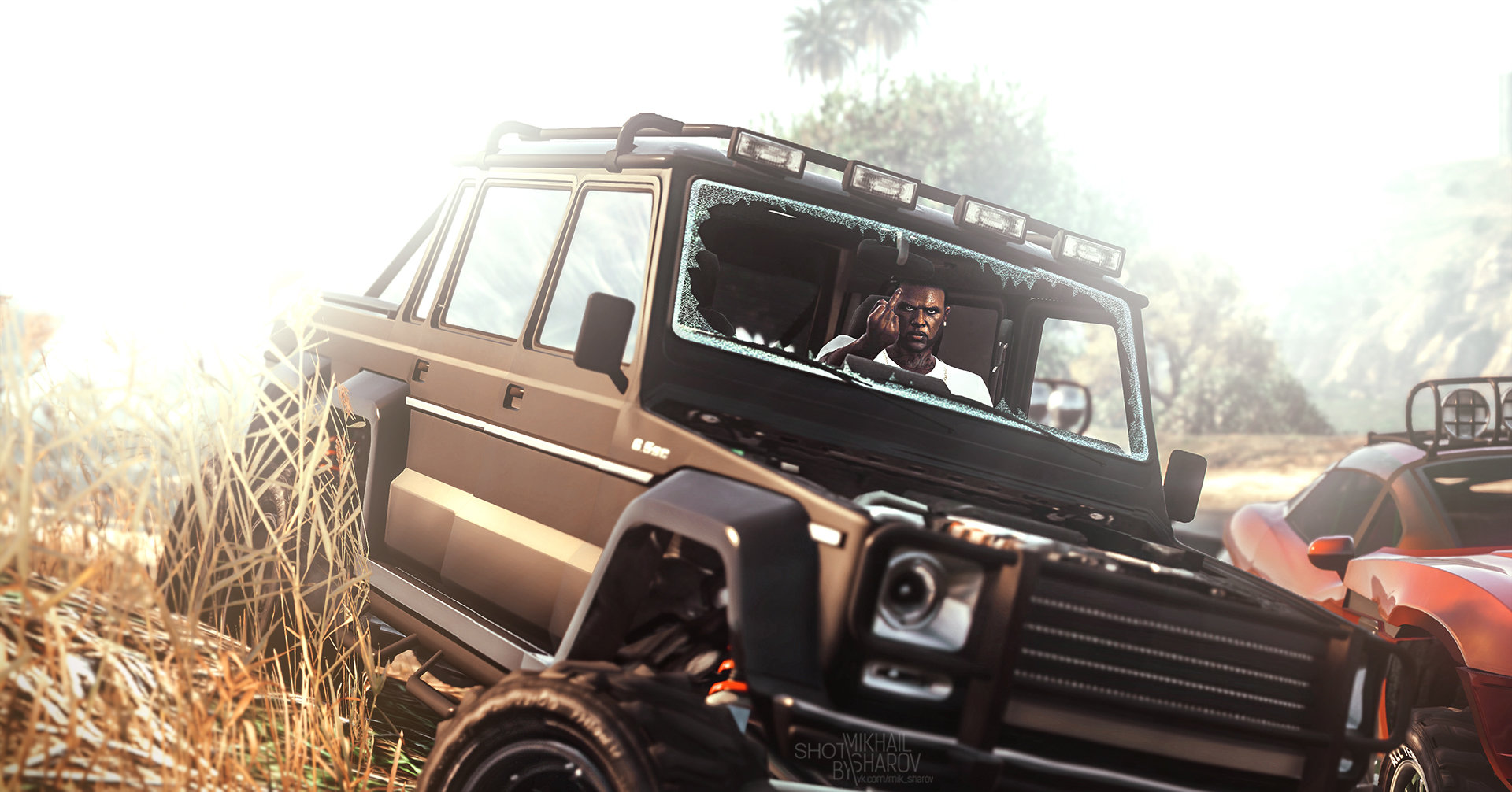 "Sad" (Top), Albany Buccaneer (Middle) & "Angry" (Bottom) by Mikhail Sharov
And now for some vehicle tributes of the photographic kind. Mikhail Sharov is a legit automotive photographer who regularly does real-world photoshoots of all sorts of muscle cars, sedans, bikes and more. And he also pulls double-duty by practicing and flexing his keen lensman abilities as a GTAV photographer of vehicles all over Los Santos and Blaine County. Browse Sharov's ArtStation and flickr photo galleries to see a seamless combination of both types of vehicle photography where the line between the two gets beautifully blurry. Packed with rich detail and nuance, from the gloomy curtains of rain to smoky, underground dust motes, Sharov captures moments of action and repose with eye-catching gravitas. Don't miss Mikhail's photoshoots of the Enus Windsor, Enus Super Diamond and Coil Voltic as well.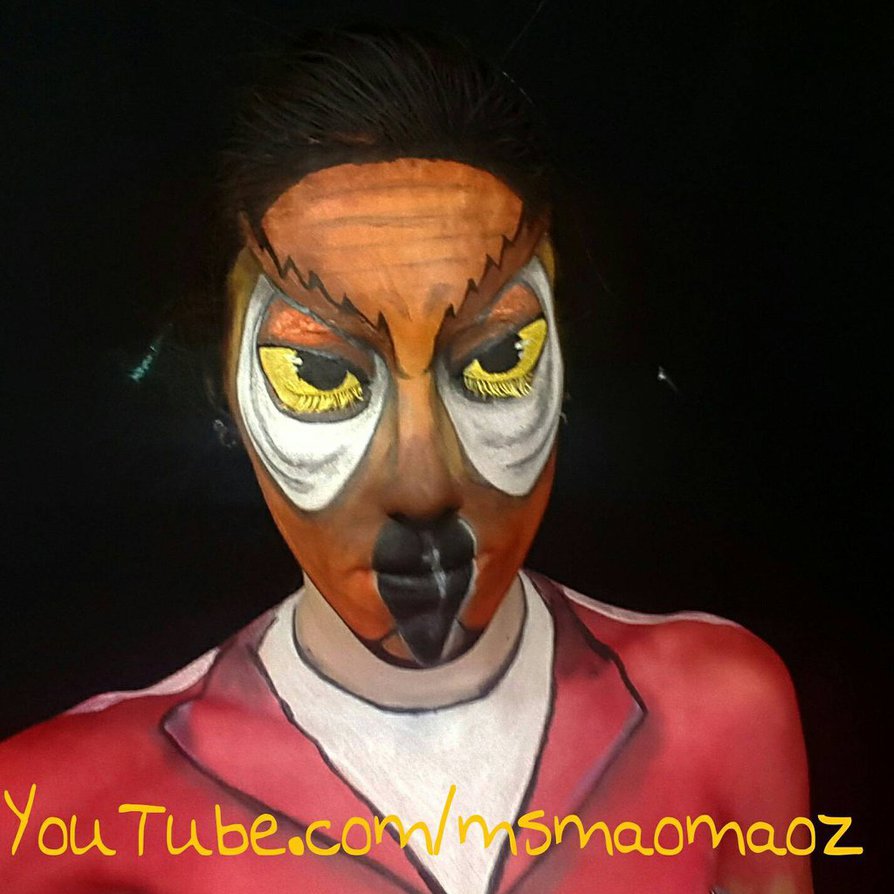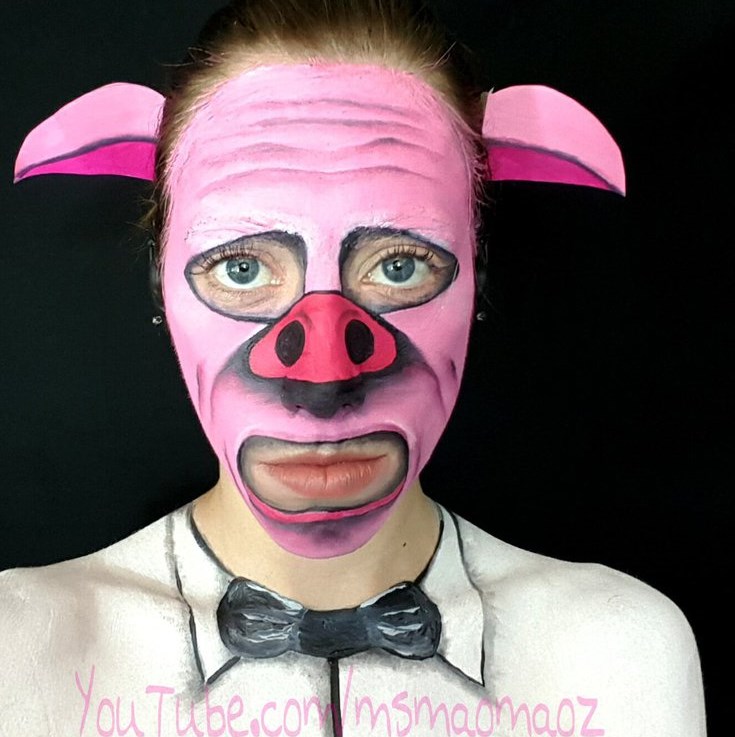 GTAV Online Owl Mask & Pig Mask by MaoMaoz
We recently featured make-up artist MaoMaoz' re-creation of the Go Go Space Monkey mask popularized by our friend Lui Calibre. Since then, she's gone on to make equally impressive and freaky make-up tributes to the Owl Mask and the Pig Mask as favored by Lui's oft GTA Online playmates Vanoss and Wildcat complete with making-of videos showing you exactly how she brought the GTA Online Owl and Pig mask to life - handy instructionals if you're still trying to work out that perfect costume for next week. A shout out as well to cosplayer and make-up artist JerkyDerpy who has also been experimenting impressively with similar tributes.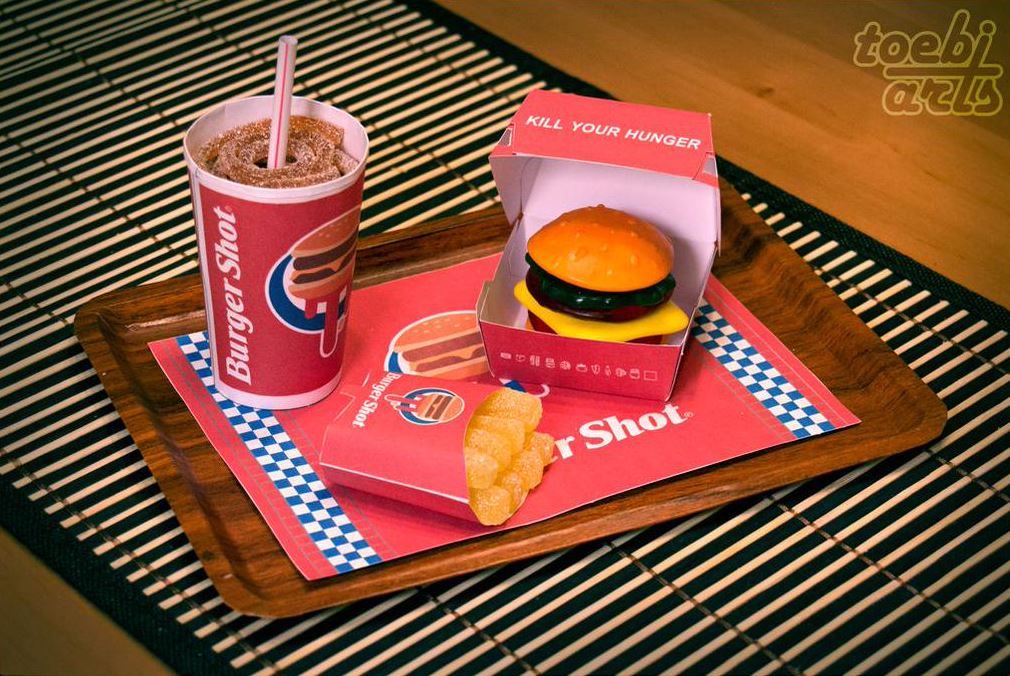 "BurgerShot (Candy Menu)" by Toebi-arts
German fan Toebi-arts tweeted us this sweet real life re-creation of a Burger Shot Bleeder value meal with all of the 'edible' bits made out of candy plus faithfully replicated packaging. Toebi also shared this second shot of the confectionary creation showing its scale next to the GTAV PS4 game box.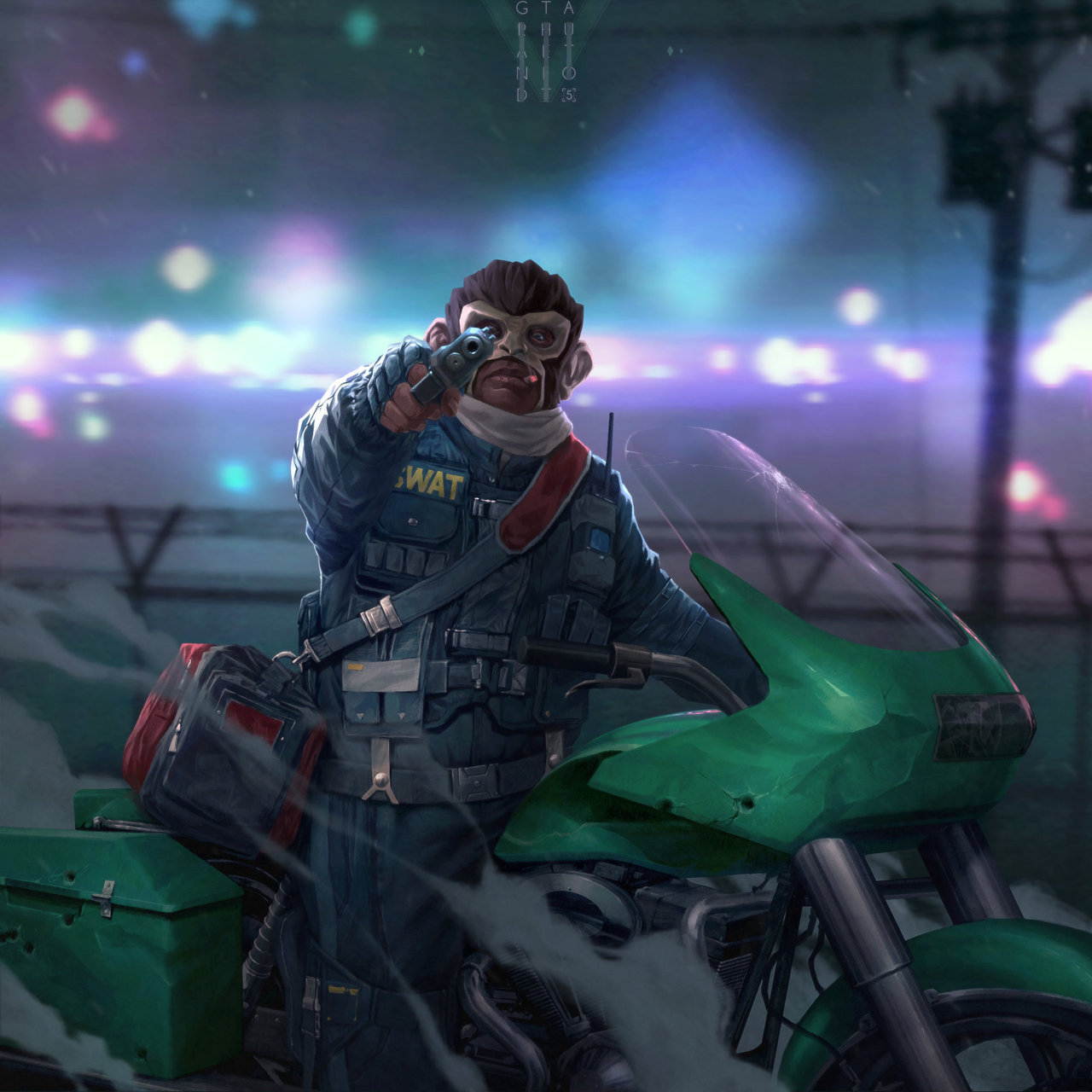 Smoking tires, duffle bag secured, identity shrouded under a Go Go Space Monkey mask and pistol at the ready - all in a night's work for Franklin as drawn by DeviantArtist Mikael Wang. Set against the busy neon blur of Los Santos, this piece is impressive in all the little details, right down to the SWAT suit's multiple utility pockets, the dented bullet-studded Western Bagger bike, and the cool original GTAV identity up there at the top center.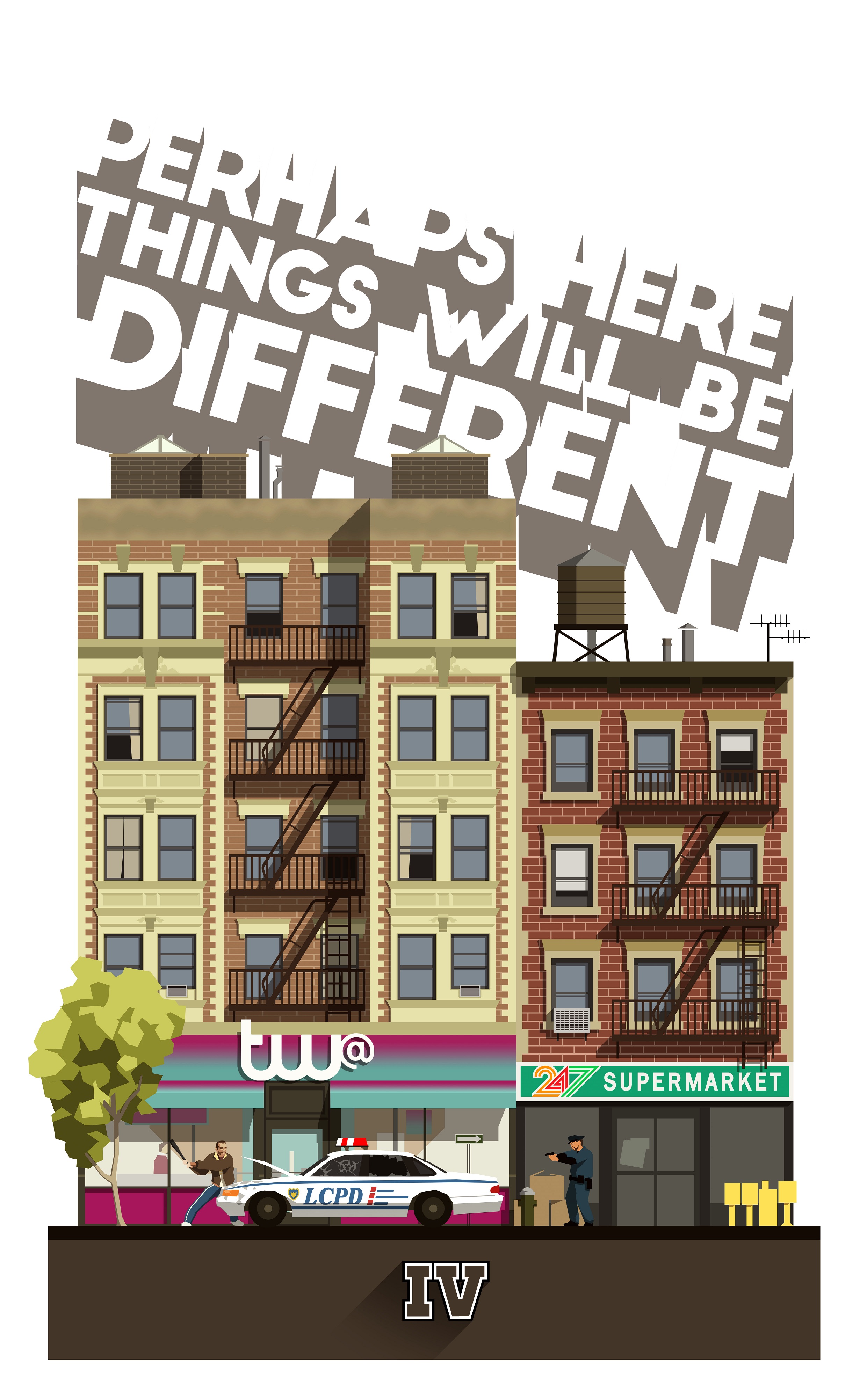 "Perhaps Here Things Will Be Different" by Pierre Laurent
Inspired by the "phrase mythique" from the first trailer for Grand Theft Auto IV, French artist Pierre Laurent has created this fantastic bit of 2-D pixel art depicting Niko's at times strained relationship with the LCPD. 

Finally, check out some of the latest and greatest GTA Online character portrait illustrations we've come across:

GTAV - Emma Harding by msdeath666

Mexican artist msdeath666 was commissioned by TimeyLurdJeddur to create fandom art for her OC "Emma Harding". There's an amazing wealth of detail put into Emma's bio culminating in her present situ hustling criminal endeavors alongside Lamar in the streets of L.S. Kudos to msdeath666 for helping bring the character to life.


 


My GTAV Character by Lonedevil87

DeviantArtist Lonedevil87 aka Scipioni Fabrizio experimented with blending to create the effect of light and shadow in this action-packed shot. His character is clearly battle-tested, fleeing from an explosion with pistol mid-unholster.
Sign in
To gain access to the Social Club you will need to sign in with a valid Social Club account.