Crew Cut: Car Meet Carnivals and the Top Head Hunter Crews on Social Club
CREW CAR MEETS GOING STRONG 
6 Star Street Racers, captained by prolific YouTuber GTA-Wise-Guy, have really stepped up their game since first being mentioned on the Crew Noticeboard a little over a year ago. Having now accumulated close to 900 members, they've recently set their sights on PC as their leading platform, using the Rockstar Editor to not only craft a kick-ass Crew promo video but also to highlight their first official PC Car Meet shown above. Describing themselves as "tight-knit", they do everything from sitting back and relaxing at car meets to pushing cars to their limits while weaving through heavy traffic. Within all of that they encourage the members gathering at these meets to pick a specialty and put them into five distinct categories:
Speedster: High speed thrill seekers and masters of the race track.
Drifter: Driving in pure style.
Tuner: Building the perfect ride is everything.
Antagonizer: Rally with other crew members to wage war on rivals.
Outlaw: Become the most wanted.
The CoreGaming PS4 Crew (no prizes for guessing which platform they play on!) are a decidedly smaller collective of like-minded gamers. Despite their modest size, the roster is filled with names that might be familiar to Newswire readers for creative efforts behind the wheel and beyond... Lorzatrol was featured shortly after the launch of GTA Online Heists for her sweet shot of the Lampadati Casco, while her Crew mate zummere20 has taken the bullet art phenomenon in a new direction, using vehicles as the canvas. Finally there's video editor xiRoNiCzZ who gave Crew Cut alumni SolTezRobo Racing a hand on this promo video. For all intents and purposes, CoreGaming appear to be a great bunch to compare notes with when you're looking to trick out your favorite ride. Definitely check out their Instagram for several excellent Snapmatic car meet shots as well. And if you'd like to take part in one of their upcoming drift competitions check out their latest competition promo video and official website for further details.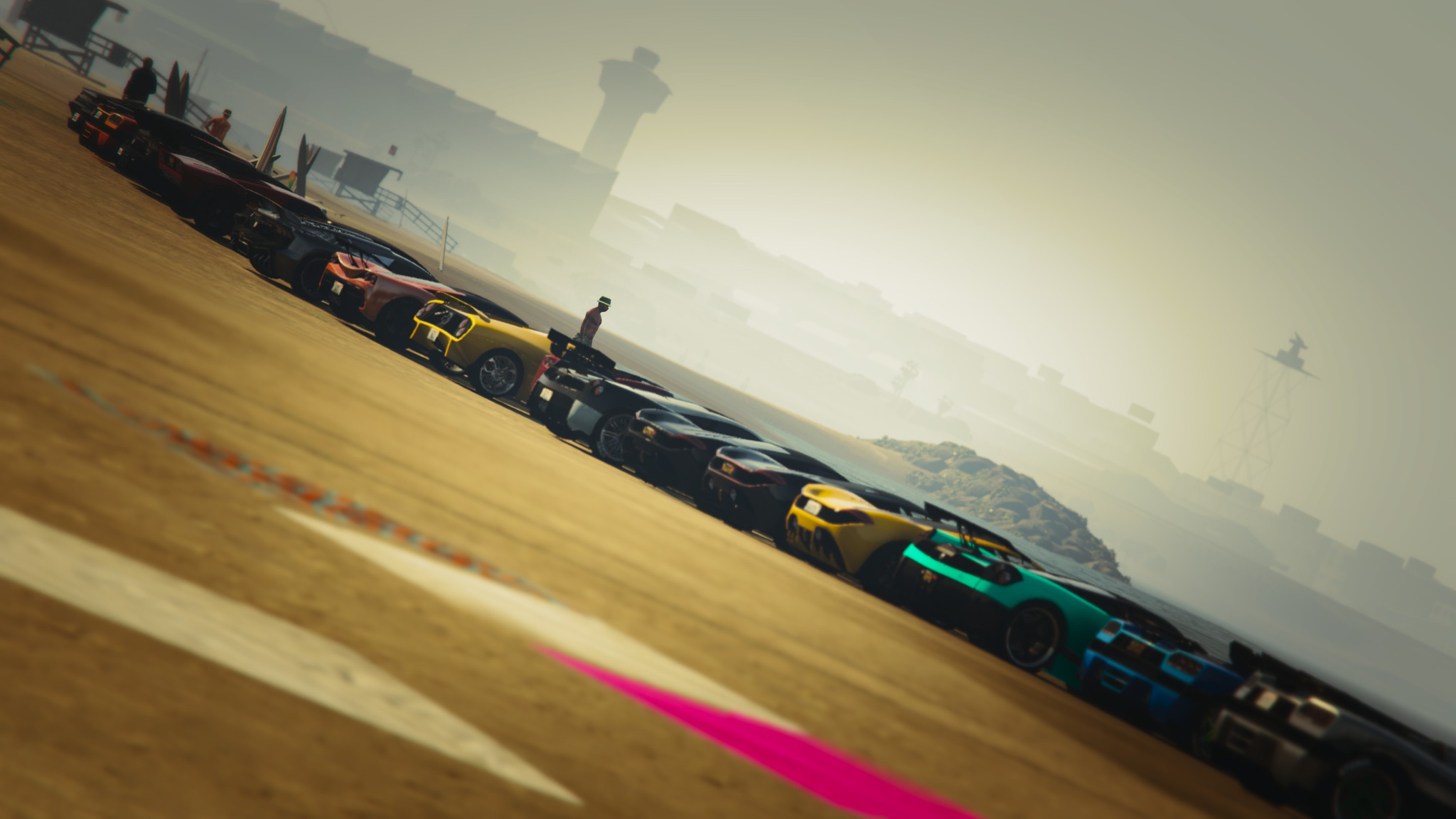 On a clear summer day the rGTAV Cruisers behind the wheels of this sick line of custom whips have a great view of the LSIA Control Tower.
Last but certainly not least, there's Reddit based Crew rGTAV Cruises who are absolutely killing it with this full album of vivid photos from their latest Crew car meet event put together by Soloz. Members like trackmania101 are pretty handy on the video editing promos as well but in this case we thought we'd let a few of these gorgeous shots paint the picture of how well the attendance for their latest "sun up to sun down" gathering turned out.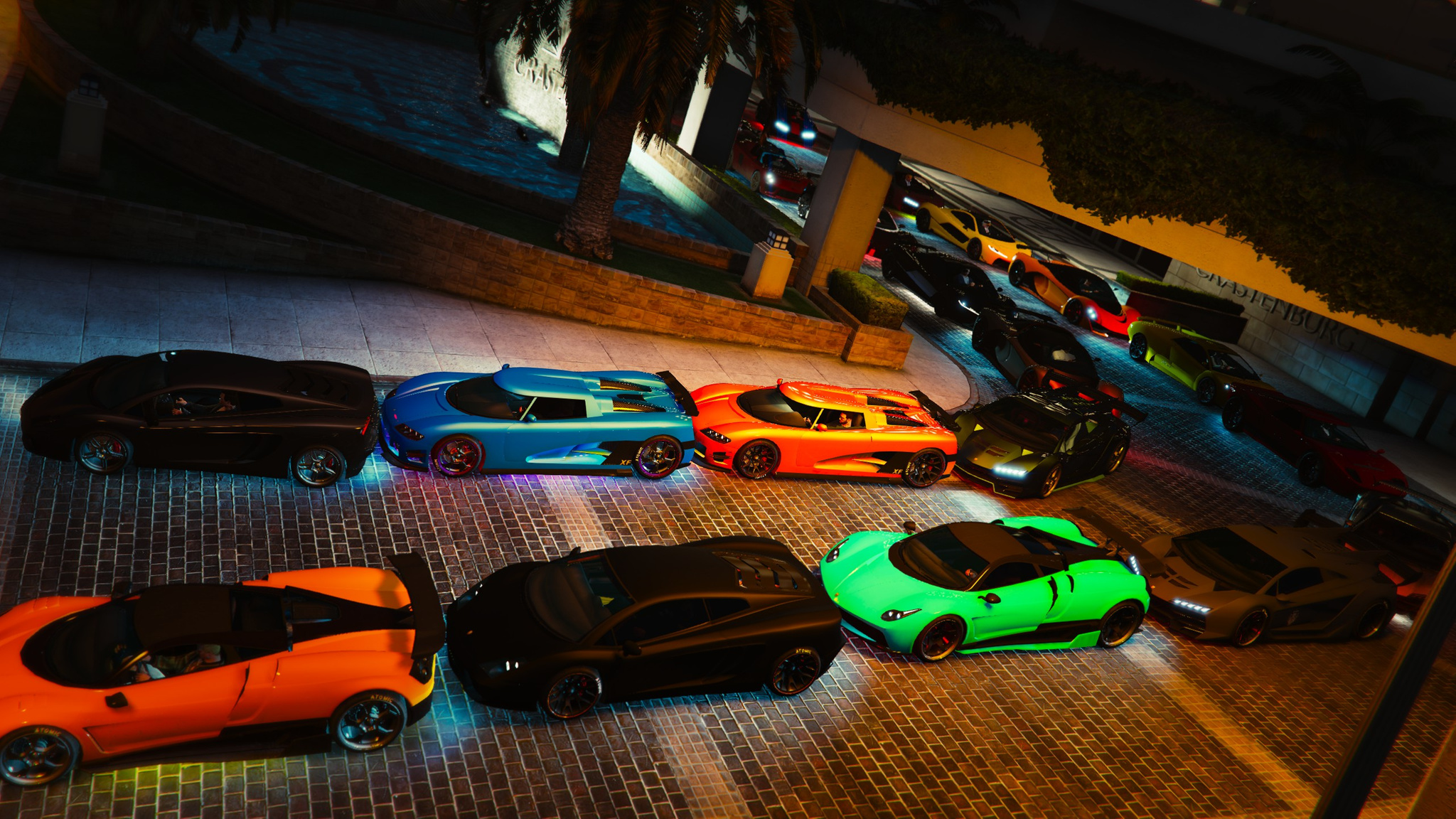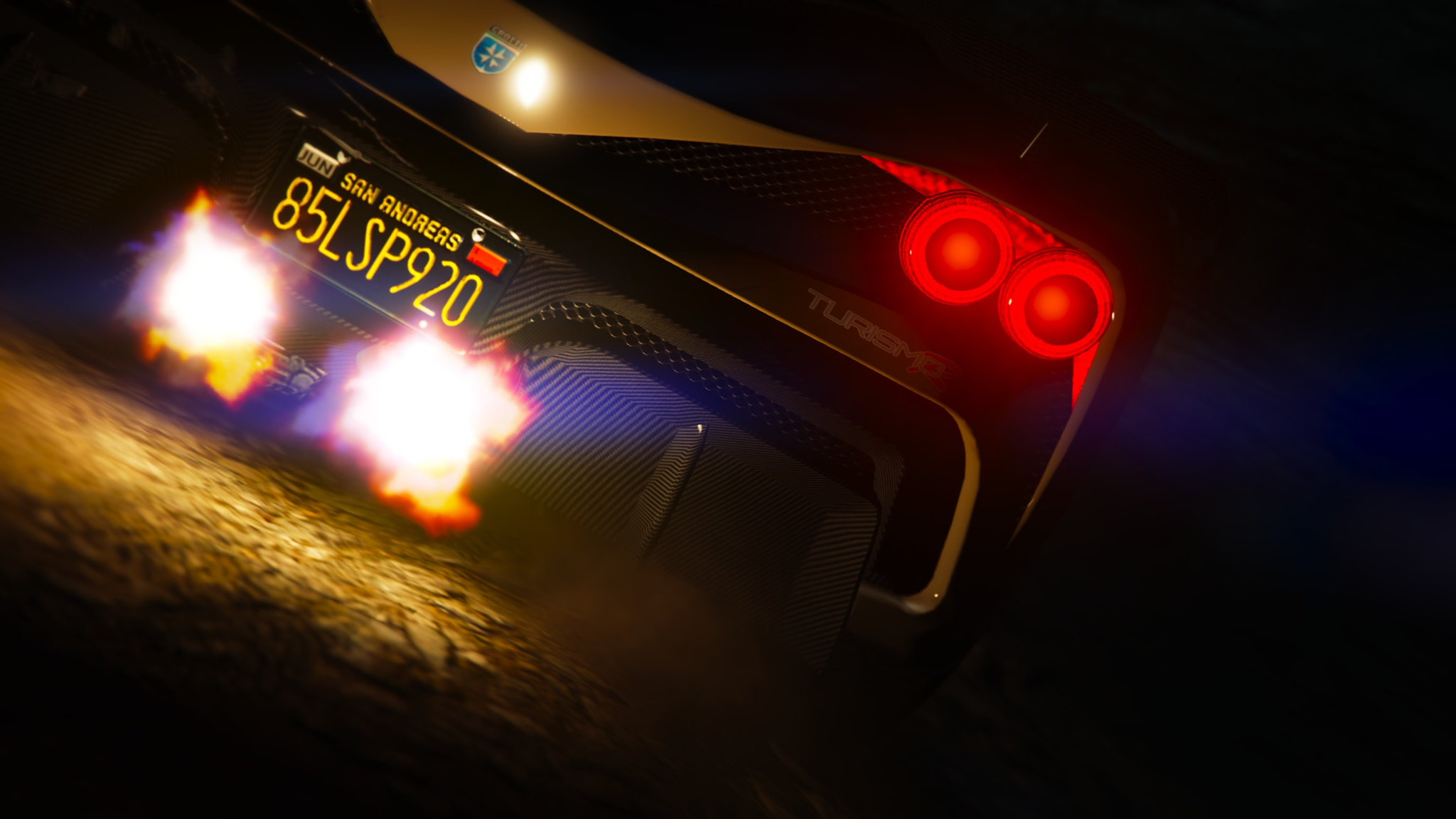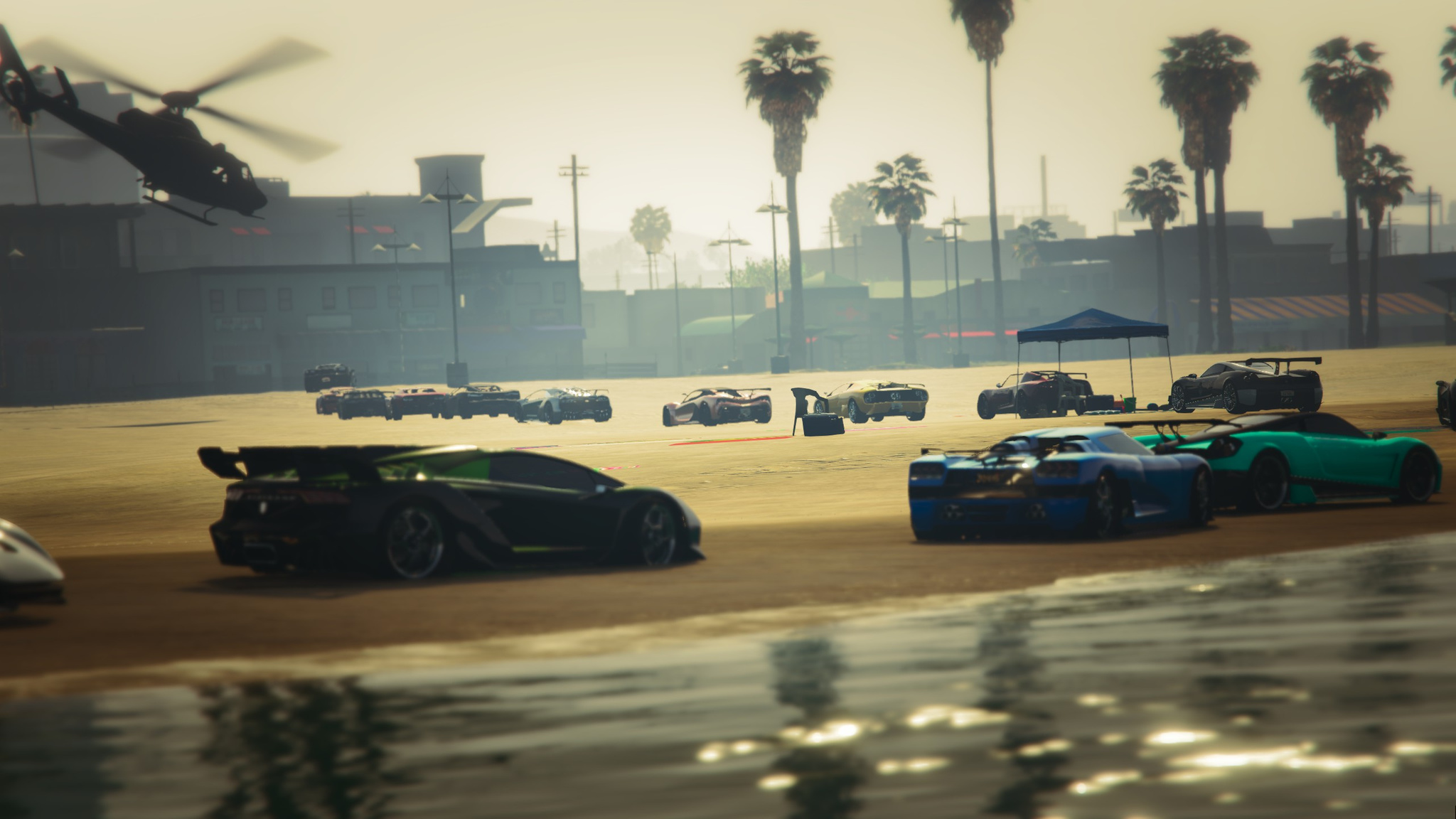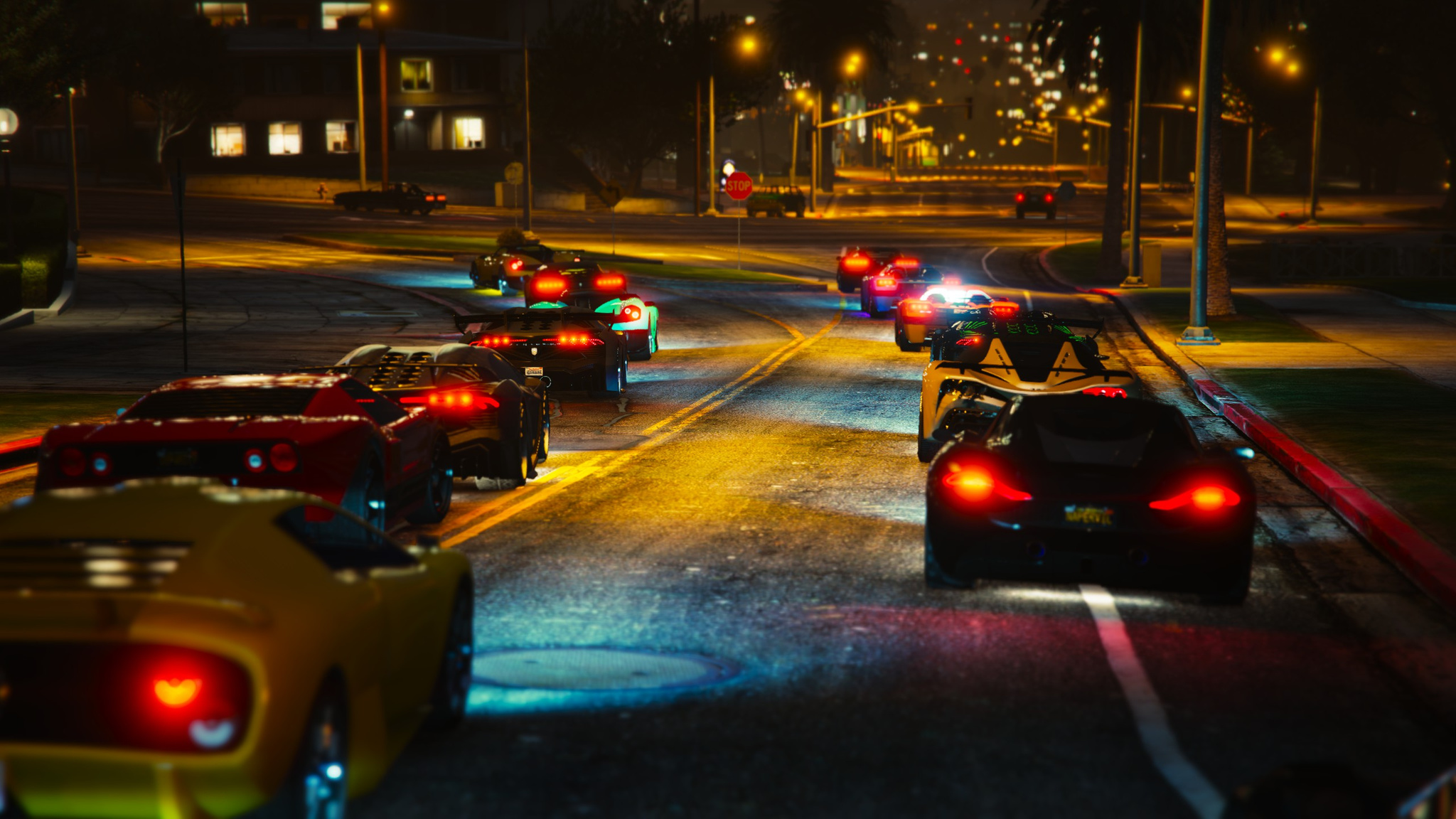 From the sandy beaches of Del Perro to the glittering nightlife in East Vinewood this Crew really knows how to turn heads.

THE HEADHUNTERS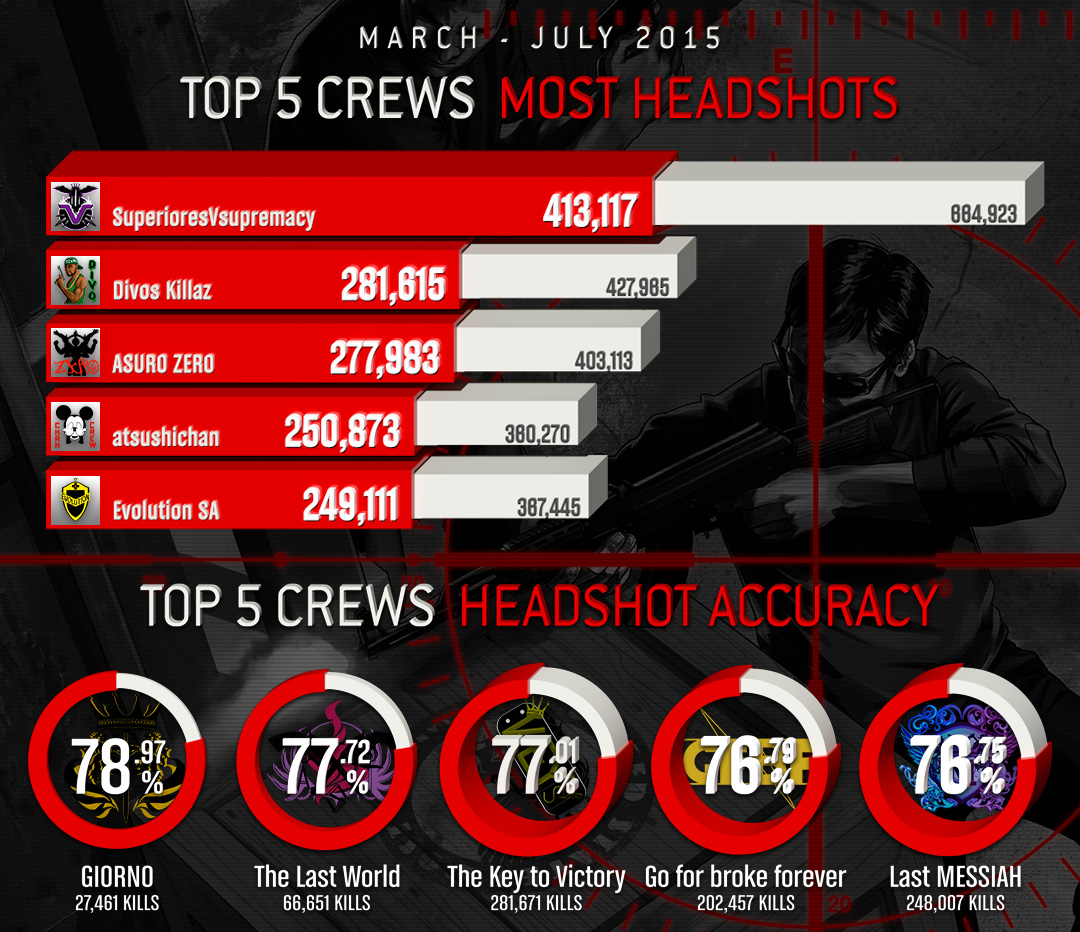 While the introduction of Bulletproof Helmets in the Last Team Standing Update offered competitive Crews on GTA Online some measure of protection from the single shot to the dome kill, we can clearly see in the chart above that it's done little to hinder these headhunting Crews from hitting their marks. Bagging and tagging in the largest capacity we see SuperioresVsupremacy with a sizable lead in overall headshots, followed by Divos Killaz, ASURA ZERO, atsushichan and Evolution_SA. For overall headshot accuracy the GIORNO and The_Last_World Crews seem to be taking the lead though we would fairly note they are averaging from a much smaller pool of kills than The_Key_to_Victory, Go_for_broke_forever and Last MESSIAH respectively.

CREW CALENDAR
Many established Social Club Crews regularly hold scheduled events which you can sign up to join. The calendar below presents a lineup of just a few upcoming August events on our radar, and if you or your Crew are hosting some fun upcoming activities, make sure to shout it out in the comments section below for other Social Club members to check out.
The Crew Cut is our special Newswire column highlighting exceptional grassroots community activity, events, accomplishments and other happenings across the thriving Social Club Crew scene. If your Crew is doing something exceptional that you think the Social Club community needs to know about, hit us up at mouthoff@rockstargames.com and tell us all about it – you might see your Crew featured in an upcoming edition of the Crew Cut.

Previously:
The STNC x GLRY Euro Car Meet, "The Five" TDM Tournament and More Crew Events
Down Since Day One Founder Crews, Bullshifters Crew Spotlight & More
The Top Street Racers on PC, Crew Joyriding with the Rockstar Editor & More
Sign in
To gain access to the Social Club you will need to sign in with a valid Social Club account.