Player-Created GTA Online Jobs Throwback to the Days of Smuggler's Run, Manhunt and Midnight Club
Our latest collection of nostalgic, player-made GTA Online Jobs feature some classic entries in the Smuggler's Run, Manhunt and Midnight Club franchises.
For these trips down memory lane, don't forget to bookmark them on Social Club for easy access next time you boot up GTA Online. If you have any Jobs of your own that were inspired by Rockstar titles, feel free to share them with the Social Club community in the comments section or tag them with "throwback" on Social Club to make them easy to find.


MIDNIGHT CLUB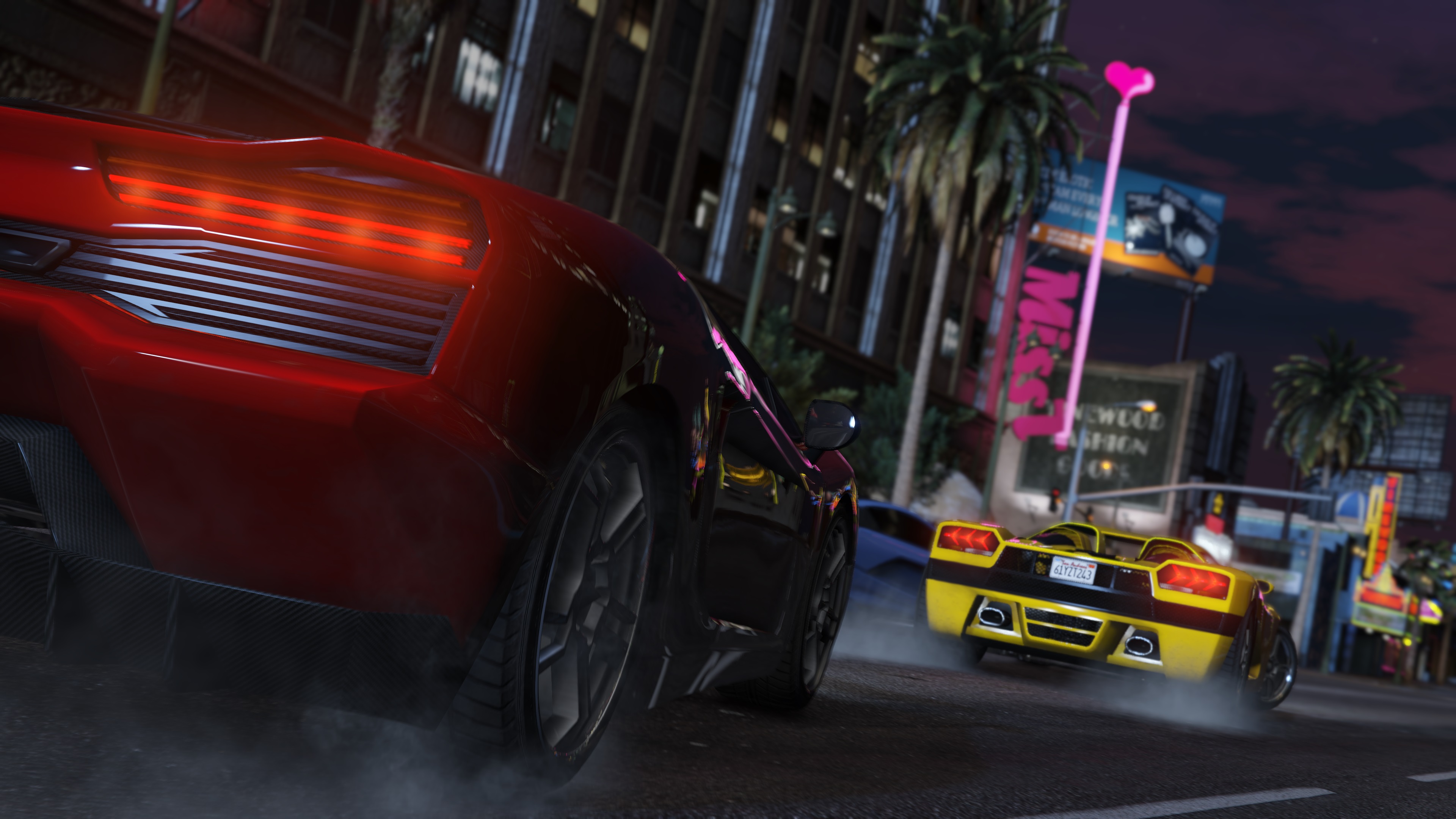 Night riders take on the Point-To-Point Midnight Club: LA Race
Midnight Club: LA by blinkydude (PC)
This Point-to-Point Race, created by Blink 182 Crew member blinkydude, takes you on a ride down Vinewood Blvd. and lands you right off Sam Austin Drive. Keep the Time of Day set to Night and Vehicle Class on Super to give this race the most authentic homage to Midnight Club: Los Angeles. While the Race may seem to be relatively straightforward, missing the hidden finish line could cost you the win. As you make your way down Sam Austin Drive, head into the gates of the last mansion on the left and drive straight into its garage for your photo finish.
The Midnight Club by DJxDONUTS (Xbox 360 & Xbox One)
This race by OFFICIAL CIA member DJxDONUTS takes us on an exciting rainy night ride from Pillbox Hill to Del Perro Beach. Filled with tons of challenging twists and turns, you would never guess that this is only the second race made by this creator. While you're zooming your way through the streets of Los Santos, heed warning: the final jump to the finish line could drop you straight into treacherous waters, thus costing you the race. As you fly through the air, lean your car to the right so as not to miss out on your big win.
The LS Midnight Club III by AleNann95 (PS3 & PS4)
The creator of this Lap-based Race advises that "Speed and Skill are the requirement to arrive 1st". Lined with well-placed carriages, ramps and tight corners through the nightlife of Los Santos, you'll need all your driving tricks to win here. Stick to the Sports vehicle class and night-time default – then fill the lobby and enjoy this nostalgic neon run.
 
MANHUNT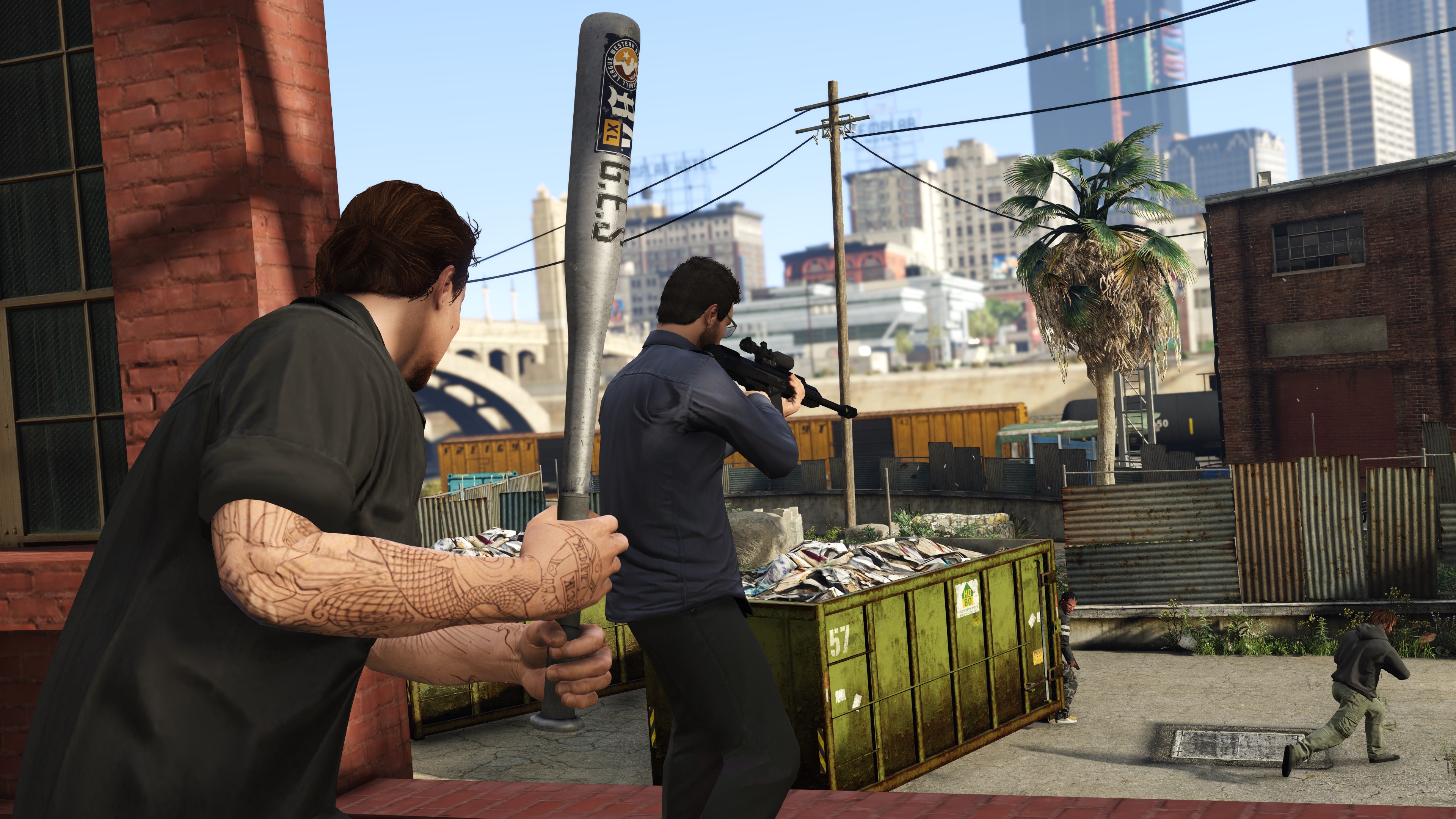 Stealth and strategy go hand-in-hand during Oblivion2500's Twisted Warehouse LTS.
Twisted Warehouse by Oblivion2500 (PC)
"Old Train Station by Water River inspired by Manhunt." This LTS created by DERP Enterprise member Oblivion2500 takes place in Downtown Los Santos around the abandoned warehouses between Vespucci Blvd. and San Andreas Ave. Finding a non-melee weapon is the key to victory, but can be tricky. A lone Heavy Sniper is hidden inside the warehouse, and has a handy window nearby to scope out your enemies. Alternately, you can make your way to the east side of the map to grab up the Sawed-Off Shotgun. Knowing the location of the best weapons is one thing, surviving the trip is another…
Manhunt LS by goon_taylor (Xbox 360 & Xbox One)
"Stab, chop and shoot your way freedom" in this fast paced Deathmatch created by the leader of The Fiendish Fellows. This Job takes place at the construction site located on the corner of Alta St. and Vespucci Blvd. - giving it a real abandoned apartment complex feel.  The map is mostly filled with melee weapons but if you head towards the center you may find yourself in possession of one of the two Sawed-Off Shotguns. Don't get too comfortable taking cover as the Spawn Points in this Job are spread out all over the map and you may soon feel the cold press of a Pistol to the back of your skull.
Manhunt by M0NZT3R_COX (PS3 & PS4)
The Crew Leader of M0NZT3R made this melee Deathmatch map as a "Tribute to the infamous James Earl Cash". Atmospheric from the get-go, the crumbling indoor set up creates a claustrophobic tone, with dark, enclosed spaces and tight corners illuminated with foreboding red lights to navigate around. There's plenty of melee weapons to protect yourself with, but surprises can leap from the shadows in the dim lighting. The Job has been created with strategically-placed Dumpsters and Concrete Blocks creating a maze-like arena that amps up the tension.
 
SMUGGLER'S RUN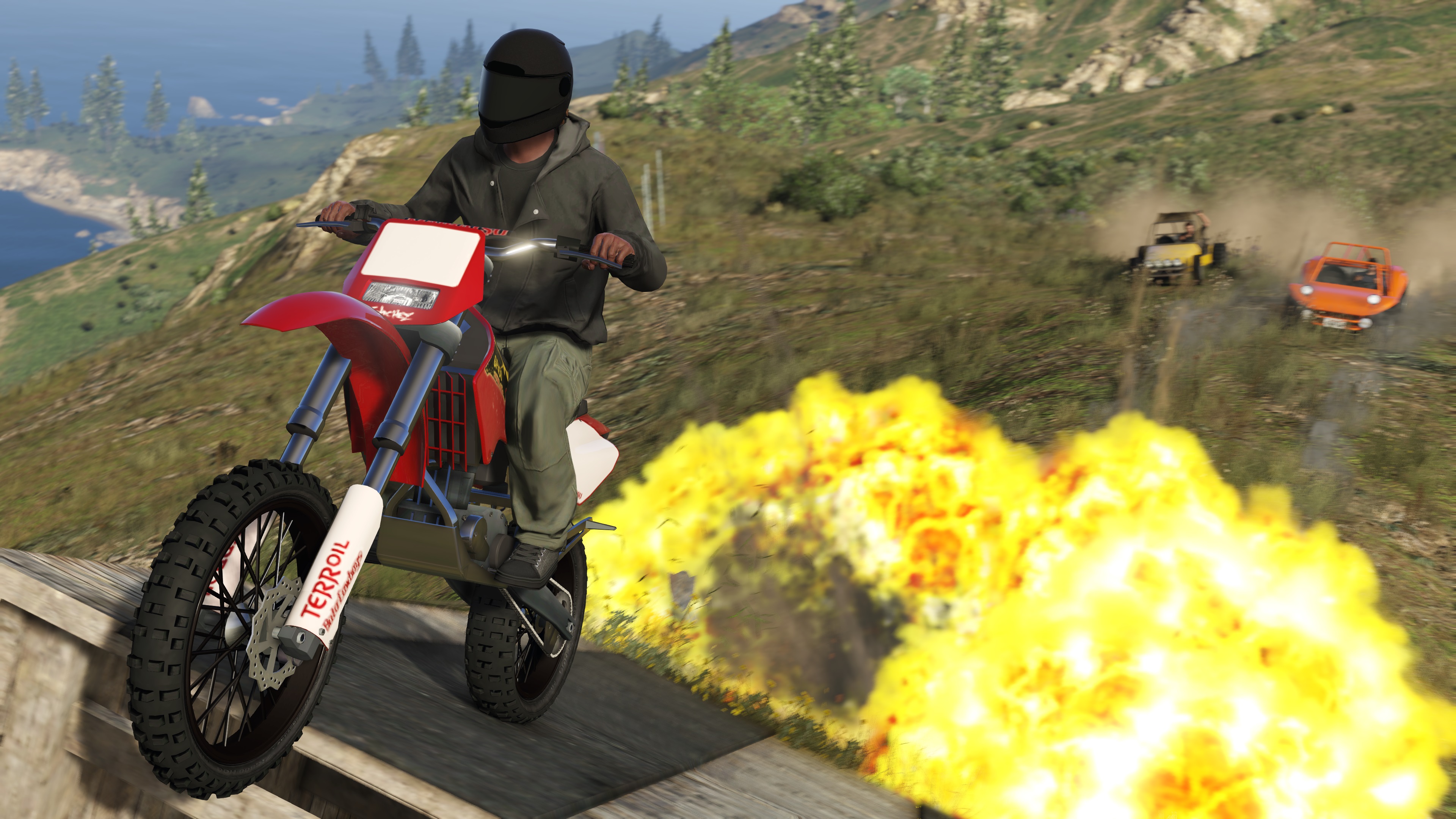 Taking the explosive leap in NO_FUN_ALLOWED's Smuggler's Run land race
Smuggler's Run by NO_FUN_ALLOWED (PC)
Part of Smuggler's Run's enduring appeal is the plethora of vehicles at your disposal during your lucrative career as a cargo smuggler. Single Dads' Crew member, NO_FUN_ALLOWED has created a Job with all of these options and more, including Coupes, Dune Buggies, Off-Road heavies and Motorcycles. Racing from the Palomino Highlands to the Pacific Ocean, the Point-to-Point track puts you against up to 10 players along dirt tracks and cliff-top paths. When played as a GTA Race there are a variety weapons and Pick-Ups to collect along the way, but you'll need quick reflexes and a good aim to pick your opponents off.
Smuggler's Run by grey1225 (PS3 & PS4)
Delivering illegal contraband requires navigating sharp twists and challenging ramps in this Lap-based Race from Manhunt Executioners member, grey1225. With a vast range of vehicle classes to choose from, including Motorcycles, Muscle cars, Off-Road vehicles, Sedans, Sports Classics and SUVs, you'll be thrown in to a Race that combines steady supplies of rockets against some steep cliffs edges and narrow turns. This one also covers a good mix of landscapes giving those of you that like to mix your roads a decent taster of different tracks.
Smuggler's Run by The_Greenhorn (Xbox 360 & Xbox One)
This two team Capture, created by the leader of The Greenhorn Crew, harks back to the Turf War missions of Smuggler's Run by pitting you against a rival gang, as you fight to capture a briefcase of precious cargo. Delivering the goods back to your Capture Point is the aim but in between the two camps and surrounding the payload is the local law enforcement, keen to stop you in your tracks from either land or air. The map is played on rocky, desert terrain, but you'll be supplied with Off-Road vehicles to make your way to the center of the map. However, with bullets flying fast through the air and danger from all sides, be careful not to get caught in the mayhem.   
If you've spotted or created an epic GTA Online Job themed around one of our games, a certain mission or even your favorite movie, be sure to tag it #throwback on Social Club and drop us a link either here in the comments or via Mouthoff, so we can check it out.

Previously:
Player-Created GTA Online Throwback Jobs Inspired by Max Payne 3, L.A. Noire & Red Dead Redemption
Player-Created GTA Online Throwback Jobs: Inspired by Missions from Vice City & More
San Andreas Anniversary Throwbacks
Sign in
To gain access to the Social Club you will need to sign in with a valid Social Club account.