Fan Art: GTAIII's 8-Ball Leg Tat, Trevor Cosplay and More
This week, check out some truly impressive classic GTA ink, a range of GTAV cosplay and make-up work, and some sweet artistic throwback tributes to Red Dead Redemption and Max Payne 3. Make sure to follow us on Twitter and Instagram where we feature the latest fan creations on the regular and as always, if you have created something of your own that you feel the community needs to see, you can feel free to share it in comments below.
Hour Five. #GTAtattoo #GrandTheftAuto #GTa3 #8ball pic.twitter.com/R30vu54ML6

— paynexkiller (@paynexkillerYT) July 7, 2015
Quite literally kicking it old school. YouTuber paynexkiller shows he's a man who appreciates the classics with this stunning tribute to GTAIII's 8-Ball on his shin. Apparently, this WIP is just the beginning as the final piece will be an epic montage faithful to the original character art including Claude Speed and Misty as well.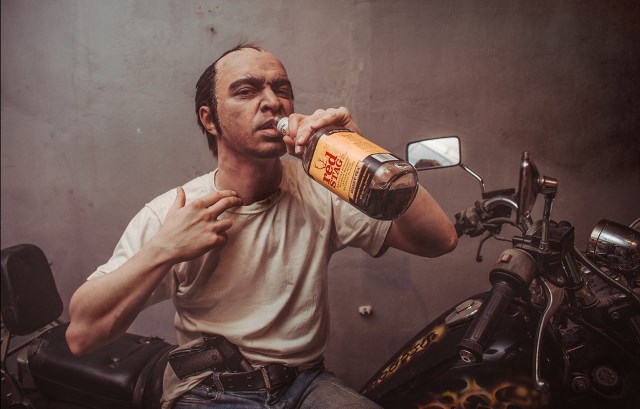 Trevor Philips GTA 5 by TheIdeaFix
We're not sure that Trevor Philips is the type of gentleman anyone should be emulating – however this next pair of cosplayers pull off tributes that might even make the Sandy Shores psychopath himself blush. Above, TheIdeaFix does up one of his buddies as Trevor, looking ready for things to get messy.
Trevor Philips Cosplay by katrinafox
Cosplayer extraordinaire Katrina Fox was directly inspired by the excellent 'Trevor-Femart' we shared recently drawn by Grobi-Grafik, saying 'brb gonna cosplay this asap'. Fast forward about six weeks, and lo and behold Katrina's rolling up in Anime Expo in LA with T.P.'s signature tats, bruises and bluster on display. She also happened to mention that "Next time I wear this I want the whole squad" so aspiring cosplayers feel free to hit her up to complete the trio.
"When you dress like your GTA Online character." Self-professed 'Artist, GamerChick, Nerd and GTAV Fanatic' thatoggchick has taken a break from her Trevor Philips fandom to dress up as her own GTA Online character IRL with this side-by-side doppelganger selfie set.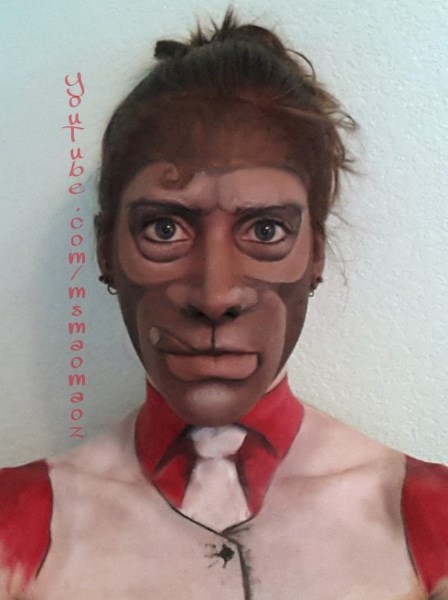 gta online, monkey mask by MaoMaoz
You're going to want to watch MaoMaoz's making-of video for this one to appreciate exactly what went into her make-up transformation from a totally normal looking young lady into a downright freaky real-life incarnation of the GTA Online monkey mask avatar as popularized by our homeboy Lui Calibre.
 GTA Online-Character by Grobi-Grafik

Grobi-Grafik is really going for it lately, and is back in this roundup with yet another fantastic rendition of a GTA Online community member's character looking straight out of the July page of the Ammu-Nation pin-up calendar rocking the Patriot Beer Hat and an AK-47.


 

The humble juhoham captions this one as just a "quick sketch" but the Finnish artist's painting of John Marston has a striking, vintage and almost haunting visual quality to it.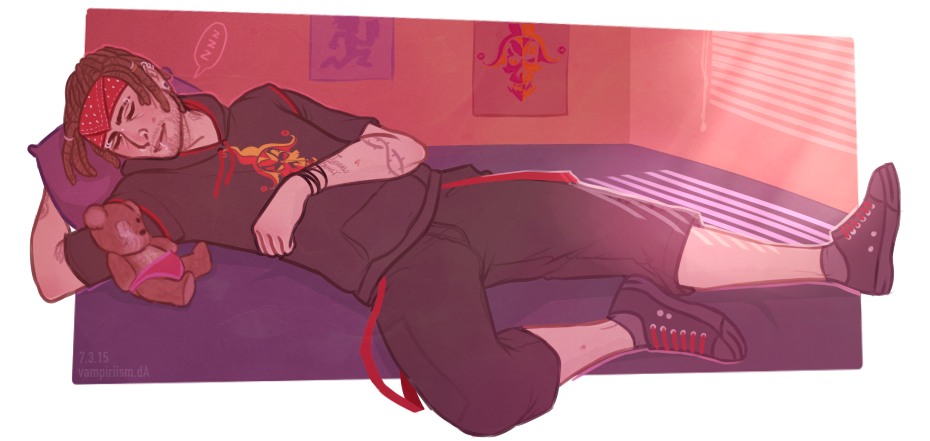 Wade by vampiriism
Wade taking a nap whilst snuggled up to a pitiable Mr. Raspberry Jam in this tender bit of original fan art by professed Wade fan ("draws him forever") Victoria aka vampiriism on deviantART.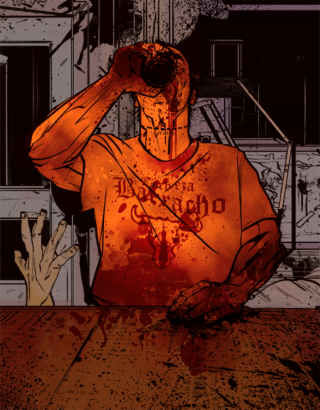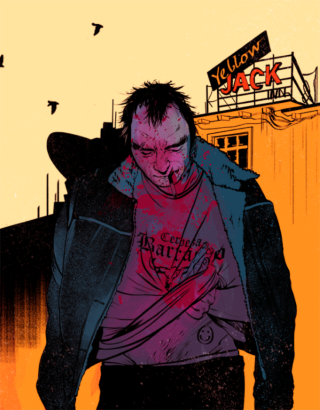 You're Still Banned Part 1 and 2 by Crowlls
Trevor looks a little worse for wear after another bar fight at the Yellow Jack Inn in these stylish sketches by talented fandom artist Crowlls.
Awesome dimension and texture here in this "speedy" sketch by Indonesian artist Hendry Roesly aka @Iceztiq, with both the original B&W drawing and the digitally inked full-color.
Brazilian figurine sculptor Animatche has recreated his brother's GTA Online character as a gift. More of Animatche's wonderful figurines can be found on his tumblr.
Have you seen or created an exceptional bit of fan art or great Snapmatic photo that you'd like to share? Be sure to drop a link to it in the comments below for the Social Club community to enjoy or send it our way to see via Mouthoff and we'll check it out. And if you aren't already, make sure you're following us on Twitter, where we regularly share awesome community creations.
 
Previously:
Fan Art: Lego Turismo, Fierce Femmes, Michael's Glory Days & More
GTA Cinema, Red Dead Redemption 3D, L.S. Noire & More
Femme Fatales, Celebrity Sightings, The Rockstar Rock & More
Sign in
To gain access to the Social Club you will need to sign in with a valid Social Club account.