Fan Art: Femme Fatales, Celebrity Sightings, The Rockstar Rock & More
This week's gallery of outstanding fan art features some stunning original character illustrations as well as the work of a veritable GTA Online character creator surgeon who is able to replicate famous faces that will have you doing double-takes. Be sure to follow us on Twitter and Instagram where we share great fan creations regularly, and if you've got something of your own that you'd like to share, feel free to drop it in comments below for the entire Social Club community to check out.
Oh hi Twitter, here's an #illustration of my GTA V Online character. #art #gaming #games pic.twitter.com/7iT5WczMNK

— dan howard (@danhowardart) May 12, 2015
L.A. based illustrator Dan Howard shared this original illustration of his badass GTA Online character taking no mess on the mean highways of Blaine County. Check out Dan's painting in high res at his tumblr and follow him on Twitch to catch him working his magic live.
My personal portrait in the style of #GTAOnline by @IrishaKosmi @RockstarGames pic.twitter.com/cnFHDfAKQk

— Sophie Kokonitos (@O_Sophi) May 7, 2015
IrinaCarrey of the Russian Girls Crew drew this dramatic portrait for and of her homegirl and Crew-mate Sophie (kokonitos) - dressed to kill en route to the Oriental Theater in Vinewood.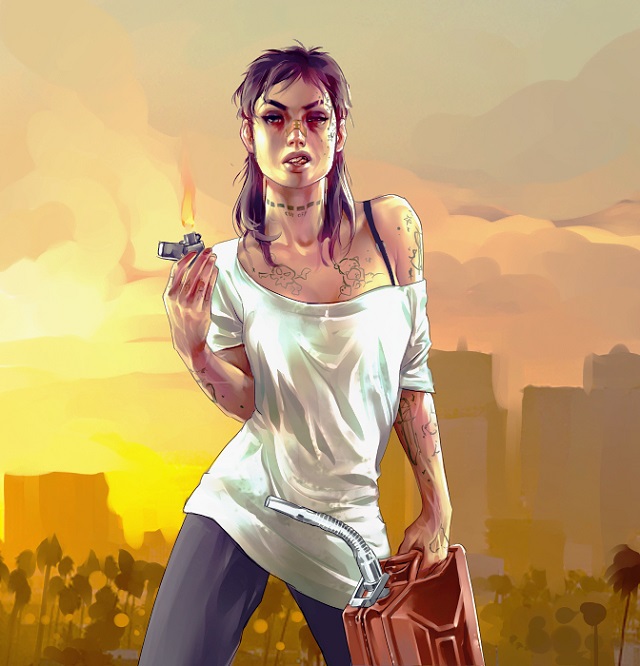 GTA V by Grobi-Grafik

This 'Trevor-Femart' by German artist Grobi-Grafik is a smoking reincarnation of the Sandy Shores psychopath complete with tats, torch and plenty attitude.

                                                                     Princess Robot Bubblegum by FBende

deviantARTist Felipe L. Bende might be watching a bit too much CNT as he was inspired to create this original homage to hentai heroine Princess Robot Bubblegum.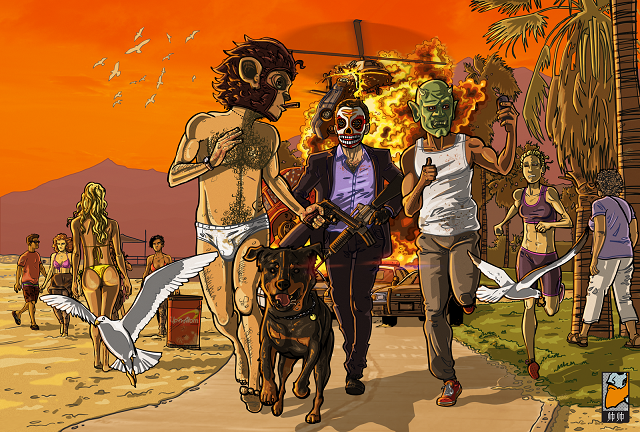 GTA V by rhysapgwyn

South African artist Rhys ap Gwyn commemorated finishing GTAV Story Mode with this piece encapsulating his experience on tumblr: "To celebrate me finally completing the game as well as the PC edition… here is some GTAV action… This actually started out being very different, with Trevor being the only character as part of a triathlon… Then I wanted all three, then it transformed again and again into this… I kind of liked the chaos and then citizens going about their days, even if that's not quite how it is in the game. Then, one day, one fateful day, I saw a screenshot of a car hitting a helicopter… For those PC gamers about to play, I thought it was an astonishing experience, and you've got them sumptuous textures, which basically means you're in for a treat."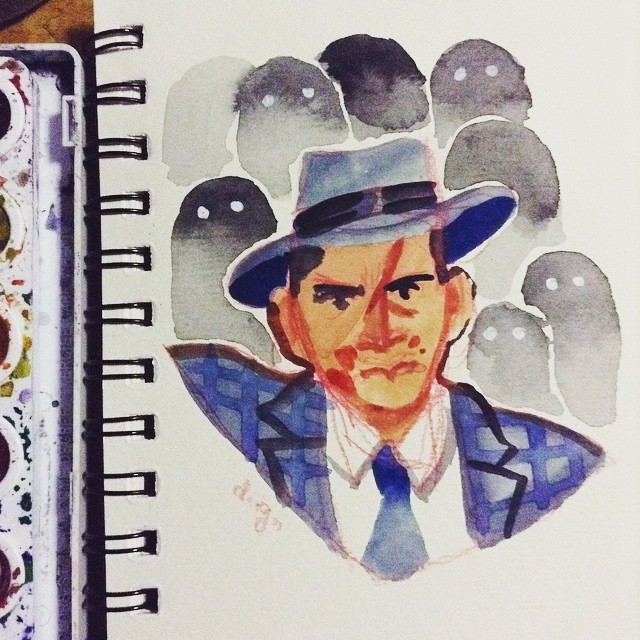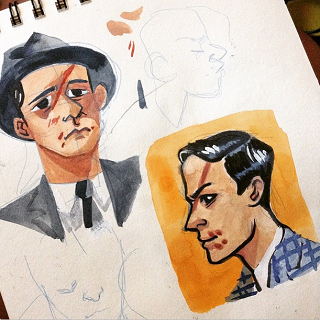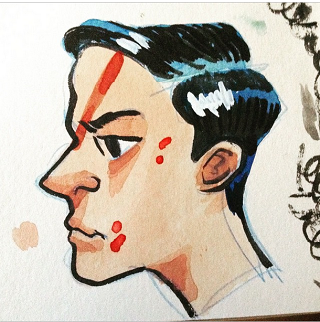 Jack Kelso Study by Smorescake

diigii aka Smorescake has a striking, vintage style in this haunting watercolor series featuring L.A. Noire's Jack Kelso.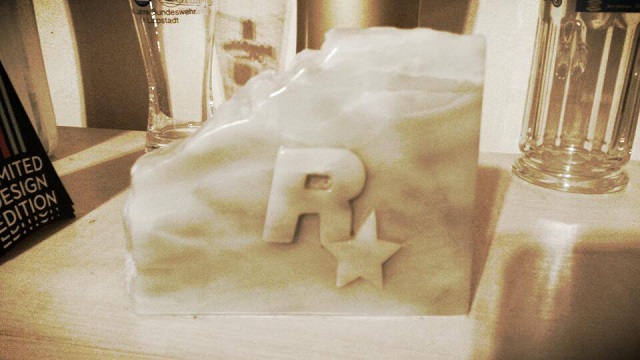 Fan-Rock by EierWippe

EierWippe was good enough to share this one with the Social Club community in the comments section to our last Fan Art gallery. A handmade Rockstar logo stone carving - quite the impressive and unique custom trophy.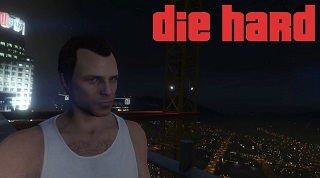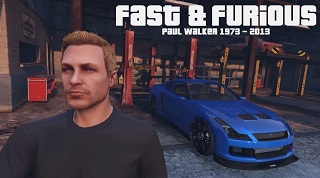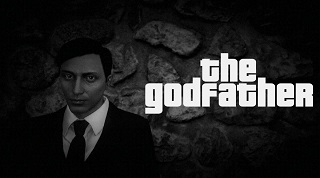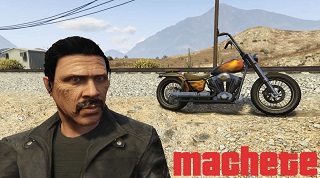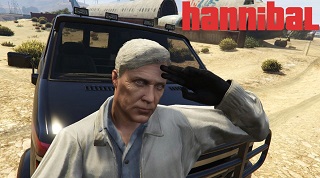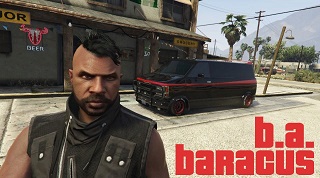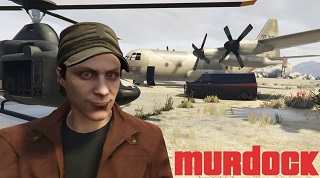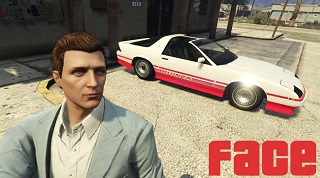 And finally, CharmlessRogue has also carved out a unique specialty – becoming renowned as a "celebrity character creator" virtuoso using the GTA Online character creator's 2nd character slot to craft some uncanny likenesses. Above are just a few of the spot-on Madame Tussauds level renderings like Godfather-era Al Pacino, the unmistakable Danny Trejo and all four A-Team members – check out Charmless' Snapmatic feed to keep up with the latest and greatest creations including an amazing Charlize Theron as more.
Have you seen or created an exceptional bit of fan art or great Snapmatic photo that you'd like to share? Be sure to drop a link to it in the comments below for the Social Club community to enjoy or send it our way to see via Mouthoff and we'll check it out. And if you aren't already, make sure you're following us on Twitter, where we regularly share awesome community creations.
 
Previously:
Using the Rockstar Editor to Make Stunning Spherical Panoramas and More
Maze Bank Logo Sculpture, Tommy Vercetti as a Plushie & More
"A Hard Day's Heist", Homemade Los Santos Blueprint Map Skateboard Decks & More
Sign in
To gain access to the Social Club you will need to sign in with a valid Social Club account.