The Alchemist and Oh No Present: Welcome to Los Santos Out Now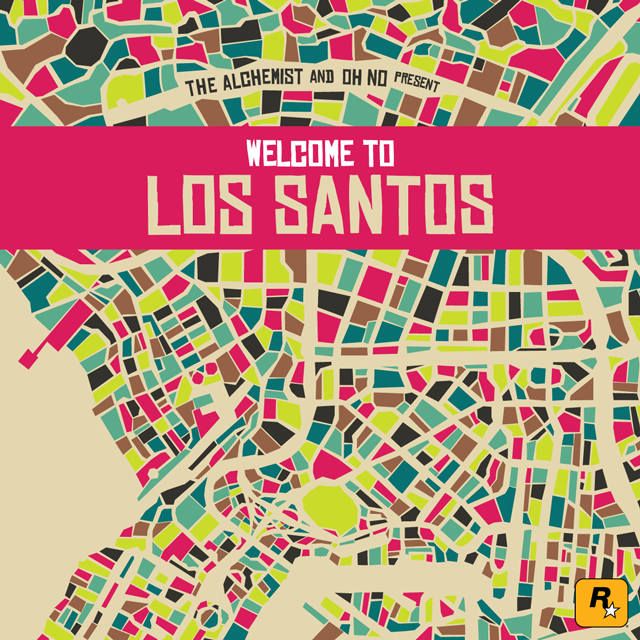 The Alchemist and Oh No Present: Welcome to Los Santos, the outstanding collection of brand new tracks with top-flight collaborators created for and inspired by the world of GTAV, is available now via iTunes, and on CD.
 
Take a look at the video below to hear Alchemist, Oh No and some of the guest artists discuss the creation of the album.
 

Here's what some of the music press have been saying about the singles released from 'Welcome To Los Santos' so far:  
Freddie Gibbs and Curren$y, "Fetti"
"Yet another gem from the record's star-studded tracklist"
– XXL
"Phenomenal"
– Okayplayer  
MNDR Feat. Killer Mike, "Lock & Load"
"MNDR slowly delivers piercing gunplay over drums with clothes-shaking knock and slow-winding synth bass. Killer Mike comes through and empties the clip with a sixteen that murders everything — literally and figuratively."
– Stereogum (Named one 5 best songs of the week)
"Mixes MNDR's dreamy vocals with Mike's expertly composed and spat verses"
– SPIN
"At once brazen and ethereal, the track capitalizes on both artists' strengths. Here, like a tag team bringing the heat, the Atlanta MC spits pulverizing rhymes while MNDR weaves a glowing, dreamlike backdrop."
– Consequence of Sound  
E-40 – "California" feat. Dam-Funk & Ariel Pink
"The legendary Bay Area rapper E-40 going head-to-head with lackadaisical LA pop weirdo Ariel Pink on "California" — somehow they balance each other perfectly."
– Stereogum  
If you're playing GTAV on PC, tune your radio to "The Lab" to hear the album as a full-blown station, complete with call-ins from the album's guest artists and featuring Alchemist and Oh No as your science-dropping hosts, "Dr No and the Chemical Bro."
Previously:
Welcome To Los Santos Album Now Available to Pre-Order
Sign in
To gain access to the Social Club you will need to sign in with a valid Social Club account.