Rockstar Games Presents the Red Hook Criterium Brooklyn No. 8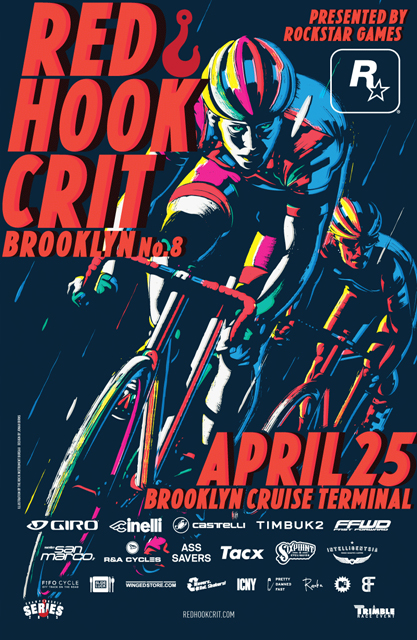 This Saturday marks the return of the Red Hook Criterium, the world's premier track bike criterium and Rockstar Games is proud to once again to be the presenting sponsor. 
From its roots in the Red Hook neighborhood of Brooklyn, the race has exploded within the cycling community and sports world. What sets the Red Hook Crit apart from traditional road and track bike racing is the unique format: athletes sprint through a short 1.25km "Formula 1 style" racing circuit riding brakeless, fixed-gear track bikes, traditionally raced in an oval-shaped velodrome. Cyclists must navigate hairpin turns, winding chicanes, and each other over the course of 24 laps in an attempt to be the first across the finish. 
Here is the full schedule of events:
SATURDAY, April 25 (times subject to change)
Qualifying: 12:00pm – 3:50pm
Last Chance Race: 6:00pm – 6:30pm
5K: 7:00pm – 7:30pm
Women's Criterium: 8:00pm – 8:45pm
Men's Criterium: 9:00pm – 9:45pm 
Podium Ceremony: 10:00pm – 10:30pm
The Rockstar Award for Top Antagonist returns for both the men's race and women's race, awarded to the athlete who without consideration for their final position, most affects the outcome of the race through a combination of tactics, determination, and sheer strength.  
For those of you in the NY area, admission is free for the full day of events. We hope to see you down there!
For more details, visit redhookcrit.com or check them out on Instagram, Facebook, and Twitter.
Sign in
To gain access to the Social Club you will need to sign in with a valid Social Club account.