Welcome To Los Santos Album Now Available to Pre-Order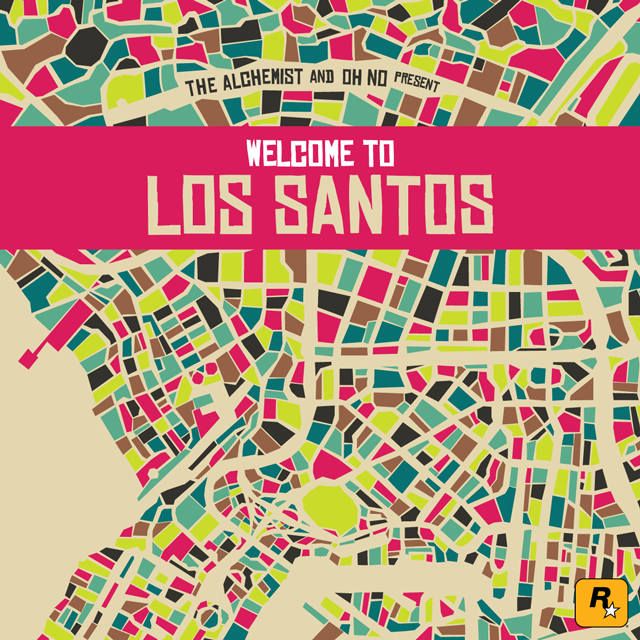 Welcome To Los Santos, the genre-spanning collection of music inspired by the world of Grand Theft Auto V, is now available to pre-order at iTunes with the track 'Play It Cool', by Gangrene featuring Earl Sweatshirt and Sam T. Herring of Future Islands available for download now with every pre-order.
UPDATE: The track featured in the Grand Theft Auto V 60 Frames-Per-Second Trailer, 'Lock & Load' by MNDR featuring Killer Mike, is also now available for download with all iTunes pre-orders. Listen to the full version below:
Created and compiled by Alchemist and Oh No and heavily influenced and inspired by their work on the score of Grand Theft Auto V with late legendary composer Edgar Froese of Tangerine Dream and Woody Jackson, Welcome To Los Santos consists of all original tracks featuring a diverse array of artists spanning hip-hop, electronica, dancehall, rock, r'n'b and more. Music contained on Welcome To Los Santos will also feature on The Lab, a brand new radio station making its debut within Grand Theft Auto V for PC. The full album will be available on CD, vinyl and digital download on April 21 via Mass Appeal Records.
 
Check the album's full tracklist below:
1. Gangrene – Play It Cool feat. Samuel T. Herring (of Future Islands) & Earl Sweatshirt
2. Ab-Soul – Trouble feat. Aloe Blacc
3. Tunde Adebimpe – Speedline Miracle Masterpiece feat. Sal P & Sinkane
4. MC Eiht & Freddie Gibbs – Welcome to Los Santos feat. Kokane
5. Phantogram – K.Y.S.A 
6. Vybz Kartel – Fast Life 
7. King Avriel – 20's 50's 100's feat. A$AP Ferg
8. MNDR – Lock & Load feat. Killer Mike
9. Popcaan – Born Bad feat. Freddie Gibbs
10. E-40 – California feat. Dam-Funk & Ariel Pink
11. Wavves – Leave
12. Curren$y & Freddie Gibbs – Fetti
13. Little Dragon – Wanderer
14. Action Bronson & Danny Brown – Bad News

Previously:
New Music Coming to GTAV: The Alchemist and Oh No Present Welcome to Los Santos
Sign in
To gain access to the Social Club you will need to sign in with a valid Social Club account.