Crew Cut: The New Wave of Motorcycle Clubs, Crew Battle Report and More
In this week's Crew Cut, we salute the rough and tumble new wave of Motorcycle Club-themed Crews that have been riding heavy over the past few months on Xbox One and PS4. Read on for that and much more - including updates on recent underground tournaments and official Crew battles.
 
SAN ANDREAS MOTORCYCLE CLUBS – REMASTERED ORGANIZATIONS
THE HOOD DONZ
"Ride! Ride! Ride!" GTA-Capone's Hood Donz are Crew Cut veterans given their history of colorful Crew coordinated music videos. Now on PS4 and Xbox One, Capone has successfully expanded the DONZ brand into Motorcycle Club territory with the launch of the dedicated Hood Donz MC in January. Open to new gen as well as PS3 and 360 players, the main requirement of getting in is that you're exclusively in Hood Donz MC and Hood Donz MC only. As Capone puts it, this family-based Crew "focuses less on the military styled crew operations and more on good old fashioned fun and destruction" and "blood is definitely thicker than water (especially when we spill it)." 
THE LOST MC ELYSIAN
Based "primarily in the industrial site and docks of Elysian Island in Los Santos", The Lost MC Elysian are sitting on chrome and breaking heads all over town. In addition to gritty short films like the one above, "We Are the Road Crew" (set to the Motorhead tune of the same name), check out some of their other well-produced Crew videos including recruitment and hijack themed movies and evidence that they're getting in lockstep in preparation for Online Heists. TLMC also have a club website that features everything from a list of allies and enemies to a time conversion table to help members from across the globe coordinate linking up Online.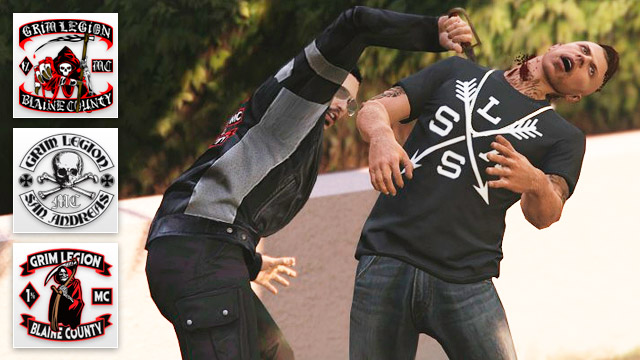 An adversary gets shanked by a member of The Grim Legions MC
THE GRIM LEGIONS MC
Also riding on all four consoles are The Grim Legion MC, who've been established for more than a year now. In addition to their website, where potential prospects can find the Social Club pages of the appropriate Chapters, Grim Legion MC also have a hold on YouTube and Instagram. Grim's vids consist of first person rides on various choppers such as the Western Bagger and their Instagram page includes badass Snapmatic montages, original MC patches, and tribute art to members. For fans of the melee, the gallery page of their site includes shots of the Crew proving their mettle in fist fights from Paleto Bay to La Mesa.
Of course these are just a few of the fearsome Motorcycle Crews out there tearing up southern San Andreas, so feel free to roll call shout yours out in the comments section below and let the Social Club community know why you're the baddest in town.
 
TOURNAMENTS AND BATTLES REPORT
BODY BANGERS TOURNAMENT RESULTS
In the 
last Crew Cut
, we reported on 
round 1
 of
HOT_KIMERA
 and
CAP PILLAS
' epic grassroots 4v4 TDM 
Body Bangers Tournament
. After more than a month of semi-finals, finals and ultimate championship bouts, the triumphant body banging Crew has emerged victorious:
THE HOT CLAN
.  Leading up to the finals against the
SouthVinewood Ballas
, HOTZ never lost a round and this time was no different. Overall, HOTZ and SVBG finished with 435 and 409 kills respectively, with the 
Damned Brotherhood
 just behind with 408. Congrats to HOTZ and all the Crews for the solid competition - to catch up on highlights from throughout the tournament, check out the entire highlight playlist
here
.
UNTOLD LEGENDZ VS MURDERCLAN
Also on the underground battles scene, the
Untold Legendz
 (who defeated the
Sons of lost Souls
last May
live on our Twitch channel
) displayed more of that dominance recently against the
MurderClan
. In a Head-To-Head best-of-three TDM Playlist, the Legendz slaughtered their opponents by a grand total of 347-240 – watch some sick highlights in their video above.
ELITE TDM BATTLE: KOMMON KILLERS DEFEAT II DEATH D3ALERS II
The top two ranked Team Deathmatch Crews on Xbox One, the Kommon Killers and II DEATH D3ALERS II, turned up eager to fight it out for bragging rights on the Rockstar Twitch livestream stage. Though the Killers have more kills (73.5K), the D3ALERS sport a much higher K/D ratio (2.08 compared to 1.46) - so there truly was no odd-on favorite. First Job in the strictly TDM playlist was the Verified The 80's Turf War - and the D3ALERS came out swinging, living up to their K/D rep by getting kill after kill and enjoying a healthy 28-21 lead about halfway through. The resilient Killers however, refused to give up and ate away at the deficit, squeaking by with a 40-39 win. Shaking things off for the second Job, the D3ALERS stayed just on top of their opponents for most of the match, and then widened their lead to take a 40-31 win. From there, the D3ALERS never looked back, ultimately winning the day 5-1. Major props to the Killers as the final tally doesn't quite reflect on the level of competition - the final Job alone was decided in the final seconds. Thanks to Crew Leaders itchybutton97730 and warnedbird for hanging out with us via Skype for the entirety of the stream and their sportsmanship - and to the elite warriors of both Crews for putting on a heck of a show. We're currently lining up more elite battles featuring the some of the best performing Crews out there - including some of the top Racing squads - so stay tuned for those to be announced and make sure you're following us on Twitch and Twitter to be sure to get the word.
 
HAPPY ANNIVERSARY XDBX
To celebrate a full year since JustHatched launched the Domestic Battery Crew and all of the hijinks and games won since, representative Crew members brought their two-wheeled musical instruments to the Vinewood Bowl for a stunning rendition of "Happy Birthday." HBD XDBX.

Previously:
Tournament Time, Crews in Real Life and More
The Flight Crew Special
A Crew that Hand-Delivers IRL License Plates, Plus F.C.-Themed Squads and More
Sign in
To gain access to the Social Club you will need to sign in with a valid Social Club account.