Fan Pics: The iFruit L.A. Photo Project by GTAist, Unbelievable Action GIFs and More
In this week's roundup of excellent bits of GTAV and Rockstar fandom, check out an amazing L.A. vs L.S. iFruit photo project by GTAist, some pretty unbelievable action GIFs that  have been making the rounds on Reddit - as well as the latest masterpieces by GTA fandom illustrators of renown. Thanks of course to everyone who has sent their work for us to check out - please keep them coming via Mouthoff, and be sure to follow us on Twitter, where we often share great fan creations on the regular.
"What do you do when you live in Los Angeles (a city based on the latest Grand Theft Auto game), have a camera, and a few mornings/evenings of free time?" GTAist answers his own question with this remarkable gallery of interactive comparisons that showcase game vs. reality.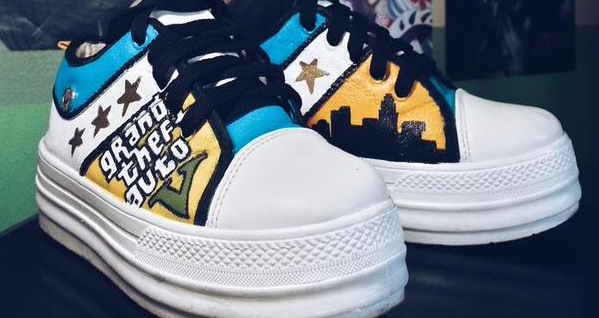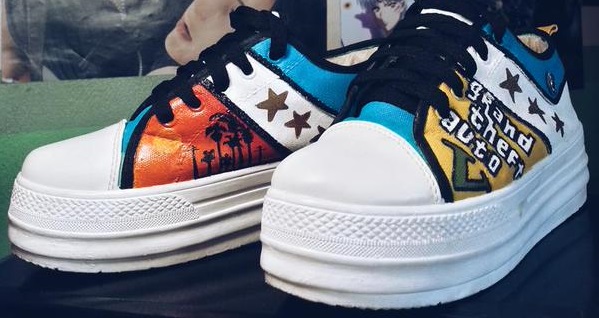 Dedicated GTA fan and Snapmatic photographer extraordinaire @DaniCallux tweeted out the finished version of her custom-made GTAV sneaks. Ready-made to stomp out on the streets of Los Santos.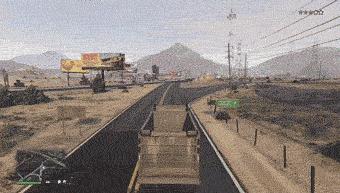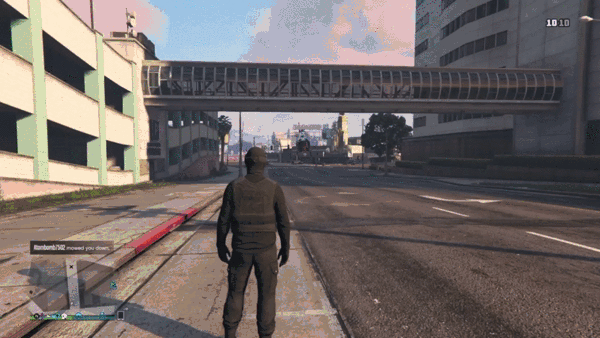 Above are two awesome action gifs that we found on the Grand Theft Auto V subreddit. On the left, Thenamenononehas has GIF'd up an epic chase-sequence hole-in-one. For a bit of behind-the-scenes, check out the original video, and even one from the perspective of the guy getting hit. To the right, _Griggs_ posted this explosive GIF'd footage showing off his fearlessness in taking down an oncoming chopper.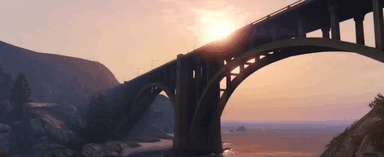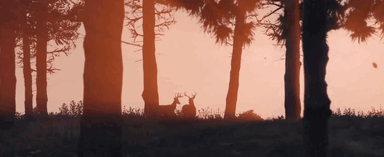 In contrast, Parabellum used SA96HD's 'The Beauty of Blaine County' video to create these pastoral and peaceful nature GIFs.

Redditor KathyArt21 shared this awesome Trevor papercraft figurine she created for a college project. For anyone who'd like to fashion one for yourself, she helpfully shares the template files as well.

 

The talented OneRandomDolly hosts live art streams every Monday on her Twitch channel including this recent creation which was drawn live on air of her owl-masked GTA Online character she calls 'Neigh Neigh'.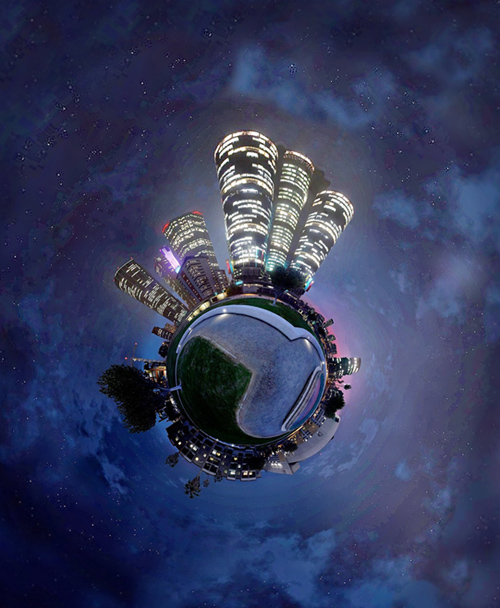 Dutch artist Beltegoed sent over this strikingly stylized "360 Panoramic Night Image" of the 'world' of Los Santos via Mouthoff.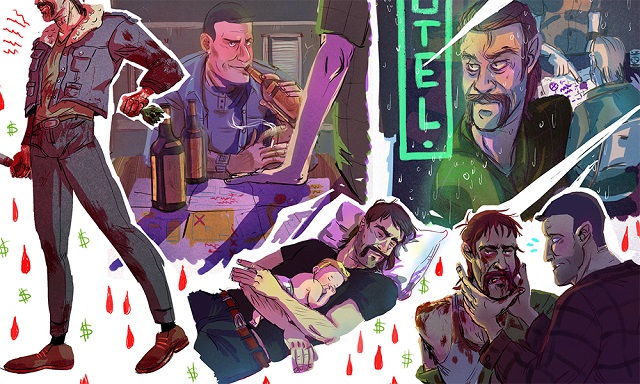 Veteran fandom illustrator Julia Scott is truly one of the greats and her latest work over at the ID & EGO tumblr continues with fan-fic inspired depictions of Michael and Trevor's imagined North Yankton days in her signature style.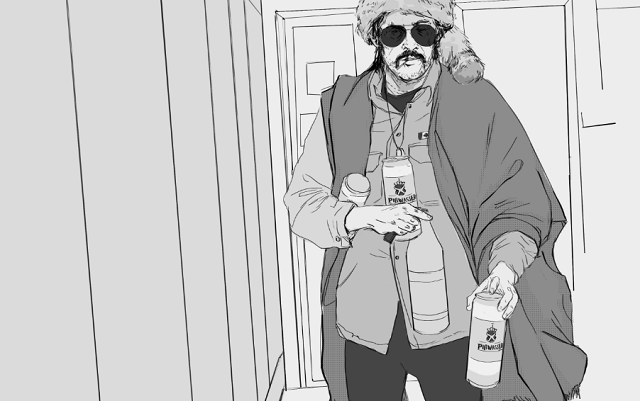 Another fandom artist stalwart, Amanda of loseranthems.tumblr, imagines what Trevor must be getting up to in these winter months: bunkering down with plenty o' Piswasser.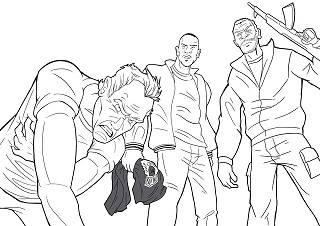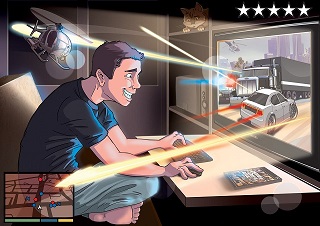 A pair of the latest and greatest from DeviantARTist Krbllov: on the left, a stark line drawing depicting how a meeting between Niko, Luis and Trevor might go down; on the right, an awesomely detailed illustration of Krbllov's excitement for GTAV's forthcoming release on PC.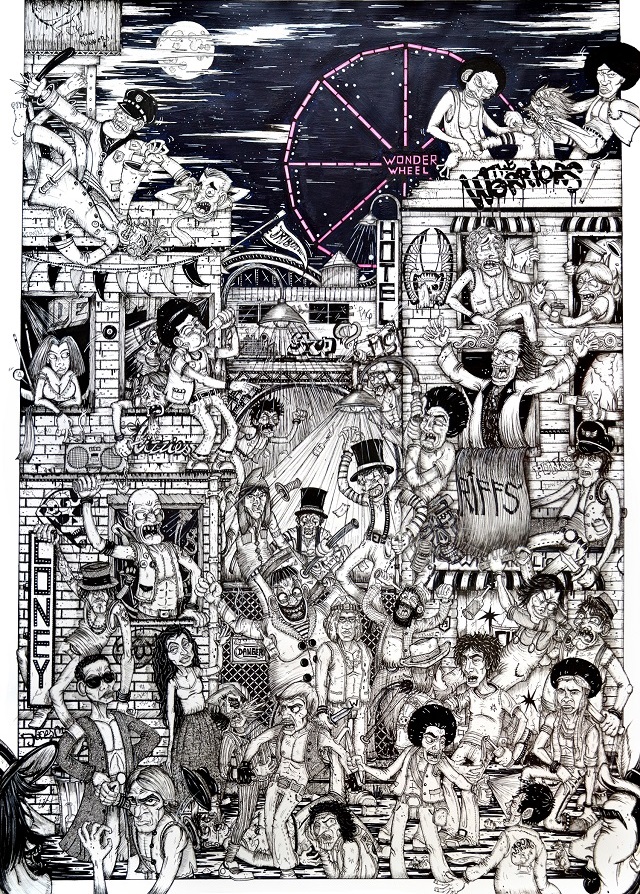 Longo Aurelien sent us this great tribute to The Warriors via Mouthoff: "I'm a young artist from Belgium and I am a big fan of your games, but I'm especially in love with 'The Warriors'! The game of my life! So I mix my two passions to make a masterpiece (I hope..)! A big illustration inspired from the game and also the movie (Discovered after playing your amazing game)." Make sure to check out the video to see some great close ups of this fantastic piece of art that took 150 hours to create.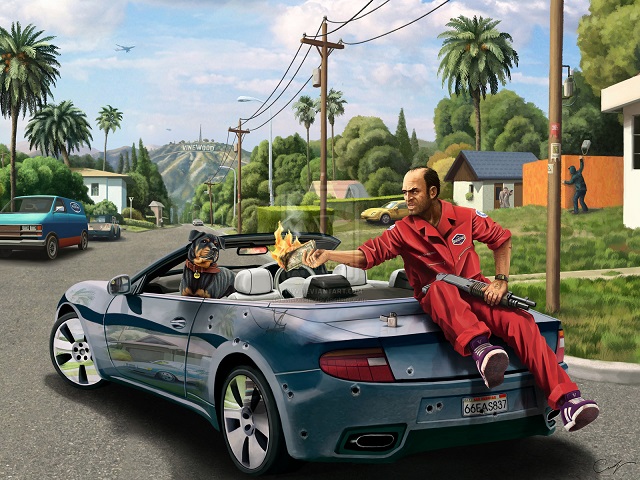 Maxifen's original 3D painting of Trevor taunting Chop is worthy of close inspection to appreciate all the fantastic details. Head over to his deviantART page to see the piece in high-res.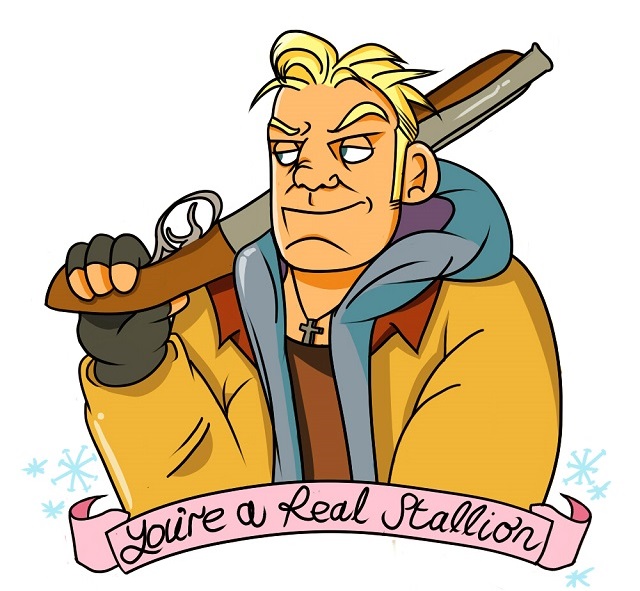 Ruubzway drew this tribute for requester Space-Kabob - honoring original Townley-Philips criminal associate "Rad" Brad Snider.
Previously:
Snapmatic Panoramas and More
Festive Finery, GIF Wrapped Goodies and More
Halloween at Bullworth, Masterwork Miniatures, GTA Tats and More
Sign in
To gain access to the Social Club you will need to sign in with a valid Social Club account.