Fan Art: Halloween at Bullworth, Masterwork Miniatures, GTA Tats and More
Our latest gallery of inspired art created by GTA and Rockstar fans begins with a nod to Halloween night held last week at Bullworth Academy, courtesy of prolific GIF artist and one of our favorite fandom illustrators, Julia Scott. From there we check out some startlingly accurate diorama work, GTA-themed body art and more.
As always, should you come across any impressive GTA or Rockstar-related art or photos (including any awesome Halloween costumes from this past weekend!) that you think other fans need to see, be sure to share them in the comments section for the community to enjoy or send them our way via Mouthoff and follow us at instagram.com/rockstargames for all our latest official pics.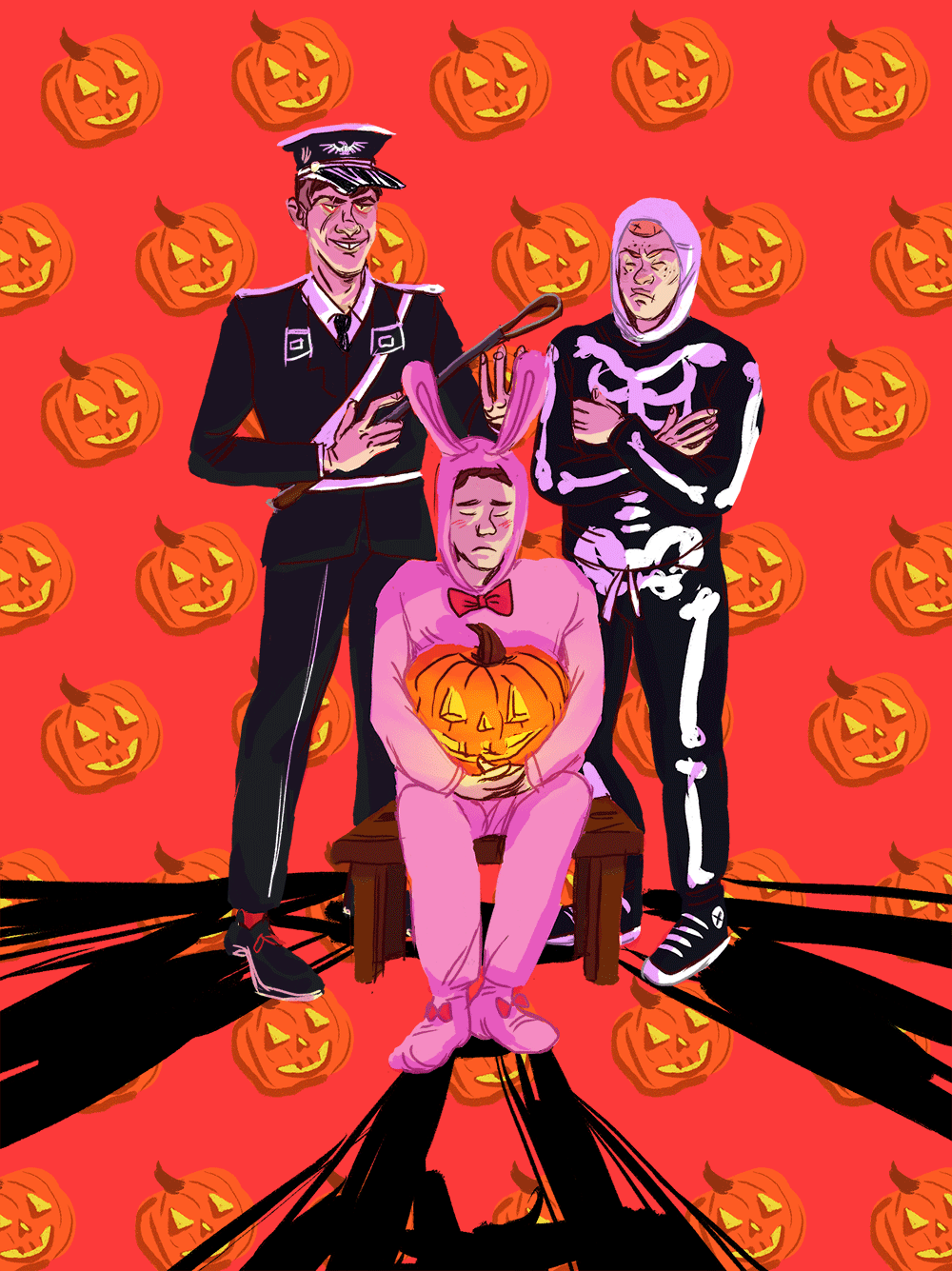 "Can you help me pull some pranks??" asks Julia Scott in her recently completed, and thoroughly awesome latest animated GIF illustration featuring the students of Bullworth Academy. Bully fans may remember Jimmy, Gary and Petey's costumes from 'The Big Prank' and this rare moment of stillness for the three, captured with jack-o'-lanterns dancing in the background, definitely suggests a night of mischief ahead.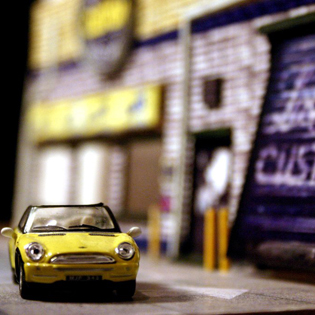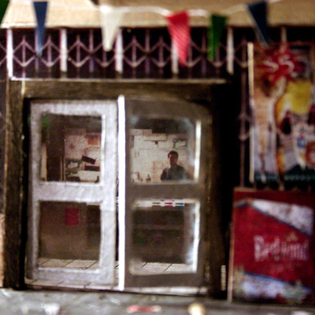 DDJunior, who was featured here back in June for some highly detailed GTA figurines and backdrops, is back with more meticulous miniatures - this time featuring two of Southern San Andreas' well-known locations, Los Santos Customs and Liquor Ace. Check out DDJunior's deviantART gallery to see pictures of these painstakingly detailed works in progress.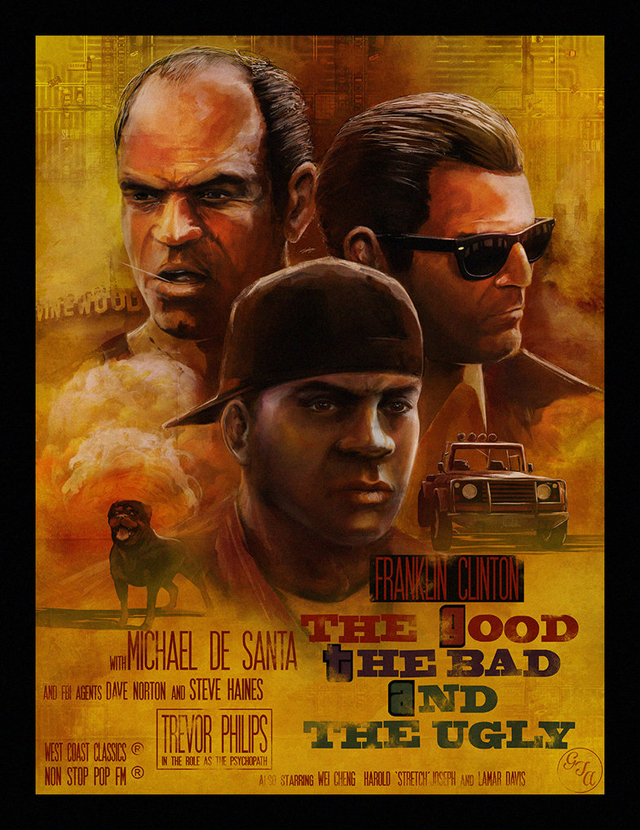 There's more than a hint of vintage Vinewood style in this imagined movie poster that pays homage to the Leone classic, created by AndyFairhurst for Bottleneck Gallery's 8 Bit & Beyond 2 show.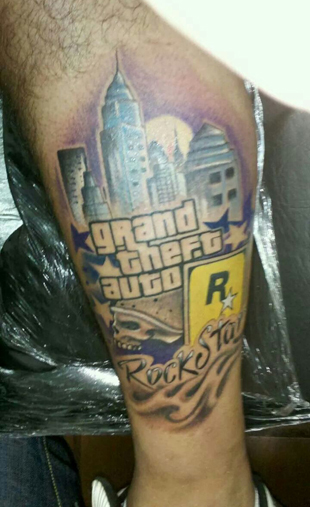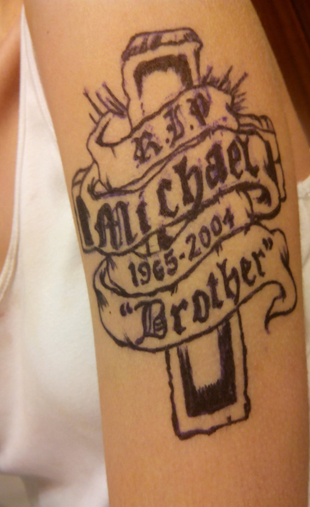 Two tats from a pair of dedicated Rockstar fans here - one for a weekend and one a more permanent tribute. On the left, this leg piece was sent over to us via Mouthoff. Meanwhile on the right, Andrea - aka fukuro--lady on deviantART - drew her tribute to the death of one Michael Townley in marker pen as part of a Trevor costume she put together.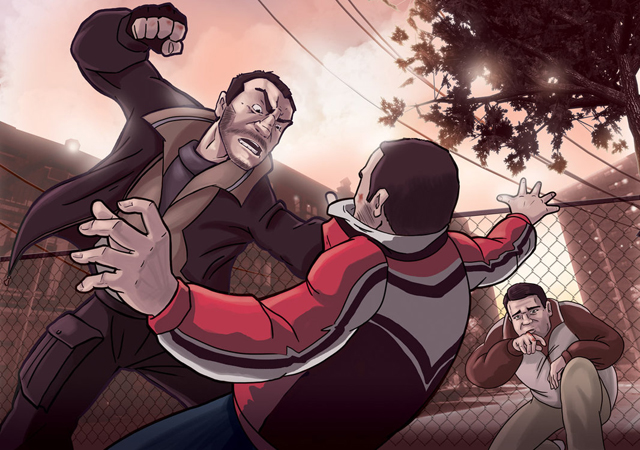 Proof that great art need never be rushed, Krbllov on deviantART recently decided to finish off some sketches from four years ago. The result - this stylish rendition of Niko Bellic introducing himself to Kalem in the mission 'Bleed Out', with Roman providing 'backup' (found by GTA Series Videos on Twitter).

In Sandy Shores at the stroke of midnight, the living dead are the least of your worries. Amanda Burke, aka loseranthems on Tumblr, drew this horror-inspired take on Trevor.

 

TheDovahBrine on deviantART laid down this sweet John Marston portrait in pastels for a Chalk the Block festival.

 
Previously:
Fan Art: Snapmatic Surrealism, Bullworth GIFs, Throwback Art and More
Trevor on Canvas, Damned Brotherhood Portraits, You Only Live Once Photo Journal & More
A Lamar and Trevor Cross-Stitch Collaboration, Vintage Trio Portraiture, Trick Photography Snapmatics and More 
Sign in
To gain access to the Social Club you will need to sign in with a valid Social Club account.