GTA & Rockstar Fan Pics: Trevor on Canvas, Damned Brotherhood Portraits, You Only Live Once Photo Journal & More
In the latest fan art roundup, an artist captures Trevor's "Rampage" on canvas, plus some awesome original digital portraits of a GTA Online Crew, a photographer's narrative photo journey along with the story behind it, a Rockstar skinned PS4 and more. 
As always, should you find (or create) any awe-inspiring GTA or Rockstar-related art or photos that you think other fans need to see, make sure to send them our way via Mouthoff and follow us at instagram.com/rockstargames for all our latest official pics.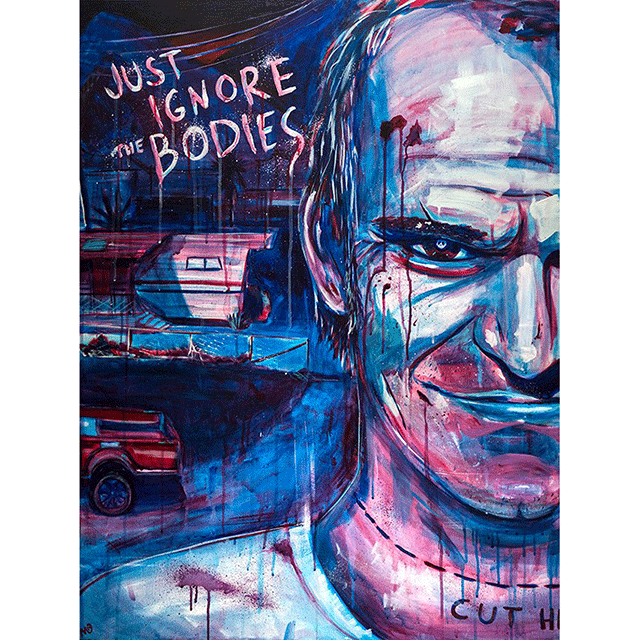 "Rampage": an incredible painting by Mike Oncley that was featured at Seattle's PRESS START III: TURBO EDITION, an annual art show focusing on the modern era of video games. Oncley created his rendition of Trevor using a mix of just blue, red and white acrylic paint on canvas (notice the skull detail in Trevor's eye). You can watch Oncley through his entire process in this Timelapse Painting video and if you're in the Seattle area, you can check it out in person now til October 5th at the Ltd. Art Gallery. [Found via xombiedirge.com]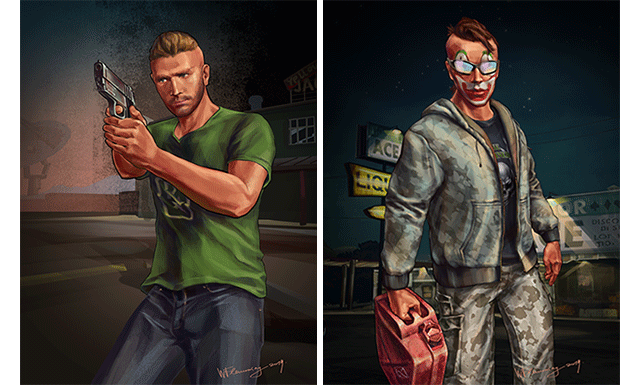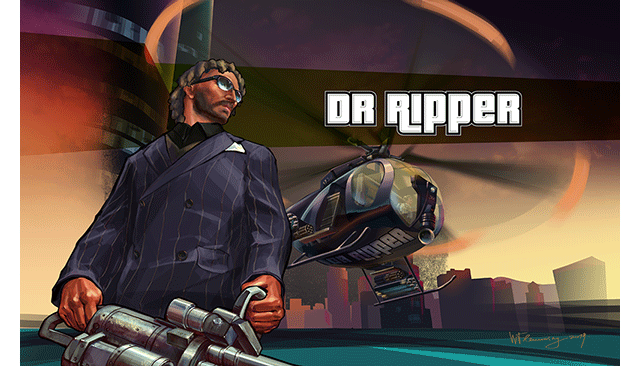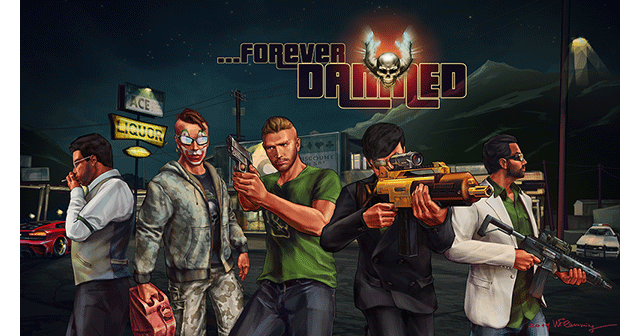 Digital artist and member of the Damned Brotherhood Crew, W_Flemming created these impressive digitally hand-drawn portraits based on other members of her GTA Online Crew including Crew Leader, ajdbns87. Here's a sick moving art vid of all her pieces together.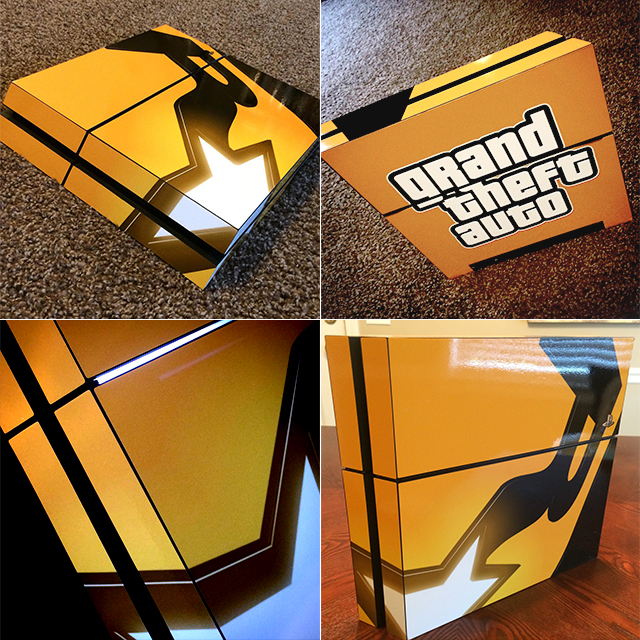 ​
Social Club member djnatas is gearing up (quite literally) for the November 18th GTAV release on PS4. He sent us his custom Rockstar and GTA console skin via mouthoff - looks like he's ready to play GTAV in style.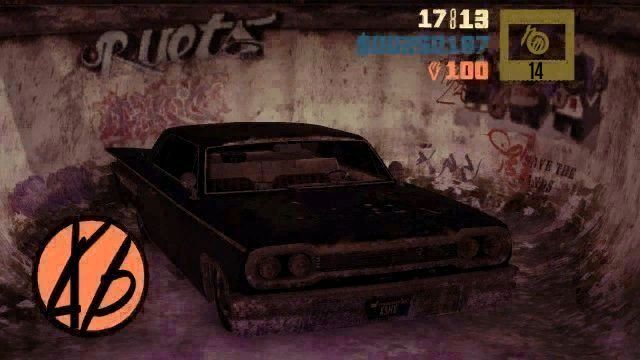 GTAPhotographers' leader MAKAVELI used the meme editor to turn this rusty old Voodoo found in GTAV into an awesome GTAIII HUD recreation.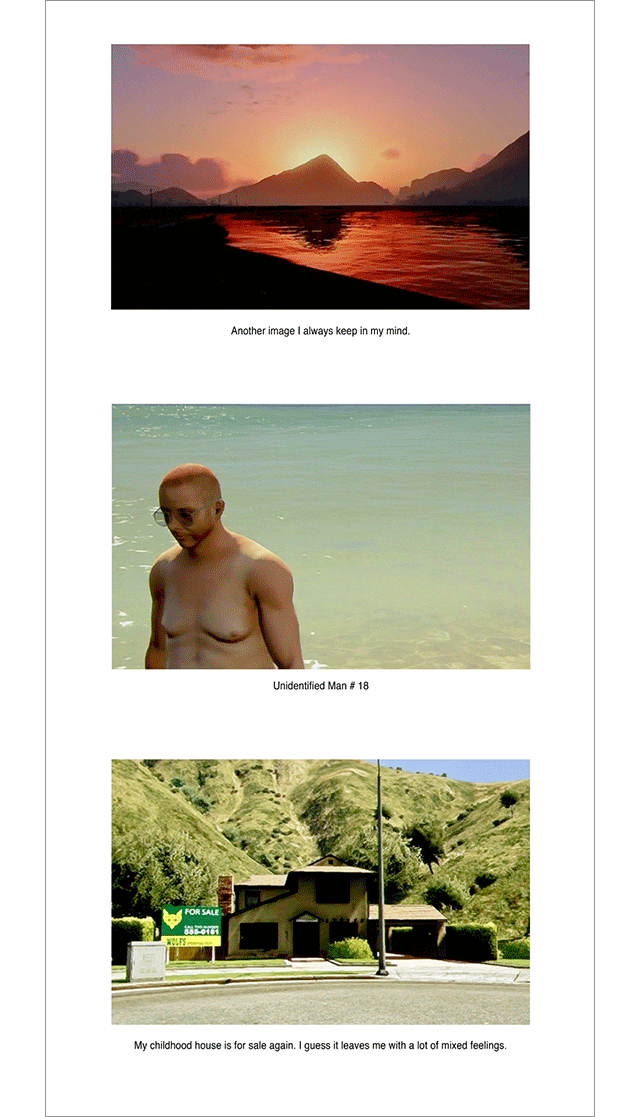 Photographer and professional film editor Casey Brooks (known for his work on the recent film, Obvious Child), used Snapmatic photos to create a narrative photo journal from the perspective of a girl living in Los Santos. In a recent interview with the Creators Project, Brooks describes his vision. "I wanted to tell a fictional story of one of these 'extras' [pedestrians in GTA Online] and my character would assume this role. She gives a sense of the world through her personal photos and history. While other online players/characters are engaging in epic standoffs with military, there's a parallel universe with a young woman living a fairly normal American life and dealing with the complexities that come with that. Using her camera phone to create a document of her experiences." Brooks' photos and captions are a mix between personal and arbitrary moments painting a very broad portrait of this young woman's life.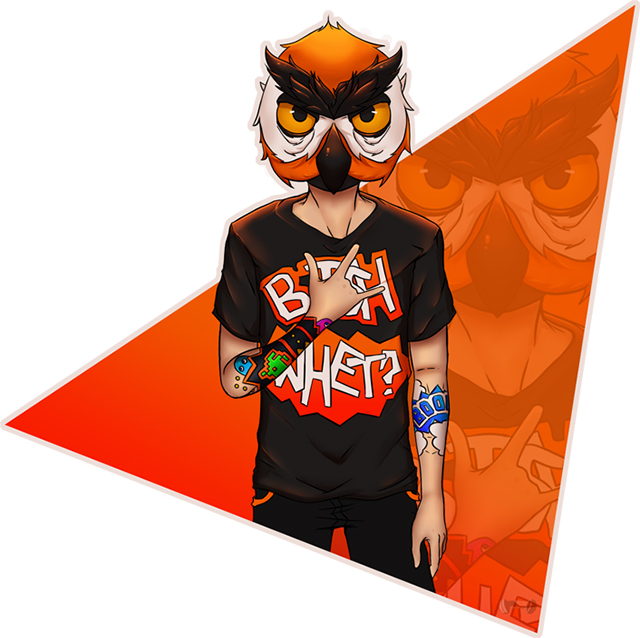 Tyree, aka deviantARTist SkaggsSTL took his owl mask-donning GTA Online character and added some custom ink and a graphic tee in this custom portrait.

We've seen Max Payne cosplayer @anthonyzero pull off Max's São Paulo look at quite a few conventions (Megacon 2014, Animate Miami, and Tampa Comic Con to name a few), but he went next level in this slick shot. 

@florentmaudet does a great job of recreating scenes from video games using photography and Photoshop and his John Marston here is no exception.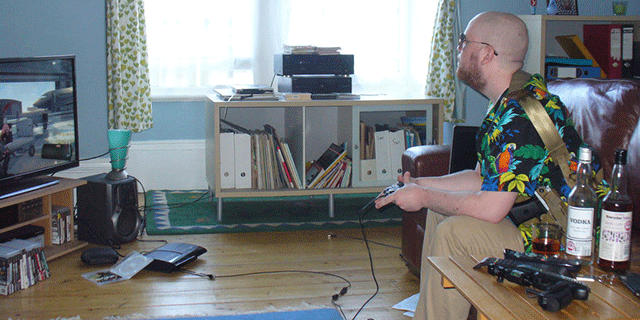 Max Payne plays Max Payne 3: "This is my first attempt at cosplay. Apologies if it's not very good." Looks great from where we're sitting, dude. Via eddiehimselfstolemyu on deviantART.

Previously:
A Lamar and Trevor Cross-Stitch Collaboration, Vintage Trio Portraiture, Trick Photography Snapmatics and More 
Fan Art: The GTAV Animated GIF Artwork of Julia Scott, Trevor Gets Patriotic & More
Los Santos Bullet Street Art, Homemade GTA Action Figure Diorama, Franklin's Snapmatic
Sign in
To gain access to the Social Club you will need to sign in with a valid Social Club account.