Crew Cut: A Crew that Hand-Delivers IRL License Plates, Plus F.C.-Themed Squads and More
In this latest edition of the Crew Cut, we take note of an exceptionally tight-knit Crew who've developed some real friendships by virtue of their GTA Online brotherhood, as well as some 1,000 member Crews bound together by their love for their local Football Club, plus the latest Crews on Film standout videos and more.
HILLBILLIES WITH HEART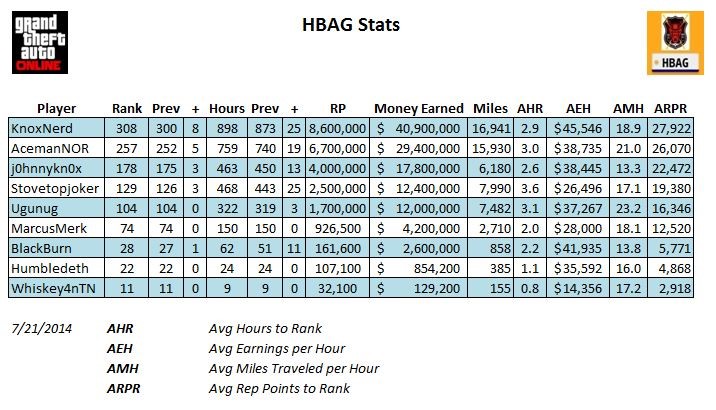 Good chemistry in a Crew is essential. The better connected a clique is, the better they'll be out in the trenches of TDMs and Captures – or even watching each others' backs in the sometimes mean streets of Freemode. Formed last September 17th, the Hillbilly Agenda (HBAG) Crew are probably as genuinely close knit as you can get. Each week, Leader KnoxNerd sends an encouraging email to HBAG's other sixteen members. Within each correspondence comes a stat sheet (like the one above) that includes current and previous Ranks and hours played, total RP and more - a great source of motivation to push one another towards excellence. 
Then there's the matter of the custom license plates KnoxNerd had commissioned to match those from Los Santos Customs, his of which was just featured in our most recent fan pics gallery. Knox wrote in to tell us the recent story of when Tennessee resident j0hnnykn0x was attending a wedding in California a few hours away from where fellow Lieutenant BRAWNSON lives, j0hnny jumped in his car and raced down those proverbial Blaine County freeways to personally deliver his plate it to him. And despite living all the way in Norway, there are plans for HBAG Commissioner AcemanNOR to receive his Crew plate hand-delivered by KnoxNerd (also a Tennessean) later this year.
Truly incredible team spirit best summarized by this photo montage KnoxNerd sent our way:

F.C.s INVADE THE S.C.
With all the great subplots and action of this year's recent World Cup, it seems plenty of Los Santos residents have shown their allegiance to their favorite local footie teams via the Crews of Social Club. Here's a spolight on a few Crews dedicated to their teams that have either maxed out their 1,000-person roster or are well on their way. If you're a fan of any of these FC's, you may want to request an invite before it's too late.
Paris Saint-Germain F.C., the French Club that just won their second consecutive and fourth total Ligue 1 championship, are the inspiration behind the Paris Saint-Germain (0PSG) Crew. Founded last August just after the start of the season, 0PSG are particularly proficient at Racing. Currently ranked 172nd in GTA Races (1,411 Wins), 246th in Rally Races (64 Wins/77 Matches) and 372nd in Races (8,220 Wins/14,868 Matches), 0PSG are helped by the likes of Brahimax93_Csl, who leads the squad in Races (337 Wins) and is second in GTA Races (73 Wins/1.40 K/D Ratio). 
Two Argentinian Crews are also showing their footie love. Paying tribute to the Primera División league's Club Atlético River Plate are the CA River Plate (CARP) Crew. Racing seems to be CARP's primary strength, ranking 122nd in GTA Races (1,604 Wins/2,929 Matches), 173rd in Races (10,767 Wins/18,689 Matches) and 361st in Rally Races. Multitalented, CARP are also ranked 151st in Tennis (1,246 Wins/6,364 Points). Club Atlético Boca Juniors, 30-time winner of the Primera División, inspired the Boca Juniors (CABJ) Crew. Also solid at Tennis with a rank of 180th (1,005 Wins/5,441 Points), CABJ are also respectable racers across the board. In addition to ranking 265th in GTA Races (1,231 Wins/2,180 Matches), they rank 313th in Races (8,759 Wins/15,415 Matches), 498th in Rally Races (47 Wins/61 Matches) and 610th in Non-Contact Races (257 Wins/563 Matches).
Two other Tennis-savvy Crews both show their love for Manchester clubs. The Manchester City Crew (MCFC) are sitting at 22nd on the Tennis charts with 799 Wins/4,063 Points. Non-Contact Racing is also a talent, as MCFC's 284 Wins/460 Matches have earned them a rank of 479th. Despite everyone's respective tennis prowess, no other footie-centric Crew can seemingly match the Manchester United FC (MUFC) Crew on the courts, as they're ranked 127th with 1,223 wins and 6,462 points. 
With 18 League titles, five European Cups and much more, Liverpool F.C. have won more European trophies than any English club. Paying tribute to them are the Liverpool Warriors (WARS) Crew, no slouches themselves in several categories. Their strongest suit is without a doubt Parachuting, currently ranked 156th with 703 Wins/2,079 Matches. WARS also are strong in the racing categories - 620th in Non-Contact Races (254 Wins/453 Matches) and 781st in Races (6,335 Wins/11,349 Matches).
D.I.Y. BATTLES
A couple of months back, we featured the CAP PILLAS (BANG) Crew's then-upcoming Head Hollowers Tournament as part of a feature on grass roots Crew events. After a month of battling that started with 21 Crews in the first round (divided into parts 1 and 2) and went on to some great semi-finals action, it got down to the Temple Drive Ballas (TDBG) and FVCK A NAME GANG (FANG) in the finals. Battling it out in not one but two close TDMs – playing the Rockstar Jobs Biolab followed by Governmental - and led by XxSaya-ChanxX's 27 overall kills, FANG took the day 2-0 and thus were crowned champs.
Congrats to FANG and all the participants as well as to HOT_KIMERA, HOT_LEDDY, HOT_PAiiN and HOT_TIGRE for putting together such a great tournament. You can check out highlights of the finals in the sizzle reel above. If the TDBG feel the need for a rematch, feel free to contact us at crewchallenges@rockstargames.com and we may be able to schedule you in an upcoming Crew battle at the official Rockstar Twitch channel.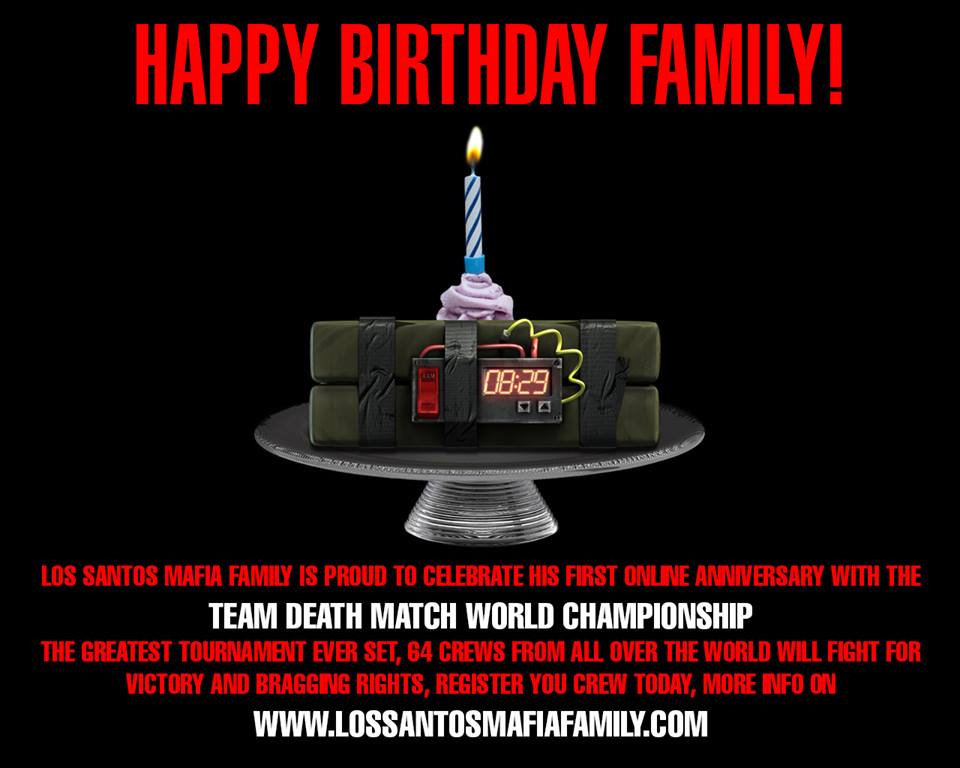 Meanwhile, almost a year into their formation, the LS Mafia Family (LSMF) Crew are celebrating with a massive, 64-Crew birthday Team Deathmatch tournament. Currently underway in the 3rd round, participating Crews are in the midst of a series of best of three, ten minute battles. You can stay up to date on tourney progress here.
CREWS ON FILM
Here's a look at a few of the most recent Crew-focused vids that grabbed our attention.
Brand new to the Social Club and already putting out awesome highlight vids are the Russian Girls Crew (G1RU) who have a simple motto explaining their common bond: "Russian speakers. Girls.". Led by Nikacoma, you can check out their official VK profile page as well as this four-minute stylish action clip from erstwhile Commissioner Kokonitos (who is no longer rolling with G1RU and is these days aligned with MAKAVELI's GTAPhotographers).
The Ageing Infidels (21UP) have come up with a banging GTA Online music video remake of the Beastie Boys' "Sabotage" video. Put your headphones on, turn the volume all the way up and prepare to get amped on this fantastic vid. Our only question is, where's Cochese?
Crew Battle veteran PaxSierraMike and the Australia Illuminati free-aim off-shoot the Highway Daemons MC (HDMI) pay tribute to the chopper that's beloved by many an MC, the Hexer. Appropriately set to "Blue Eyed Hexe" by the Pixies, this video certainly has a bad-ass, "don't F with us vibe" all the way through. 
With the 2 Chainz/Wiz Khalifa collabo "We Own It" as the soundtrack, the SoITezRobo Racing (STRR) Crew is responsible for the above ode to Fast and Furious homage. The STRR host car meets regularly and are super active over at the GTAForums Online Meetups Lobby, painstakingly put this tribute capturing the film's essence together over several sessions.
Previously:
Camera Clubs, Creator Collaborators and the Latest Crew Vs Crew Battles
Current Grassroots Events, Official Live Battle Scores and More
Latest Live-Stream Battles, Return of the Homage and More... 
Sign in
To gain access to the Social Club you will need to sign in with a valid Social Club account.