GTA Online Livestreams this Week: GTAV Soundtrack's Bass Drum of Death Plus a Crew Battle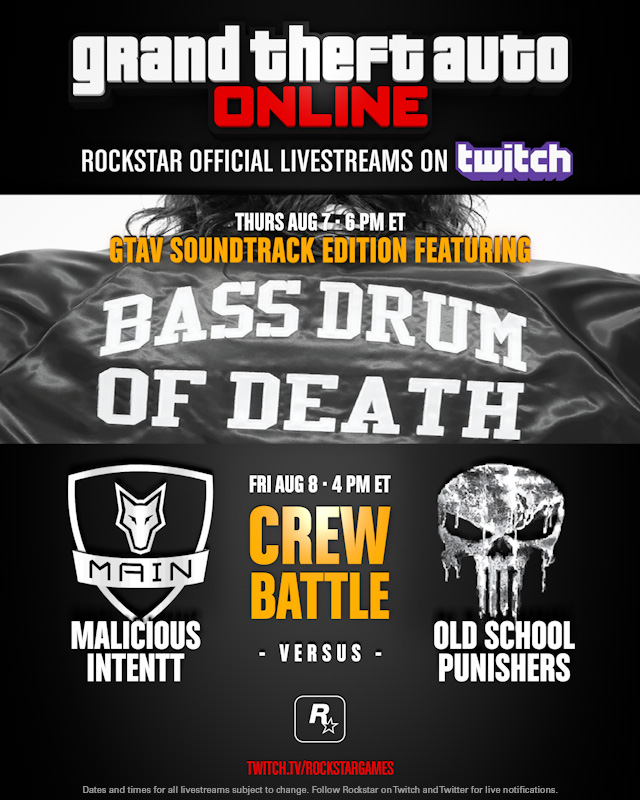 Tune in this week at the Rockstar Games official Twitch channel for:
Thursday Aug 7th      6pm Eastern *
GTAV Soundtrack Edition featuring
BASS DRUM OF DEATH ("Crawling After You" on Vinewood Boulevard Radio)
About to kick off their Fall Tour 2014, BDOD are celebrating the release of their brand new single "Left for Dead" off this October's Rip This LP and are swinging by Rockstar NYC headquarters to throw down in some GTA Online action live on our Twitch stream.

Friday Aug 8th     4pm Eastern *
Crew Battle featuring
Malicious Intentt VS Old School Punishers
These two hardcore Crews will vie to see which is the supreme squad at racing. We'll have a Rockstar player on each side as we livestream a special Playlist of Race Jobs with various vehicle types.

* Please note that with all livestreams, dates and times are very much subject to change.
Follow twitch.tv/rockstargames and twitter.com/rockstargames to get live notifications of when streams begin. And stay tuned for many more Rockstar livestreams in the weeks ahead to be announced.
Sign in
To gain access to the Social Club you will need to sign in with a valid Social Club account.