Fan Art: The GTAV Animated GIF Artwork of Julia Scott, Trevor Gets Patriotic & More
In this week's roundup of awesome Rockstar Games-inspired fan artwork, we've stumbled across a very talented illustrator and colorist turning her vivid GTAV character art into striking and super fun animated GIFs, plus some patriotic and timely summer holiday Trevor art, a few impressive Red Dead homages including a minifigs rendition of Undead Nightmare, and much more..
Seen (or created) any amazing GTA or other Rockstar-related art or photos on the interwebs that you think the community needs to see? You can send them our way to check out via Mouthoff and follow us at instagram.com/rockstargames to catch all our latest official pics and shares.
The original animated GIF artwork of illustrator and colorist Julia Scott. Clockwise from top left: "Lamar WHAT are you talking about" is the artist's caption for this very amusing GIF aptly illustrating the unique language of Lamar; A very cool new wave rendition of Michael; and captioned "here we see the monsters in their natural habitat", this road trip is excerpted from a larger poster-size version called 'A Change of Coast, A Change of Heart" in honor of Neon Indian's GTAV soundtrack contribution.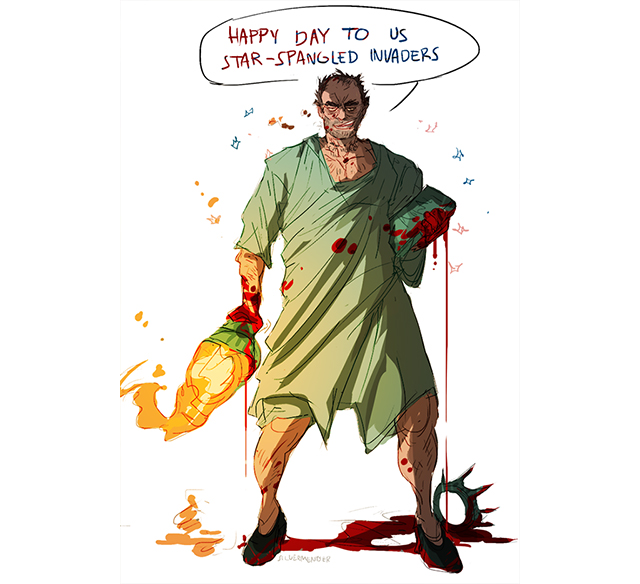 Trevor Philips does the Statue of Happiness for Independence Day. Drawn by the talented Gaby aka Silvermender on tumblr: "the american-turned canadian immigrant wishing y'all murricans minimally painful hangovers this fireworks and eagles day".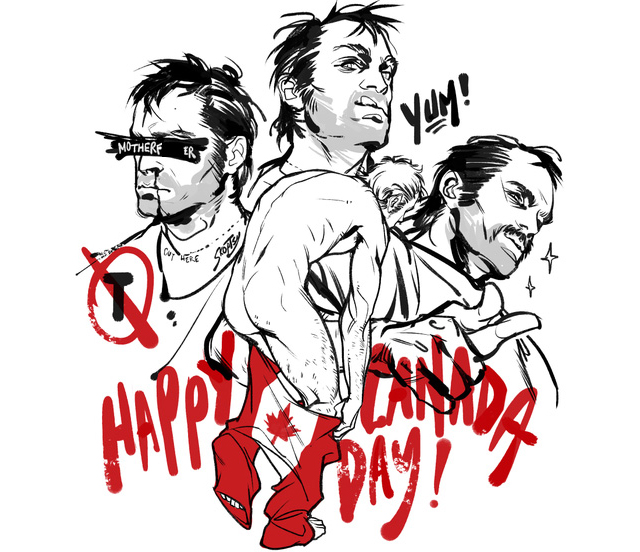 Meanwhile, in this piece from skoptsky that we found on digimomz's tumblr, Trevor's Canadian heritage is recognized in tribute to July 1st. "IT'S A FAINT F***ING ACCENT!"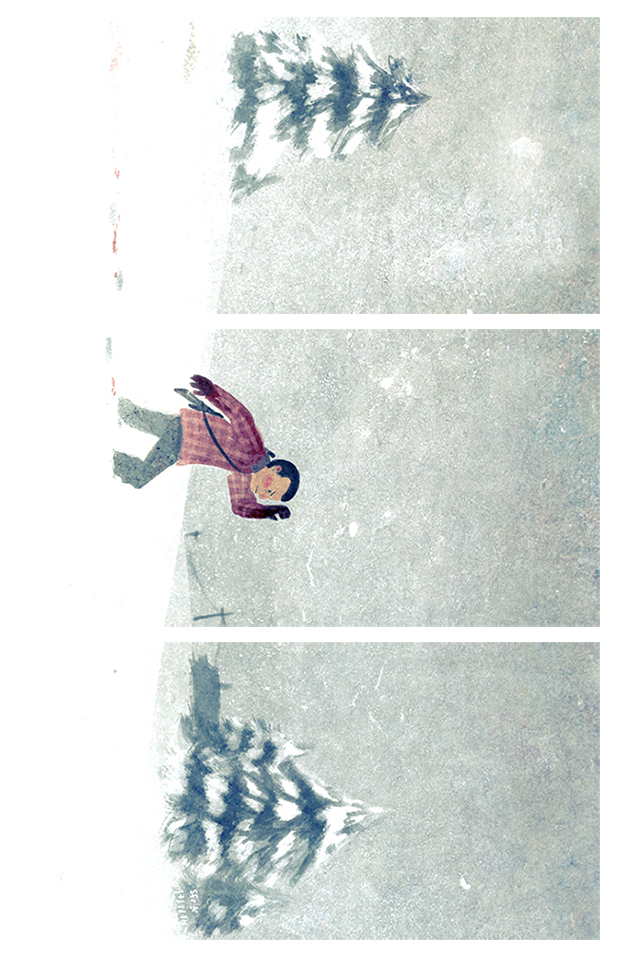 Intentionally presented as a vertical piece with Michael trudging downwards through the snow - this poetic bit of original artwork from starfleetrambo aka demitasse-lover (featured previously for the anime-inspired Sniper Michael) is captioned "no one escapes their life / no one escapes their life / no one no one" with a sly nod to Rilo Kiley.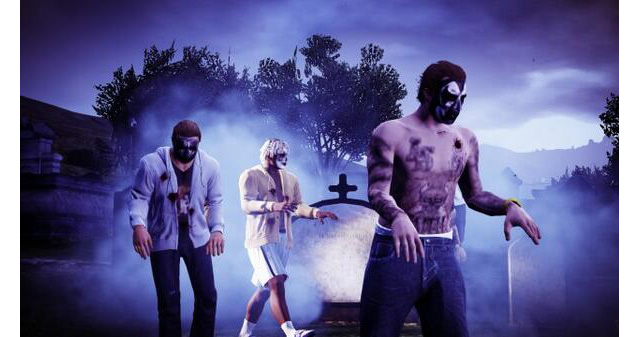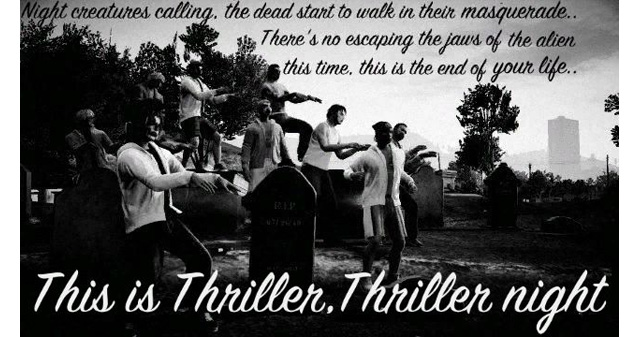 A late #imnotahipster entry, the prolific Ganja Outlaws put that update's face paint masks and Synth gesture to work - choreographing and meme-ing a tribute to the iconic music video for Michael Jackson's Thriller. Photo creds go to WEED's DutchStoner & KanEazy.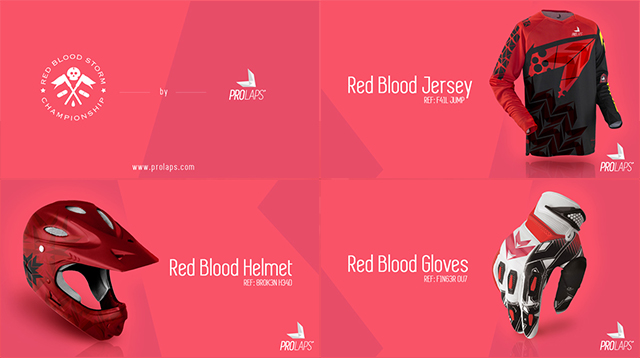 Colombian graphic designer Eduardo Restrepo Cardenas here does some impressive spec work for corporate client, ProLAPS. Check out his  full Behance project titled "Refresh Logo" that's amazingly thorough and professionally produced including re-branding logo treatments, font exploration, and a  "Red Blood Storm Championship" product campaign pitch to help sell the fitness brand's latest jersey, helmet, and glove lines.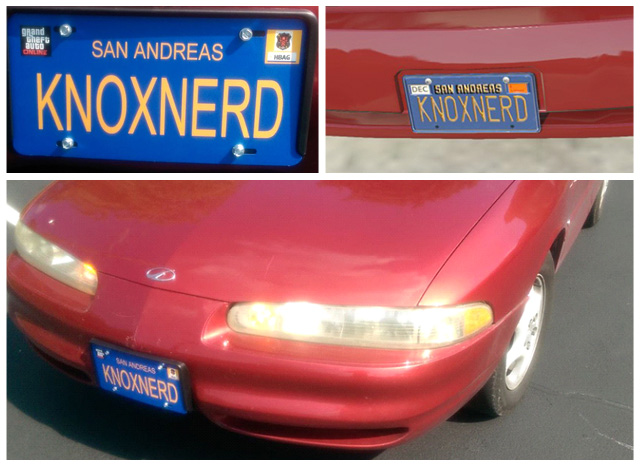 Life imitates art as #ThanksCargobob Snapmatic winner KnoxNerd proudly shot us these pics via email to show off how he took his in-game vanity plate featuring his Social Club Nickname into a real world license plate complete with the GTA Online logo, San Andreas state and Hillbilly Agenda Crew Emblem. Looks great, but please keep your wanted level at zero stars out there, Knox.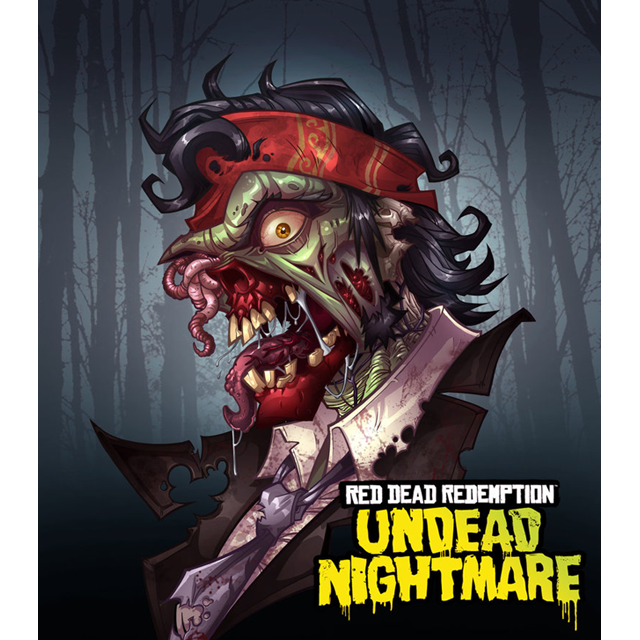 deviantARTist Bing-Ratnapala from Dubai created this gruesome Undead counterpart to his original John Marston portrait. 

A scene from Red Dead Redemption: Undead Nightmare recreated spot-on with minifigs? Awesome. Made by @madbrickyo, a Lego photography Instagram account filled with tons of fun stuff worth checking out.

 


@taykinder took the Red Dead Redemption map found in the game packaging and gave it an authentically-styled Goonies map makeover. Props to his mate @brettflanary for the creative assist. 
 
Previously:
Los Santos Bullet Street Art, Homemade GTA Action Figure Diorama, Franklin's Snapmatic
The Illustrations of AmandaLeab and Takengo, Space Monkey Mask Replica & More
Sniper Michael, T&M "Tea" Time, Mr. Raspberry Jams, & More
 
Sign in
To gain access to the Social Club you will need to sign in with a valid Social Club account.