GTA Online Creator Throwback Jobs Inspired by Classic GTA Missions
Recently we shared a list of fun and nostalgic GTA Online Jobs made by fans that used the Creator tool to pay homage to the gameplay of their favorite Rockstar titles of years past. This week, we've rounded up a selection of Jobs created specifically in tribute to classic Grand Theft Auto missions from GTAIII, Vice City, San Andreas and GTAIV. There's also a couple of Jobs themed around Chinatown Wars, set in a Los Santos slice of the Far East around Textile City. Click on the name of the Job to see it on Social Club and bookmark it to your game.


The Exchange by JIIThe_JokerIIK (Xbox 360)
Here we see the explosive final mission of GTAIII reimagined as a Deathmatch alongside the Land Act Dam. Extra points awarded for authenticity here as JIIThe_JokerIIK has carefully placed props to match Claude's final showdown with the Colombian Cartel. We recommend seizing control of the Buzzard quickly to gain the edge if you're playing this with one with your Crew.

 Bomb da Base by DuPz0r (PS3)
This Deathmatch - based on Act II of Bomb da Base in GTAIII, where Claude and 8-Ball blow up the Les Cargo ship - offers its own fair share of bang for the buck on a shipping vessel docked just off the Port of South Los Santos terminal. Be sure to check out the empty containers raised from the ground for some juicy firepower, though beware - someone else might have gotten there first...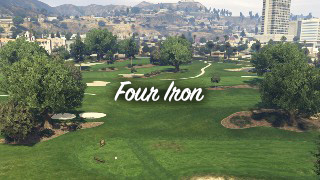 Four Iron by auclair-O_o (PS3)
Tommy Vercetti had to check his firearms at the door at Leaf Links in Vice City. Luckily, they seem to be far more liberal on weapon checks at the Los Santos Golf Club. In this Deathmatch remake of the Four Iron mission in VC, you'll find a few handguns scattered around the greens and fairways. Of course there are plenty of golf clubs lying around in case you feel like working on your short game.


Farewell, My Love... by iLewisGTA (Xbox 360)
After Carl Johnson spurned the dangerous affections of Catalina in San Andreas, she pit her new boyfriend (a certain strong, silent type) against CJ in a race around Red County. In his GTA Online remake, iLewisGTA has selected Coupes as the default vehicle for authenticity and really nailed the tight, slippery corners of the original circuit around The Panopticon in Red County. A major Rockstar fan, Lewis had made a bunch of Throwback Jobs that you can check out on his Social Club profile.

Valet Parking by DrHoctor (Xbox 360)
"Being a valet at the Richman Hotel has its perks, like all the nice cars that pull in. -Borrow- one of them and take it for a test drive" says DrHocter's description to this Lap Race, based on the valet parking side mission from San Andreas. Starting and ending at the Richman Hotel, and weaving through the tight Morningwood streets, there's a lot more to it than parking for sure. Watch out for approaching opponents along the looped section and try to get the customers' cars back without a scratch.

 High Stakes, Low Rider by thewolfking90 (PS3)
Top marks for authenticity go to thewolfking90 for this Race, which nicely captures the feel of its inspiration - the High Stakes, Low Rider mission in San Andreas. Set to Muscle Cars and finishing up at Del Perro Pier, you can almost feel Cesar Vialpando bearing down on your rear bumper. The choice to set West Coast Classics as the default radio station is a lovely nod to the classic wessyde vibe as well.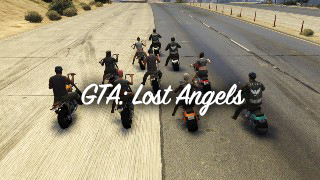 GTA: Lost Angels by RikkiVercetti (Xbox 360)
Inspired by the conflict between The Lost and the Angels of Death in The Lost and Damned, this Capture Job from prolific GTA Online Creator RikkiVercetti pits two teams in a proxy war for these two notorious motorcycle clubs, each tasked with stealing the signature rides from the other group. A broad stretch of rolling hills between West Vinewood and Stab City ensure that in this large capacity Capture you'll need to spread out and leave skilled defenders to protect your precious hogs from getting stolen. Sawed-off Shotguns and Molotovs as the default weapons setting also force you to pick your shots and cover choices wisely when nearing the enemy base.


Chinatown Wars by Choc_late (Xbox 360)
This is an intimate, close quarters Capture amidst the urban neon and colorful lanterns of West Vinewood's Mission Row. Expect a heavy exchange of gun fire as two teams battle it out for domination of the central alleyway where the Capture Objects are to be found. The situation is further intensified by the accurate resident gang members who carry equal contempt for both teams as well as high-grade firearms. Respawning in Canis Mesas means either bag is never far away, so stake your claim on cover to protect your teammates during a desperate grab.

Chinatown Wars by WinR4R (PS3)
Attrition across the rooftops or balls-out carnage in Sinners Passage - this Deathmatch features well thought out weapon placement ensuring that each match outcome here in Textile City has the potential to play out differently.
Once again, kudos go out to all of the savvy creators of these Jobs for their solid work (and keen memories!). If you have played any of these or other Jobs based on classic Rockstar games or missions, let the Social Club community know in the comments section and if you've made any that you're especially proud of that you'd like us to check out, be sure to tag them #throwback.
Previously:
GTA Online Creator: Fan-Made Rockstar Throwback Jobs
Sign in
To gain access to the Social Club you will need to sign in with a valid Social Club account.