Crew Cut: Camera Clubs, Creator Collaborators and the Latest Crew VS Crew Battles
In this latest edition of the Cut, we highlight some groups who not only game together but use Crew functionality as a means of expressing themselves and collaborating on creative Snapmatic photography and Creator Job development. Read on also for fresh recaps and archived video highlights from the most recent Crew Battle front lines including face offs with stalwart community Crews like The GTA Base and Los Santos Free Roam as well as special artist editions featuring Dan Croll, Big KRIT, and more.
 
CAMERA CLUBS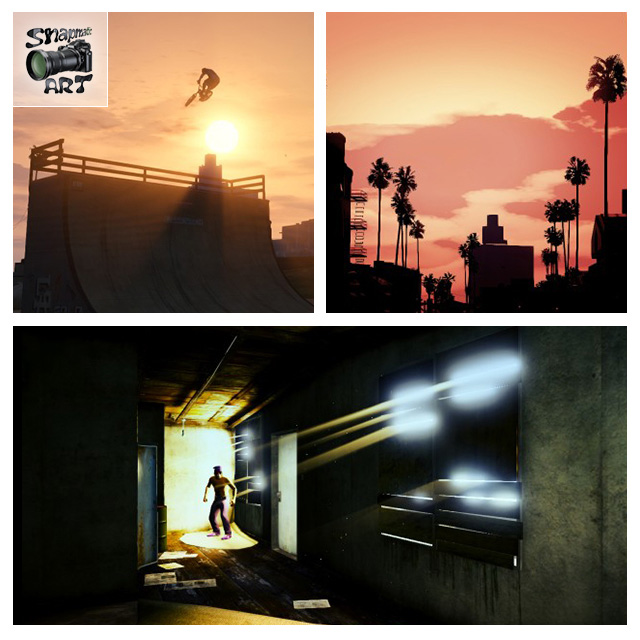 Just a few choice shots taken by the Snapmatic Art (SNAP) Crew's talented photogs.
For those who fancy themselves something of a Snapmatic shutterbug or simply appreciate the artistic work of those talented players who pride themselves on their iFruit aim-and-shoot abilities, there are some truly talented and very active photography enthusiast Crews out there worth your attention.
The Snapmatic Art (SNAP) Crew may be fairly new on the scene (founded just last month by Leader MissQuickSkillz) but already have amassed over 350 members and 1,652 total Snapmatic photos in their collective gallery. These guys seriously live up to their name with some beautifully framed shots from the iFruit's most popular app. In their first month of existence, they've already gained accolades and recognition via this spot-on recreation of the High Life art you may recall by McGoooo420 which was a winning photo in the recent #HIGHLIFE Event Weekend Snapmatic competition - and we've been enjoying other great snaps from this Crew like " Lago Zancudo" by Ivc0034, "Tongva Alley", a nature shot beautifully captured by Zenia_B, and tweekytina's voyeuristic "Mount Gordo".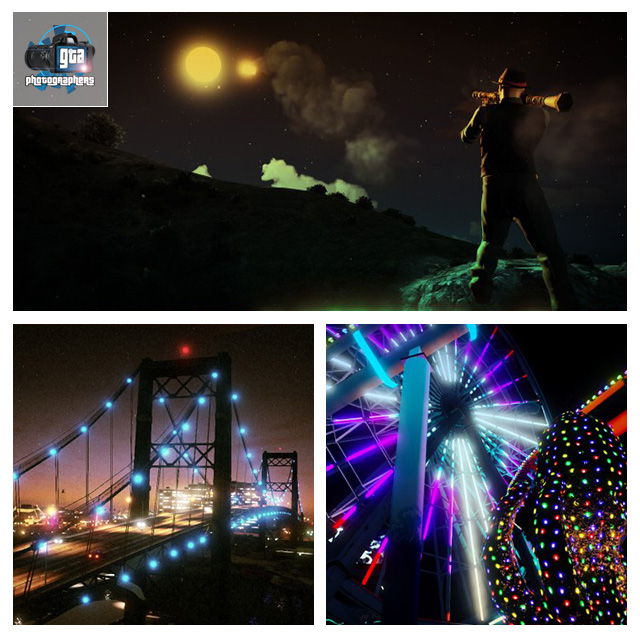 A mini-gallery of beautiful Snaps by the GTAPhotographers Crew.
The prolific GTAPhotographers (GTAV) Crew also boasts somes recent Snapmatic photo competition winners (including this sexy rain-soaked shot of a Zentorno from repdek). And that's just one of thousands of amazing shots taken by this 1,000 member collective (they're nearly at the 1,000 member limit so if you're a fan or a fellow photographer who wants in, you'd be wise to request an invite soon) that also share some of their proudest member creations on their official Instagram account. They're led by community mainstay MAKAVELI, who in addition to being a prominent member of the free-aim Slaughterhouse (XSHX) Crew, also brought us this memorable shot of a rather unconventional houseguest in the De Santa bedroom a while back. A few other great snaps from this squad include "Los Santos International Airport" by berserkraptor, "Sabre Turbo" by Snapmatic contest winning member HairyHole and "РОКФОРД-ХИЛЛЗ (Rockford Hills)" by EVOLUT7ON.
CREATOR COLLABORATORS
The Creators Core Club (CRE8) Crew had the good fortune of getting their recruitment pitch published in one of our early Noticeboard posts here at the Newswire and have since seen a 40% increase in membership that has collectively published nearly 6,000 custom GTA Online Jobs. Along with their PS3-focused counterpart Crew, the GTA Content Creators (GCCC), they together form like Voltron and make up the Creator-focused web community conglomerate known as gtacontentcreators.com.
Their motto of "create, share and play" says it all, with 13 of the 90 Verified Jobs originating from members of these two Crews (not to mention being responsible for some fine throwback homages to past Rockstar titles recently featured here on the Newswire as well). Many of these creations, including GTA: That's My Rhino by RikkiVercetti and The Los Santos Riots by TIdoubleGGRR have been in regular prime-time rotation on our Crew Battles and Rockstar Broadcast Event live-streams. Check out their YouTube channel for a host of videos featuring some of their custom Jobs and their official site for recently-launched Playlists.
 
LIVE CREW VS CREW BATTLE RECAPS AND VIDEOS
GTAV Soundtrack Edition Crew Battle featuring Dan Croll
WINNER: Bandmate Jacob M Berry's ALIEN BATTLE Crew by a close margin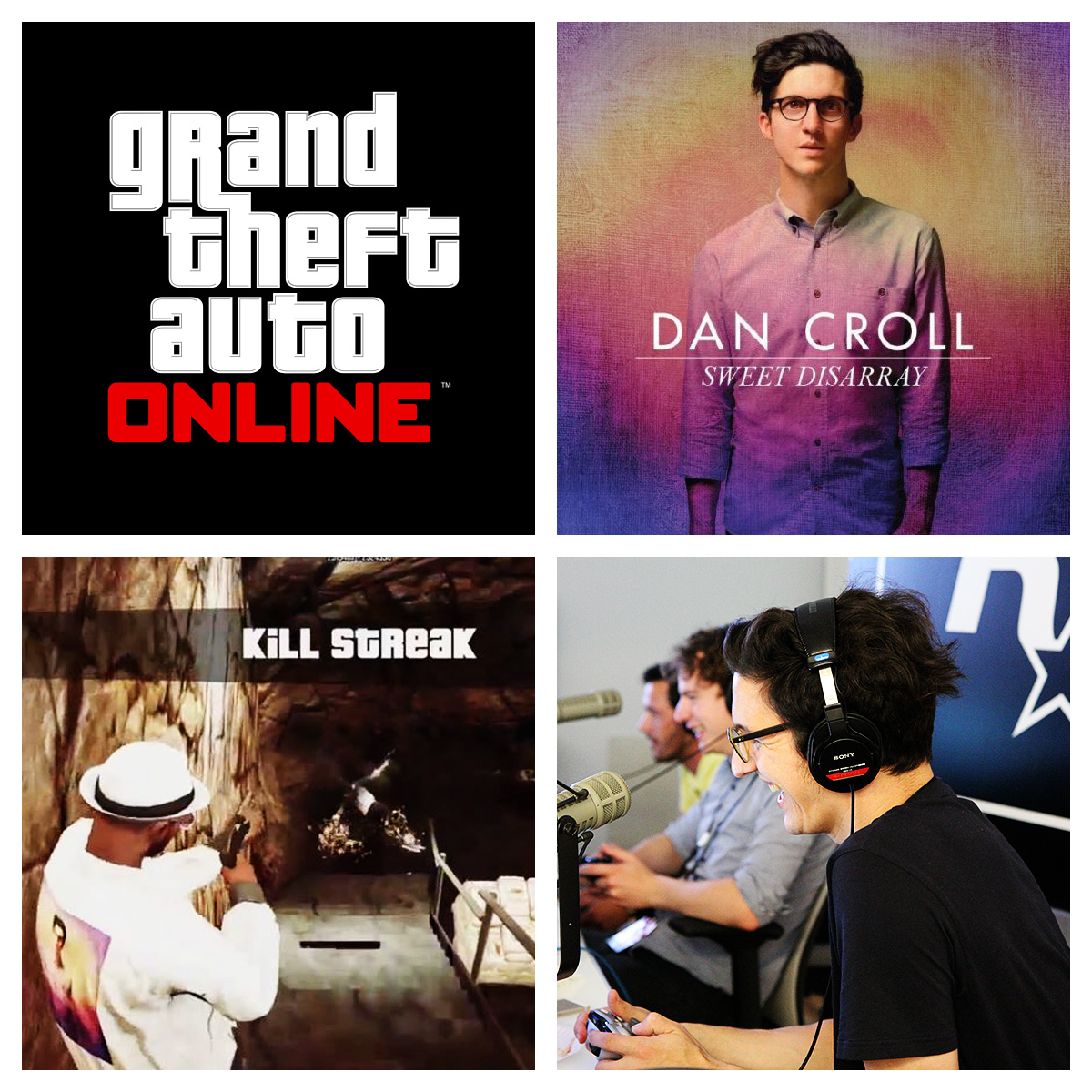 The most recent GTAV Soundtrack Edition Crew Battle featured the man responsible for the music in the latest GTAV trailer ("From Nowhere"), Dan Croll. Along with two of his band mates, Jethro Fox (aka Tabs n Cans) and Jacob M Berry (aka Wilted_spinach), they mixed it up and split up into opposite teams fighting alongside a couple of our Rockstar Devs in a few 'friendly' Deathmatches, Races and Captures. Showing initiative right out of the gate, Dan and friends (who formed a Social Club Crew known collectively as Alien The Musical) seized a decisive win during Contend: Salty Snatch with a 3 to 1 victory. They continued this trend in other rounds with Dan completely locking down first place in Down The Drain and nearly taking first in Senora Freeway (if not for getting hung up on a pesky crash barrier). Jethro had a great showing as well, going toe-to-toe with our Rockstar Devs on all of the TDM's, matching them kill-for-kill. A great time, and Dan even hung out for some overtime, playing off-stream with a few lucky fans.
theGTABase (G4SL) VS. Los Santos Free Roam (LSFR)
WINNER: GS4L by the score of 527 - 407
The Battle between Los Santos Free Roam and theGTABase had been brewing for some time thanks to some good-natured smack talking via Twitter. LSFR Crew Leader and omnipresent community member iLewisGTA had been trading barbs with GS4L and MRGTAVInformer in the run-up to this one, but the GS4L gang went on the offensive right from the get go and wound up humbling LSFR in seven out of eight Jobs. Highlights included GS4L's renowned LambentBunny, a world record holder in over 20 Races, showing everyone how it's done on challenging courses like Baja Hangtime. Watch a highlight excerpt below, or a capture from The GTA Base's perspective on their YouTube channel, or the full archived stream at Rockstar Twitch.
Sons of lost Souls (SOLS) VS. Untold Legendz (FAME)
WINNER: FAME by the score of 889 - 710
The Sons of lost Souls faced the Untold Legendz in 10 hand-picked Jobs. SOLS go by the motto "never give up... never back down" and against a squad that had a standing record of 33-0 in Team Deathmatch at the time, they needed every ounce of that fighting spirit. Beginning the day with Contend: Adventure TEAM!!, SOLS came out swinging hard and took a 120-96 lead, but FAME turned the tables in the Smugglers Run Land Race, taking three of the top five slots. After winning a Max Payne 3-inspired TDM, the momentum shift was complete and FAME went on to win 889-710. Watch a clip below or the full video archive on Twitch.
Konsole Kingz Edition featuring Big KRIT, Sheneka Adams (KING) and the Weekend Work Shade 45 Crew (TERM)
WINNER: KING in a clean sweep
Our longtime friends at Konsole Kingz in Atlanta let us know their Crew was ready for a Battle and were eager to face off against the New York based TheTerminatorsCrew, otherwise known as CoachPR, DJ Caesar and DJ Explicit of Sirius XM Shade 45's #WeekendWork radio show. Repping KING and joining us live via Skype were founders CJ and Butcher Black, plus actress, model and bona fide and self-described #gamerchick Sheneka Adams along with special guest, renowned MC Big K.R.I.T.. We knew the Kingz always bring their A-game but this time around they really flexed on the competition (which included a Rockstar dev helping out the TERM Crew here in NY), crushing mode after mode - watch the highlight clip below to see Big KRIT and Sheneka take win and place respectively in the Midnight Club Race and watch the full stream archive at Rockstar Twitch. Stay tuned as well for more upcoming Konsole Kingz edition Battles as well.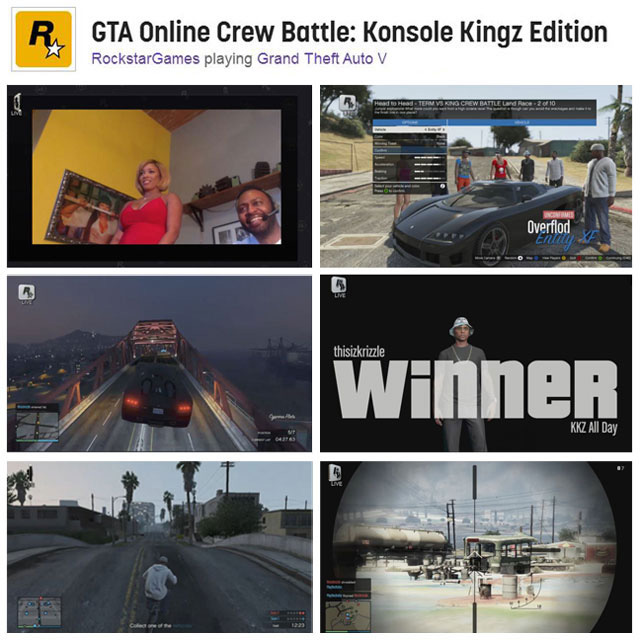 A few great moments (including Big KRIT's 1st place Race win) from the Konsole Kingz Edition Battle we shared on Instagram.
Live from Konsole Kingz Crew HQ in Atlanta, Sheneka and CJ warn our Rockstar Dev (playing on the Weekend Work DJs team) that creeping on the come up will have its consequences.
Been beefing with a Crew lately? Or just feel the world needs to see what you and your squad are made of? Send a link to your Crew page, with info on your preferred platform and any particular Crew you'd like to challenge, plus why your Crew would kill it on the official Rockstar stream to CrewChallenges@rockstargames.com. We're curently lining up exciting Battles for the weeks ahead.


Previously:
Current Grassroots Events, Official Live Battle Scores and More
Latest Live-Stream Battles, Return of the Homage and More...
Film Crews Remake Fave Action Sequences, Plus Live Battle Recaps feat TRFK, KOPS, Freddie Gibbs & Hip Hop Gamer
 
Sign in
To gain access to the Social Club you will need to sign in with a valid Social Club account.