GTA Fan Pics: Los Santos Bullet Street Art, Homemade GTA Action Figure Diorama, Franklin's Snapmatic
In this week's roundup of awesome Grand Theft Auto inspired fan art, the GTAAdventures subreddit puts on a Daft Punk tribute concert in Los Santos, an Italian artist shows off his amazing custom-made GTA character action figures and dioramas, plus dispatches from the fan fic San Andreas Alternative News, an illustrative imagining of Franklin's Snapmatic feed and more.
As always, should you find (or create) any awe-inspiring GTA or Rockstar-related art or photos that you think other fans need to see, make sure to send them our way via Mouthoff and follow us at instagram.com/rockstargames for all our latest official pics.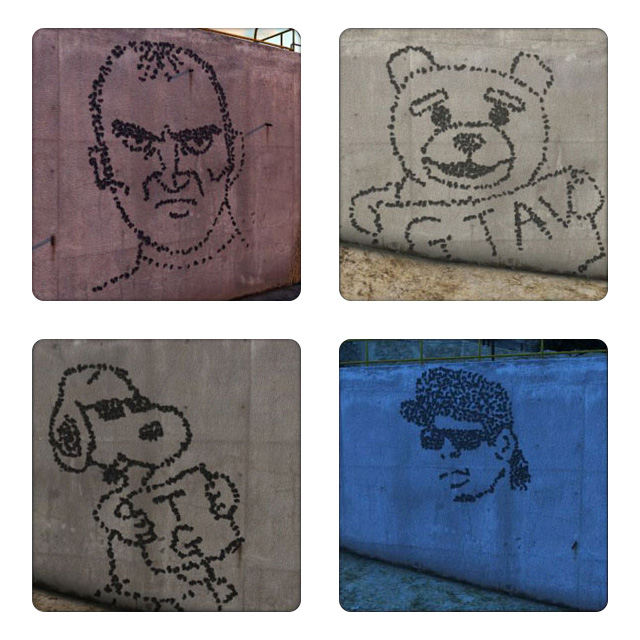 Social Club member schoolboy129 gives new meaning to the term "shot for shot remake" here, using the AP Pistol  and some very accurate targeting to muralize a few familiar faces on the streets of Los Santos. In addition to popular GTA characters like Trevor and Ryder seen above, there are also some fun tributes to Springfield's most notorious problem child and lots of others amidst schoolboy's Snapmatic gallery.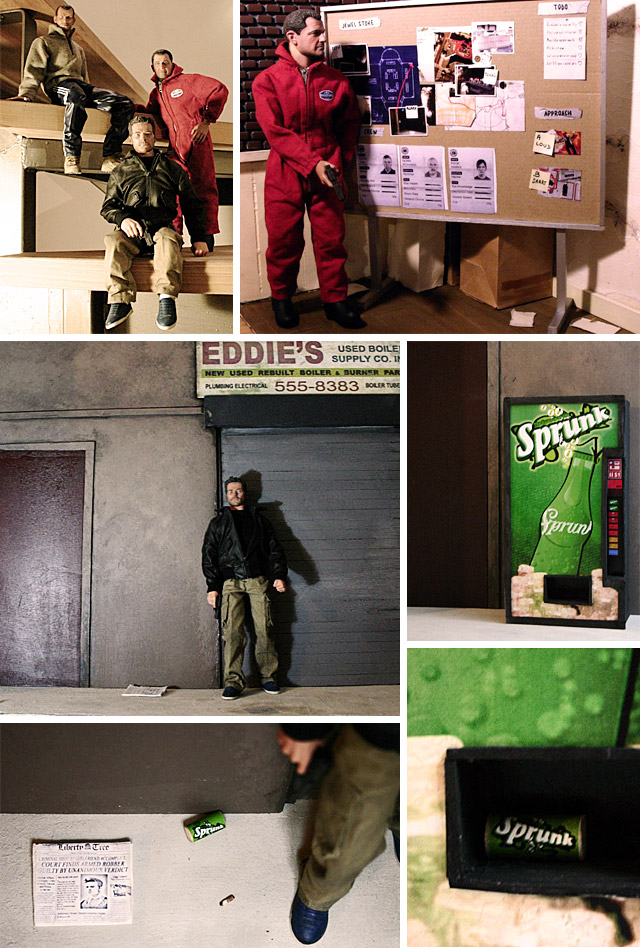 ​
Daniele D'Adamo, known as DDJunior on the Italian GTA-Expert fan forum, has been working on a GTA-inspired miniature series for quite some time. Following the release of the limited-edition Claude action figure as a part of the Grand Theft Auto III 10 Year Anniversary Collection a few years back, Daniele worked to provide Claude with a proper habitat by recreating the original Portland safe house from GTA3. Daniele then took it to the next level with homemade Niko Bellic and Michael De Santa action figures seen above, along with a highly detailed diorama set based on the Vangelico Heist mission in GTAV. Source: GTA-Expert.it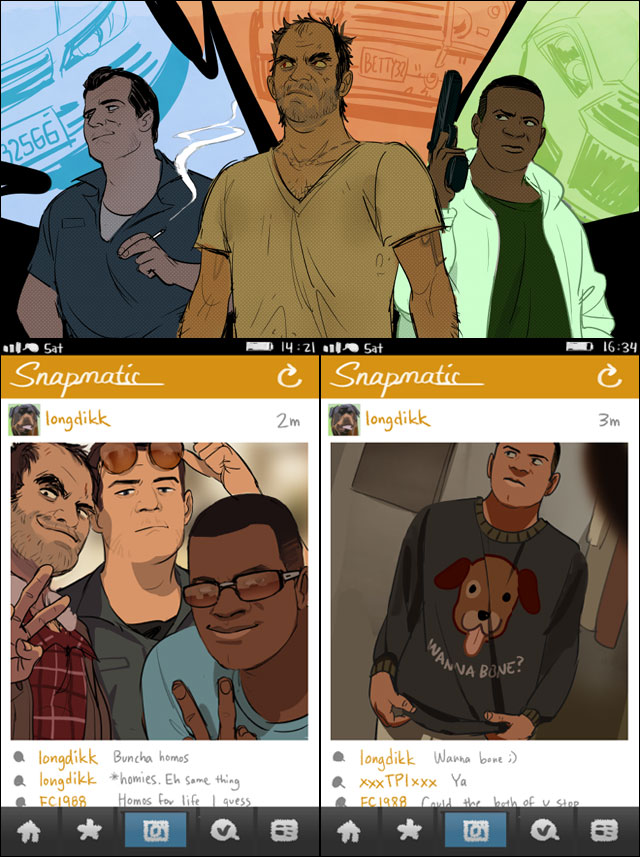 Shanen, the talented artist formerly known for the radiopappa tumblr (now epsee.tumblr) responsible for the GTAV Bullworth Alternate Universe continues to amaze with her original creative pieces. Enjoy the above illos of Franklin's imagined Snapmatic posts, and she's also been featuring a very fun 'GTAV anime' series as well. Source: epsee.tumblr.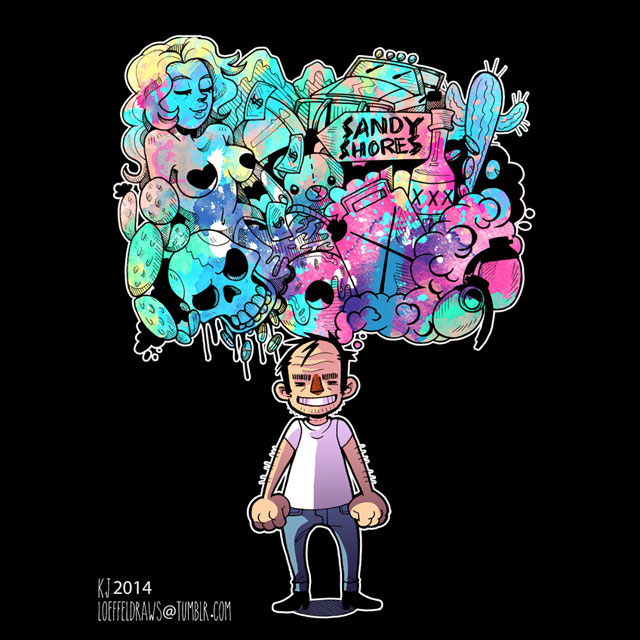 "Oh Show me the way to Sandy Shores I've spent all my money on meth and whores." Illustrator Rotzlöffel did this striking piece at loeffeldraws.tumblr entitled "What a Trevor dreams of" - originally in black-and-white, then brought to an appropriate fever pitch with awesomely vivid coloring as seen above.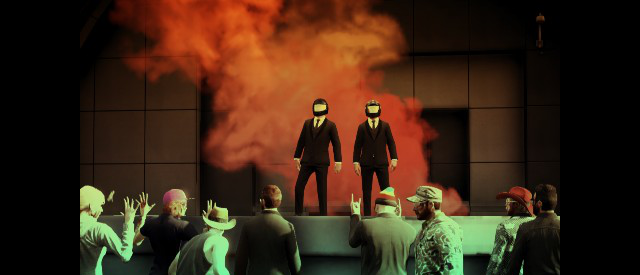 The /r/GTAA community has been pulling off some legendary Snapmatic homages for quite a while now, and there's no signs of them slowing down given this recent photo shoot combining the motorcycle masks, the Jazz Hands toasts coming from the audience and the orange exhaust smoke (cleverly emanating from an offscreen car) to make for an epic Daft Punk tribute concert. Via redditor: Shiftex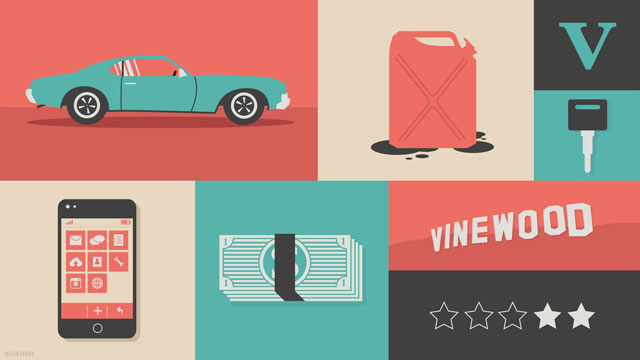 Graphic designer Ollie Hoff shared his stylish GTAV fan art with us on Twitter that also received some love on reddit as well. Hoff even made a handy portrait version that works very nicely as a mobile wallpaper.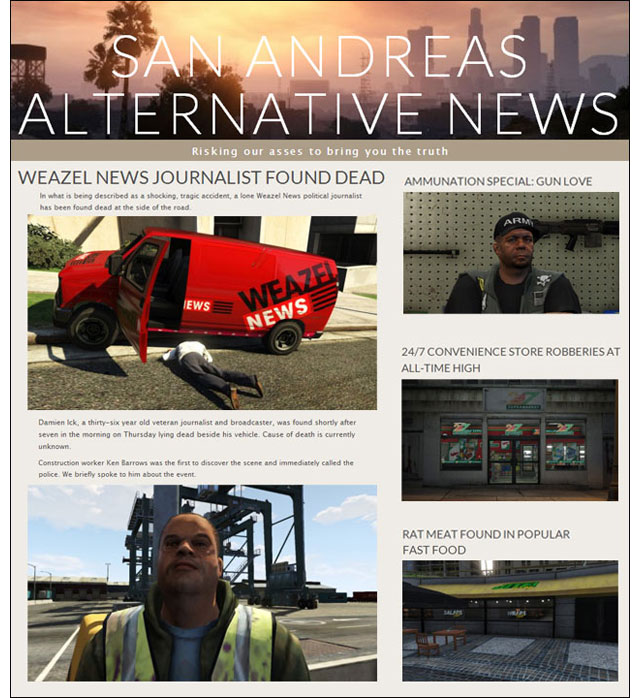 Looking for all the latest news the San Andreas "mainstream" media doesn't want you to know about? Check out the San Andreas Alternative News, a nice bit of ongoing Liberty-Tree-style fan fic hosted on Wordpress by Social Club member Bronxjackass. 


Previously:
The Illustrations of AmandaLeab and Takengo, Space Monkey Mask Replica & More
Sniper Michael, T&M "Tea" Time, Mr. Raspberry Jams, & More
Innovative Photography Projects, Adventures of the r/GTAA Subreddit & More
Sign in
To gain access to the Social Club you will need to sign in with a valid Social Club account.