Crew Cut: Film Crews Remake Fave Action Sequences, Plus Live Battle Recaps feat TRFK, KOPS, Freddie Gibbs & Hip Hop Gamer
The latest edition of the Cut features a Crew who nailed a challenge to re-enact one of their favorite action movie sequences in GTA Online, a recap of the latest Crew vs. Crew Battle challenges that featured renowned stunters, accomplished Snapmatic photogs, Freddie Gibbs of the GTAV soundtrack and Hip Hop Gamer of Hot 97 - plus some exceptional Crew snaps and video creations as well.
GOIN' VINEWOOD
In the most recent fan pictorial here at the Newswire, we featured some inspired pop culture recreations, including this scene from Pulp Fiction, courtesy of a member of the GTAAdventures (GTAA) Crew. Folks from the GTAA and the Brass Ballas (BRSS) Crew have now officially taken it to the next level by faithfully re-creating the intense opening scene from Skyfall with GTA Online gameplay. There's awesome attention to detail on display here - nailing the sniper scope shot and creating an impressive rendition of the modern 007's look. To see more of what GTAA are up to, you can check out their Crew page or their subreddit. Also from the world of Social Club Crews on reddit, the GTAVadventures (RDIT) Crew put together this four-minute-plus stacked highlight vid of stunts, jumps and a little bit of the lighter side of Los Santos.
LIVE BATTLES: TRFK VS. KOPS
Last Friday, two renowned Crews, the Traffickers (TRFK) and Le Kops (KOPS), did battle live on our Twitch channel in an action-packed Crew vs. Crew Battle which you can see a one-hour excerpt from above (see more clips at our Twitch archive). In between the 10 hand-picked Jobs that were played through, we had the opportunity to speak with TRFK Leader Anonamix, who broke down some of their excellent Snapmatic photos (including this award-winning Valentine's shot), and KOPS Leader and stunting connoisseur kwebbelkop. Despite great hustle from Le Kops (and member FeymHD missing second on the overall leaderboard by just one point), the battle was mostly one way traffic as TRFK took the win 945 - 822.
We've got lots more Crew vs. Crew battles lined up for the weeks ahead, including potential ones with the Killer Smoking Aces (XKSA), Killers On A Rampage (KOAR), The Legion GTA (TLGN), LS Mafia Family (LSMF) and Ganja Outlaws (WEED) Crews. Think your outfit has what it takes to face off in front of a Rockstar audience? Hit us up at CrewChallenges@rockstargames.com and be sure to include a link to your Crew page, your preferred platform and some details on why you think your Crew should bring it to a live stream audience.

FREDDIE GIBBS' ESGN CREW VS HIP HOP GAMER's OF HOT 97'S HHG SHOTS FIRED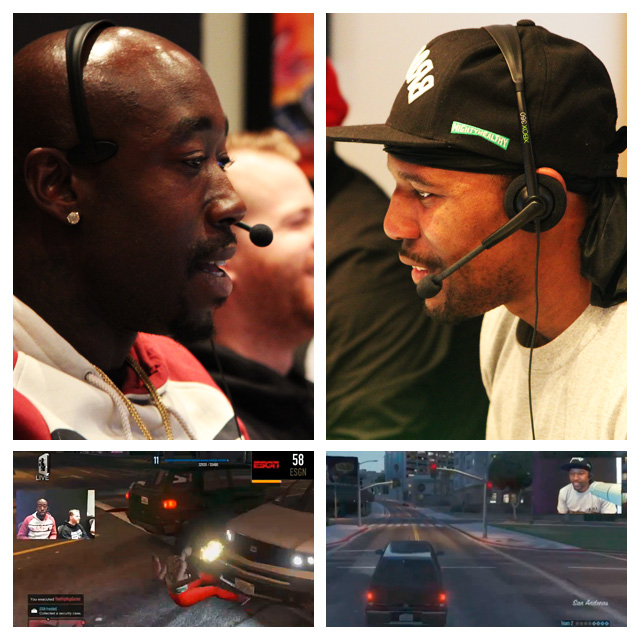 Clockwise from Top Left: Freddie Gibbs deep in focus during a Deathmatch, HipHopGamer looks pleased with his performance in a Capture Job, Freddie taking on a car.
In town for a show highlighting Piñata, his new album with Madlib, GTAV soundtrack's Freddie Gibbs dropped by Rockstar NYC with some other members of his ESGN (ESGN) Crew to take on Hot 97's HipHopGamer and some of his mates in the HHGShotsFired (HHGS) Crew. Facing off in some recently Verified GTA Online Jobs and more, the afternoon was chock full of spirited battle and smack talk. Despite a valiant effort from Freddie and his Crew (including a special assist cameo from producer and GTA soundtrack alumnus Statik Selektah), ESGN fell short of HHGS' strong showing and the latter claimed victory. As HHG said himself during the bout, his reputation and namesake was on the line. If you missed the live stream, you can check out an archive of the match in its entirety.

Stay tuned as we're lining up more GTAV soundtrack artists and other notable GTA players to come do battle with their Crews live throughout the spring and summer, and later today we'll be live-streaming a standoff between the Australia Illuminati and Shine Thugz Crews - keep an eye on our Twitter feed or follow our TwitchTV channel to be notified when the broadcast begins.
THE MAILBAG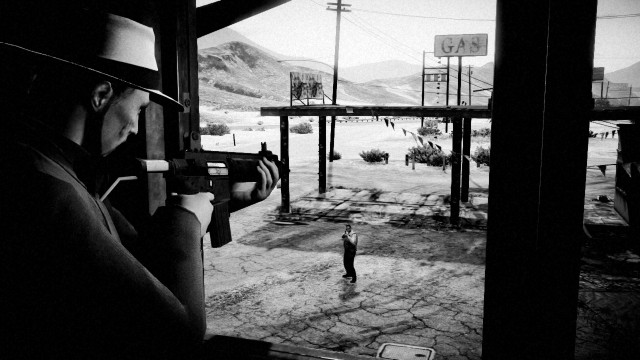 One of the Street Seals (DCSS) Crew's dramatic Snapmatic shots.
The Street Seals (DCSS) Crew Mouthed Off recently to let us know about their squad and latest escapades. Describing their Crew as "not your normal MC," DCSS has a 21 person cap and will move out any meandering Muscle in favor of new members who pledge to be loyal. In order to even get in, you have to be unanimously (!) voted in by all members. Their Snapmatic gallery features some damn cool shots - their re-creation of the legendary Abbey Road album cover is superb. Also check out their most recent video, set to the familiar pulse pounding sounds of HEALTH's "TEARS" from the Max Payne 3 Soundtrack.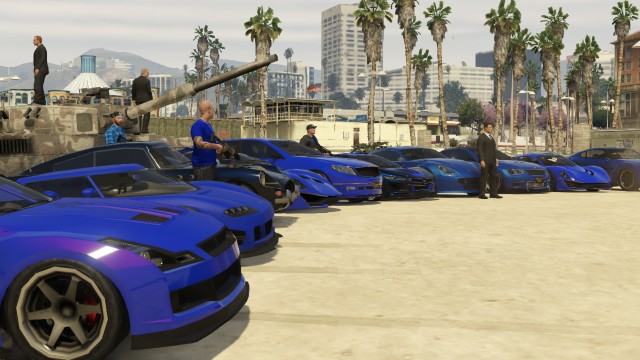 Côte d'Azur: The Domestic Battery (XDBX) Crew line 'em up in Crew blue for this group shot.
JustHatched
, Leader of the
Domestic Battery (XDBX) Crew
, hit us up to boast about the work of his relatively new squad on the scene. Just two months old, the XDBX are already 
80
  80
deep and have an
official forum
and a schedule of weekly events including meetups where they play each other's created Jobs and compete in
contests for bragging rights
(like the upcoming Crew Member of the Month designation).Anchor
CREWS ON FILM
The best Crew videos invariably feature a healthy mix of hardcore action and true camaraderie - and lately, the
GTA Genocide (GAGE) Crew
have been killing it with their hip-hop fueled vids. Their frantic debut production seen above features intentionally sped-up gameplay to hectic effect, tons of stunting and gun fire plus a menacing looking shot of members in their Crew colors brandishing RPGs - all set to the gritty sounds of Vinny Paz. You can catch more of their Crew antics in their
Day of Genocide
and
Crew Video #2
clips.
Meanwhile,
CAP PILLAS (BANG) Crew
Leader
HOT_KIMERA
is at it again... This time around, we see the group waging an epic battle against rivals the
FVCK A NAME GANG (FANG) Crew
. Though the feisty and fearless Leader claims they BANG'd FANG up, see the results for yourself in this fast-paced highlight clip:

Previously:
Sign in
To gain access to the Social Club you will need to sign in with a valid Social Club account.