Tear Up Liberty City and Rally Your Crew for Battle during our Social Club Multiplayer Event Weekend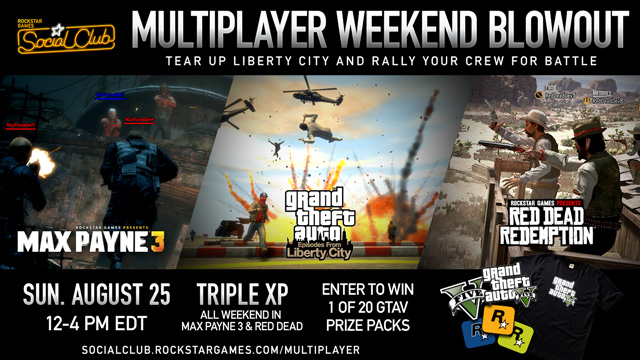 As we get ready for the very first Grand Theft Auto Online events coming this fall, now's the time to rally your Crew and brush up on your online target practice in the last Social Club Multiplayer Weekend before GTA Online's release. Join us on Sunday August 25th from 12-4PM ET for a day of gunslinging, shoot dodging and car chases as we battle unsavory, rival varmints in Red Dead Redemption, dose up and dress down for some Max Payne 3 Bullet Time action, and of course take it back to Liberty City's mean streets with GTAIV and Episodes from Liberty City.
For those of you looking for a bit of shelter from the storm of gunfire we'll also be playing some off-stream Table Tennis and Midnight Club Los Angeles throughout the afternoon. Triple XP will be in full effect for Red Dead and Max from Friday morning through Sunday evening – while the live stream will run from 12-4pm EDT / 4-8pm GMT on Sunday. To chat with us or just observe the action like a good voyeur, you can visit our Social Club or Twitch pages. 
Live Streaming Schedule:
12-1pm Grand Theft Auto IV
1-2pm Max Payne 3
2-3pm Episodes from Liberty City
3-4pm Red Dead Redemption
Prizing Details:
Aside from the pleasure of soaking up the triple XP and getting together with old friends and enemies, 20 randomly selected winners will receive a GTAV Logo Tee, GTAV stickers and some Rockstar logo stickers as you enter to win all weekend long on the Social Club. 
Bonus XP:
Triple XP will be live for Red Dead Redemption and Max Payne 3 from Friday morning August 23rd through Sunday evening August 25th.
Gamertags/IDs of Rockstar Players:
PlayRockstar (PS3 / Xbox 360 / Max Payne 3 on PC and Mac)
PlayRockstar2 (PS3 / Xbox 360)
PlayRockstarPC (GTAIV on PC)
Sign in
To gain access to the Social Club you will need to sign in with a valid Social Club account.