July 4th Multiplayer Weekend: Four Days of 3XP in Red Dead and Max Payne 3 Plus Sunday Live-Stream Play Session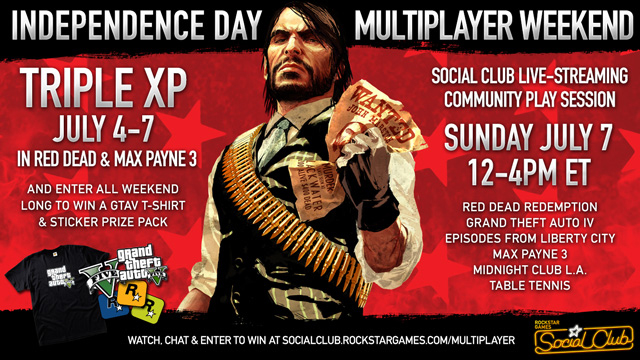 Update: Triple XP and Sunday's multiplayer event have ended. Thanks to everyone that joined in, whether in-game, to watch the stream and chat or just dropping by to enter the sweepstakes!
The times below show our live-streaming schedule, and you can expect us to also hop into some Table Tennis matches and Midnight Club races throughout the afternoon. Gather your
Crew
mates as Max Payne 3 leaderboards will be live with the Social Club Multiplayer Event playlist.
Live Streaming Schedule
12-1pm Red Dead Redemption
1-2pm Grand Theft Auto IV
2-3pm Max Payne 3
3-4pm Episodes from Liberty City
20 GTAV Prize Packs — Enter Thursday- Sunday!
If you're interested in winning a GTAV t-shirt and stickers, this weekend is your opportunity as 20 prize packs will be up for grabs. Enter anytime Thursday through Sunday for the opportunity to receive a 
GTAV Logo Tee
, plus some GTAV stickers and a package of various Rockstar logo stickers. To enter, visit the
Social Club multiplayer events page
and fill in your details under the "Sweepstakes Entry" tab. Be sure to click "Confirm". Winners will be randomly selected and contacted on Monday.
Gamertags and IDs to look out for during the afternoon:
PlayRockstar (PS3 / Xbox 360 / Max Payne 3 on PC and Mac)
PlayRockstar2 (PS3 / Xbox 360)
PlayRockstarPC (GTAIV on PC)
Sign in
To gain access to the Social Club you will need to sign in with a valid Social Club account.