Join Us April 13th for an Epic Rockstar Games Multiplayer Event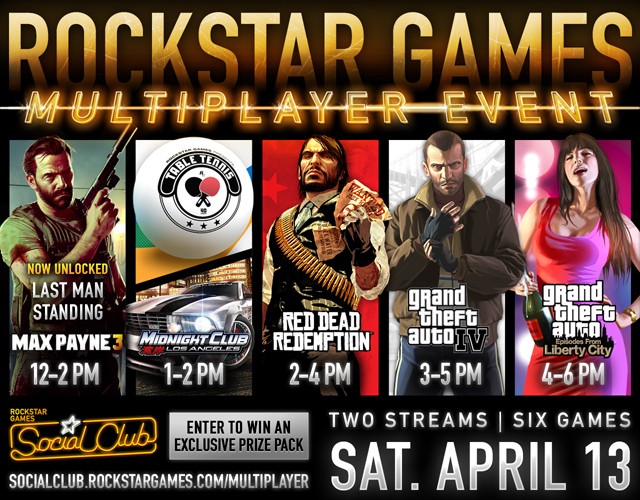 Update: This event has now concluded. Thanks to everyone who joined us.
For all those who've been asking about the next chance to throw down online with Rockstar, clear your schedule for this Saturday afternoon April 13th as we'll have six hours of non-stop Rockstar Games multiplayer action. Prepare for a blockbuster event beginning at noon EDT / 5pm BST playing ALL of our multiplayer titles from the past few years including Max Payne 3, Red Dead Redemption, Grand Theft Auto IV and Episodes from Liberty City and by fan request even a dose of Table Tennis and Midnight Club Los Angeles, so brush up on your ace top spin moves and polish up those customized hot rods. Plus we'll have Triple XP ticked on all weekend long in both Max Payne 3 and Red Dead Redemption.
In Max Payne 3 Multiplayer, you'll also notice updated selectable playlists as well as the permanent and free unlocking of two new multiplayer modes: Last Man Standing and Team Last Man Standing (available after the event in the playlist Last Stand). Some of you may remember getting a sneak peek at the modes many weeks ago during another multiplayer event, and now they're here to stay. Can you outlast the comp? Prove it starting this Saturday.
And what would a Social Club multiplayer extravaganza be without some rare and exclusive prizes? Three lucky sweeps winners will be randomly selected out of all the entries submitted all weekend long, and each will receive a package with the following gear...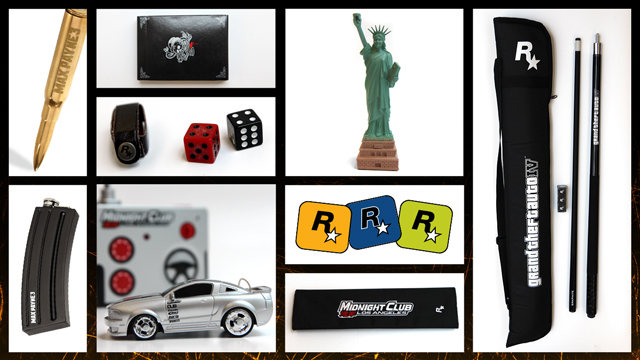 Winners will receive a rare Midnight Club remote control car and seat belt cover, a GTAIV pool cue set and collectible Statue of Happiness, Red Dead playing cards and dice, a Max Payne 3 Bullet Pen and Flask, plus assorted stickers.
Plus when you enter you'll also be in the running for 1 of 20 runner-up prize packs, each with a Max Payne 3 t-shirt, deck of Red Dead Redemption playing cards, a Grand Theft Auto V sticker, a Vice City Tenth Anniversary Edition t-shirt and Rockstar stickers. Enter all weekend, and good luck!
After you enter the sweepstakes, watch and chat about the action as it unfolds on the Social Club Multiplayer Event page and on our Twitch.tv channel.
Here's when we're playing:
Max Payne 3, 12-2pm EDT / 5-7pm BST
Midnight Club Los Angeles and Table Tennis, 1-2pm / 6-7pm
Red Dead Redemption, 2-4pm / 7-9pm
Grand Theft Auto IV, 3-5pm / 8-10pm
Episodes from Liberty City, 4-6pm / 9-11pm
Gamertags and IDs:
PlayRockstar (PS3 & Xbox 360)
PlayRockstar1 (PS3 Only)
PlayRockstar2 (Xbox 360 Only)
PlayRockstarPC (PC Only)
We always attempt to get everyone in for a few games, but please be patient and have fun playing with and against your friends while we're working our way toward your name. Let us know if you end up uploading any GTAIV event videos to Social Club TV, or if you're broadcasting your own game stream live online over the weekend, and we might include it in a future recap.
Sign in
To gain access to the Social Club you will need to sign in with a valid Social Club account.