GTAIV Social Club Multiplayer Event Saturday February 23rd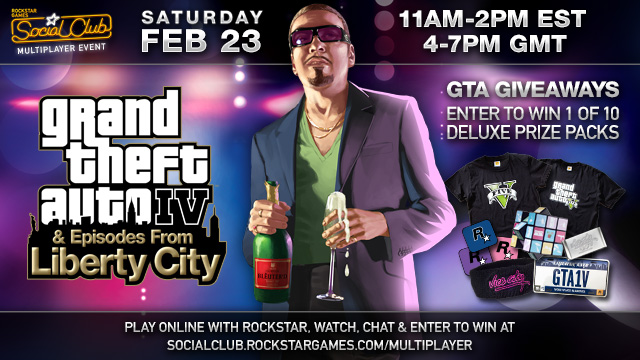 Update: The event has ended. Thanks to all the players, chatters and video stream viewers for joining in, and look for more opportunities to play with us in the future. Sweepstakes winners will be contacted within the next week.
On Saturday February 23rd we'll be hosting our scheduled GTAIV Multiplayer session as part of the Winter Calendar of events. It's time for residents of Liberty City to batten down the hatches as the Social Club community rolls into town for a session of street racing and all out mayhem in Grand Theft Auto IV multiplayer. Join us from 11am-2pm EST / 4pm-7pm GMT, to play along with our devs and watch the action unfold on the double live stream over at the Social Club Multiplayer Events page. We'll also have a giveaway to win one of 10 deluxe Grand Theft Auto Prize Packs, each including a pair of GTAV t-shirts, GTAIV license plate, and select gear from the Vice City 10th Anniversary Collection. We'll also host a bonus live chat and stream at twitch.tv/rockstargames.
We're kicking things off in original GTAIV multiplayer for the first hour, before moving on to The Lost and Damned and The Ballad of Gay Tony for the second and third hours, respectively. Feel free to add the dev accounts below to your friends list and we'll try to get in a round with as many of you as possible. However, do remember that we clear our friends lists right at the start of the event, so your best bet is to wait until then to add us.
ROCKSTAR DEV ACCOUNTS
PlayRockstar (PlayStation 3)
GwRockstar3 (Xbox 360)
PlayRockstar11 (PlayStation 3)
GwRockstar1 (PC)
We'll accept as many invites as we can during the event, but we do recommend playing with Social Club members to make sure you get in on the action. Getting in a game with a dev is not a guarantee, but it is something we absolutely attempt to do for as many people as we can when we host a multiplayer event.
ADDITIONAL DETAILS
Pay attention to the live chat on the Social Club Multiplayer Event page to find out which game modes we're playing. And again, we recommend waiting to add the dev accounts until the moment the event begins. As stated before, this is because we delete all old/offline friends and friend requests to make way for all of you that want to play with us.
If you have any additional questions, feel free to ask in the comments below, or you can drop us a line at mouthoff@rockstargames.com.
Sign in
To gain access to the Social Club you will need to sign in with a valid Social Club account.