Thursday's Doubleheader Social Club Multiplayer Event with Triple XP in Red Dead Redemption and Max Payne 3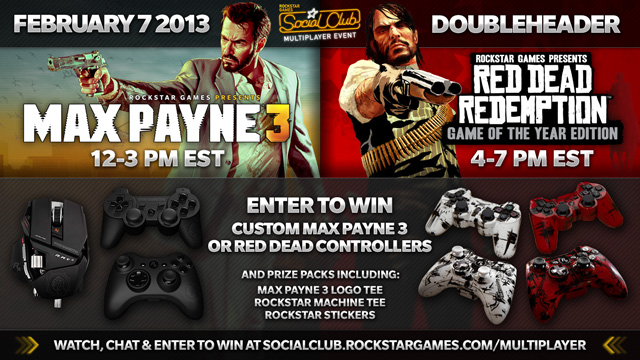 Update: Triple XP was live for both Max Payne 3 and Red Dead Redemption all weekend. Hope you guys enjoyed it. Thanks to everyone that joined in on the multiplayer events, including the group in the chat and watching the streams on Social Club, the other crowd on Twitch and all the players in-game.
Both events include our customary double live stream and Rockstar-hosted live chat over at the 
Social Club Multiplayer Events page
, as well as a sweepstakes where one lucky winner per event will win a pair of custom controllers, or in the case of Max Payne 3 they'll have the option of emblazoning a Crew Emblem and Gamertag/ID on the prize controllers or PC mouse. We're also including the
Rockstar Machine tee
,
Max Payne 3 Logo Tee
and stickers.
There will also be Triple XP for both games active throughout the events and right through until the end of the weekend.
Max Payne 3 @ 12pm-3pm EST / 5-8pm GMT:
MaxPayneDev1 (Xbox 360)
MaxPayneDev2 (PS3)
MaxPayneDev1 (PC on Twitch)
MaxPayneDev2 (Xbox 360)
Red Dead Redemption @ 4-7pm EST / 9pm-midnight GMT:
RedDeadDev2 (Xbox 360)
RedDeadDev1 (PS3)
RedDeadDev3 (Xbox 360 on Twitch)
RedDeadDev3 (PS3)
COUNTDOWN
If you're unsure of when the events will begin in your timezone, have a look at the countdown on the Social Club mutliplayer events page.
HOW TO FIND US IN MAX PAYNE 3
Enter multiplayer and select the Social Club Multiplayer Event playlist. We'll play a mix of Soft Lock and Free Aim so look for the names listed above.
HOW TO FIND US IN RED DEAD
When the first event starts up Thursday, enter Normal difficulty multiplayer. This places you into a public Free Roam lobby. You should be able to run into a Rockstar player this way, but if you want you can send a friend request to one of the above IDs. Their lists might be full as most services only allow a max of 100 friend requests. We recommend partying up and playing with other Social Club members until the point when you're able to join us.
FUTURE PLAYSESSIONS
Sign in
To gain access to the Social Club you will need to sign in with a valid Social Club account.