GTAIV Social Club Multiplayer Event Including Double Live Stream and Prize Packs (January 25th, 11am-2pm EST)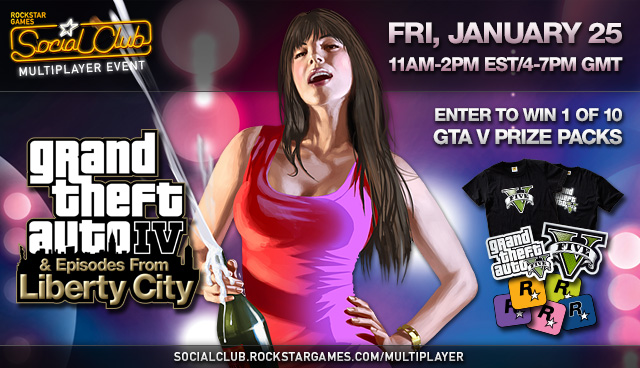 Update: The multiplayer event has ended. Thanks to everyone that joined us. Get ready for our next Social Club multiplayer event happening Thursday Feb 7th. Check the Winter Calendar for info and stay tuned for more details as we get closer to the date.
This Friday January 25th, 11am-2pm EST / 4-7pm GMT, our latest live-streaming Social Club Multiplayer Event invades Liberty City for three hours of melees, mayhem, and mischief in Grand Theft Auto IV. Come look for our dev players in-game on PC, PS3 and Xbox 360, or tune in to our double live-stream on the Social Club Multiplayer Events page. There you'll also find our Rockstar-hosted Social Club chat and the chance to win one of ten GTAV prize packs, each including the GTAV Logo Tee, GTAV Tee, and GTAV and Rockstar logo stickers, in our giveaway.
We'll play a mix of original GTAIV modes, as well as The Lost and Damned and The Ballad of Gay Tony multiplayer modes, and you don't need to own the Complete Edition to play in the event - you can join us whenever we're playing a mode that you have. Our devs will clear their friends lists beforehand, and you can enter the giveaway on this page under the Sweepstakes Entry tab.
Two of our devs will be streaming their GTAIV gameplay live on the Social Club Multiplayer Event page with a live chat, and a third video stream will run on our Rockstar Twitch page with a second hosted chatroom.
ROCKSTAR DEV ACCOUNTS
PlayRockstar11 (PSN)
GwRockstar3 (Xbox LIVE)
GwRockstar1 (PC & streamed on our Twitch TV channel)
PlayRockstar12 (PSN)
We'll accept as many invites as we can during the event, but we do recommend playing with Social Club members to make sure you get in on the action. Getting in a game with a dev is not a guarantee, but it is something we absolutely attempt to do for as many people as we can when we host a multiplayer event.

FINDING US IN-GAME
Want to know which multiplayer mode our devs are about to play? Pay attention to the live chat on the Social Club Multiplayer Event page. We'll begin in Grand Theft Auto IV in GTA Race, and later progress to The Lost and Damned in the second hour and The Ballad of Gay Tony in the final hour. Use the in-game cellphone to select the mode we're playing during the event.

NEED A PARTNER?
For team-based modes such as Team Deathmatch, gather your friends using Party Mode. You can also hit up the chat during the event or just post your PSN ID/Gamertag in the Comments section below.

ABOUT PARTY MODE
Party Mode is an easy way to get your group together and find matches.  Here are the three quick and easy steps to get you up and running:
In single player, open the in-game mobile phone by pressing "Up" on the d-pad. Select Multiplayer > Party Mode > Yes.
Next, open up your phone again and select the Friends option to invite at least one person into your Party Mode game.
Once your team is ready to roll, open up the in-game phone again and select Games > GTA Race.
Previously:
Recapping the November Social Club Multiplayer Events with Fan Videos & More
Recap from our September Max Payne 3 and GTAIV Social Club Events
Recap from the GTAIV & Max Payne 3 Doubleheader Multiplayer Event (August 30)
Sign in
To gain access to the Social Club you will need to sign in with a valid Social Club account.