GTAIV + Episodes from Liberty City PC/PS3/360 Multiplayer Event Thursday November 29th (4-7pm EST)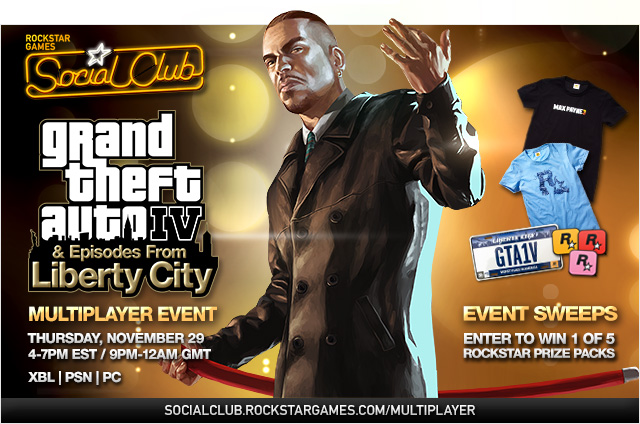 Update: The event had ended. Thanks to everyone that joined in to watch, play, chat and to enter to win prizes.
Play Grand Theft Auto IV multiplayer, enter to win cool prizes, watch Rockstar play the game and chat with other Social Club members Thursday November 29th from 4-7pm EST / 9pm-12am GMT. We'll be playing both GTAIV and Episodes from Liberty City on PC, PS3 and Xbox 360, switching to The Lost and Damned for the middle hour and finishing with The Ballad of Gay Tony for the finale.
Five nifty prize packs will be given away. Each one includes a Rockstar Machine Tee, GTAIV license plate, a bonus Max Payne 3 t-shirt and a bunch of stickers. All you need to do to enter is give us some information so we know, should you win, where to send the package. All the details stay with us. We don't give them out to anyone that's going to spam you with emails or whatever.
If you want to go in fully prepped and ready to go, we recommend doing the following:
Head in-game before things begin Thursday to prepare your multiplayer avatar's look. Gotta look sharp for the video streams on the Social Club multiplayer event page and Twitch.
Be sure to hit up your friends ahead of time so you can get together in Party Mode to strategize for Team Deathmatch. Rallying points, places to avoid, body armor spots, etc.
Take a few practice runs at the tracks in GTA Race so you're solid on the shortcuts and weapon pickups.
Enter a few Deathmatch games to warm up on your shooting and aiming skills. Quick, efficient kills.
And most importantly, be sure you've got the discs nearby and the games and patches installed. Game installation is optional on 360.
ROCKSTAR DEV ACCOUNTS
GwRockstar3 (Xbox LIVE)
PlayRockstar (PSN)
GwRockstar1 (PC & streamed on our Twitch TV channel)
GwRockstar4 (Xbox LIVE)
GwRockstar2 (PC)
Only add one of our devs to your friends list to play. We will clear each account's friend list at the start of the event and accept as many invites as we can. We recommend playing with Social Club members, as getting in a game with a dev is not a guarantee. It is, though, something we attempt to do for everyone each time we host a multiplayer event.

FINDING US IN-GAME
Pay attention to the live chat on the Social Club multiplayer event page. We'll announce where we're at in there. We'll begin in Grand Theft Auto IV in GTA Race, and later progress to The Lost and Damned in the second hour and The Ballad of Gay Tony in the final hour. Use the in-game cellphone to select the mode we're playing during the event.

NEED A PARTNER?
For team-based modes such as Team Deathmatch, gather your friends using Party Mode. You can also hit up the chat during the event or just post your PSN ID/Gamertag in the Comments section below.

ABOUT PARTY MODE
Party Mode is an easy way to get your group together and find matches.  Here are the three quick and easy steps to get you up and running:
Save your current game. To get started, fire up the in-game mobile phone by pressing "Up" on the d-pad. Select Multiplayer > Party Mode > Yes.
Next, open up your phone again and select the Friends option to invite at least one person into your Party Mode game.
Once your team is ready to roll, open up the in-game phone again and select Games > GTA Race.
Sign in
To gain access to the Social Club you will need to sign in with a valid Social Club account.