Rockstar Warehouse Black Friday Sale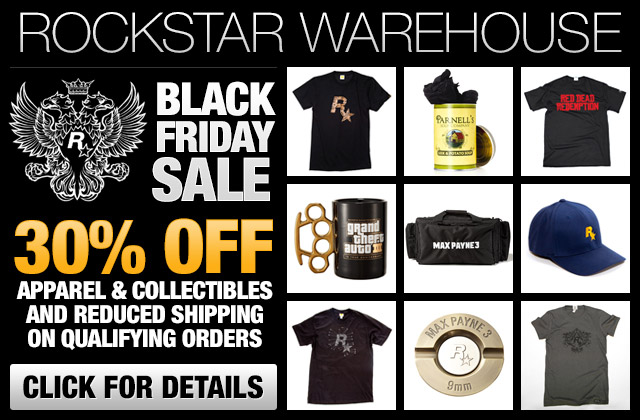 This coming Black Friday through Cyber Monday, November 23rd through 26th, the Rockstar Warehouse will be offering a huge sale for fans worldwide to pick up all apparel, gear and collectibles for 30% off. To boot, we're also offering reduced international shipping with orders over $50. So this is a chance to score that coveted GTAIII Knuckleduster Mug, Max Payne 3 Gun Bag, Rockstar wardrobe or Soundtrack CD collection at a pretty sick discount whether for yourself or as a holiday gift. And considering most Black Friday sales involve depriving oneself of sleep to stand outside waiting for stores to open at 4am and getting elbowed in the aisles by violent and desperate competitive shoppers, this is a pretty enticing deal.
Sign in
To gain access to the Social Club you will need to sign in with a valid Social Club account.