Crew Cut: Season's Beatings
Posted: December 31, 2012 12:46PM | Author: R* M
As Old Man Winter tightens his icy grip outside, Social Club Crews have continued to keep warm with regular southbound trips to the hot and hazy multiplayer grottos of São Paulo in Max Multiplayer. To celebrate the season and in the spirit of giving, we've hooked up all members of Social Club with a little stocking stuffer in the form of the awesome new Human Skull, accessible via the Head Items section of your Loadouts. After this past Saturday's Max Payne 3 Social Club Multiplayer Event, we also introduced Event-specific Crew leaderboards for the very first time on the Social Club Multiplayer Events page, alongside our usual individual Player leaderboards. The chance to unlock another skull, the fearsome Wedding Skull, by placing in the top 10 private Crews brought the best of Social Club Crews out in force, with everyone allowed to join in all the games. We'll have more chances to unlock these skulls coming in January. This week on the Crew Cut we take a look at who the winning Crews were in our second Social Club Winter Calendar Event, and which squads are catching our eye for the very first time with performances that left their opponents strung up like fairy lights. We've also rounded up some fine and festive seasonal Crew Emblems we found further below.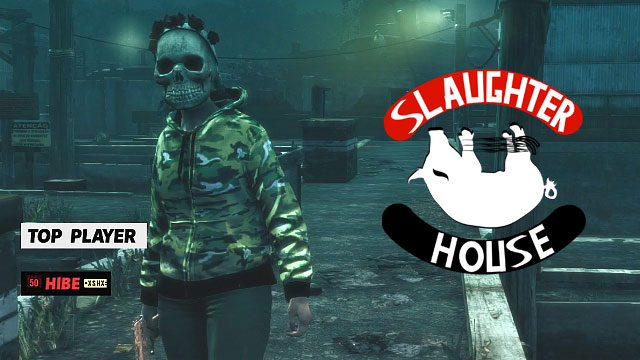 Makavell from Slaughterhouse sent in this pic of him preparing for his nuptials. Ah, romance.
DEATH AND MARRIAGE
With the awesome Wedding Skull to fight for, Crews were repping hard to cement their place at the top of the leaderboards. The Ice Cold Assassins Crew impressively snuck into the top 10 private PS3 Crews with just five members. This came as no surprise after the plucky Free Aimers proved themselves admirably in a recent bout against the Rockstar Dev Crew, showing us the speed and accuracy with which they maintain their 90% Feud win percentage. However the most astonishing performance in the entire event was by two-man Crew Black Shadow. This deadly duo worked harder than Saint Nick on Christmas Eve to finish 10th overall on the PC Crew Event leaderboards; respect to leader BermsBertDualShk for also finishing eighth on the PC Player leaderboards.
Black Shadow are just one of a host of Crews who have not yet received the recognition that they clearly deserve here in the Crew Cut report. Two more Crews that have never been featured are Kung Foo Fighters and Dixie Gaming League, coming in 8th and 9th respectively on the Xbox leaderboards during the event. Kung Foo Fighters Crew recently snuck into the top 20 of all Xbox Crews worldwide, and are making a play for the big dogs. Meanwhile the Dixie Gaming League's vocal leader, MONSTRO1988, shouts out his "heritage, not hatred" Crew faithfully here in comments on the Newswire. Monstro is a professed Loadout connoisseur and strong opponent to the current trend towards dual-wielding amongst Max Payne 3 players. The tactic seems to be effective as Monstro himself placed 9th on the individual leaderboards. Solid work, there.
Three more Crews new to this column caught our eye during the event. Fight Fire With Fire made it to 70th place on the Xbox leaderboards with just three members. Having recently added a fourth, their future appears to be bright. The ironically named Peacekeepers Crews were anything but during the event as they made it into the top 10 private Crews on PC. A full 40,000 XP ahead of the Russian Bears Team, Peacekeepers have just 102 members, so if you're a PC player looking for a Crew to join up with so you can rock the Wedding Skull, these might be your guys. The Order of the Dragon pushed to 7th on the PC boards, and we're big fans of the competitive-but-attitude evident in the feed of their Crew's profile page: "Any Crews looking for a challenge, or a display of good sportsmanship, you are welcome to join us." Quite refreshing to see a Crew showing goodwill to all.

TIS THE SEASON
With Christmas just around the corner, we're pleased to see a few Crews getting in the spirit already with well-placed Santa hats giving a festive feel to some classic Social Club emblems. The YRA and S-13 Brasil are committed not only in their Emblem Editor practice but in their Social Club Events performances as well, with both of them earning their right to sport the Wedding Skulls over the Holiday Season. The YRA Crew's British Bulldog can show off his new mustache proudly after they finished top of the PS3 private Crews during the Event. Meanwhile, the S-13Brasil Crew's emblem cries reddened tears for the fallen, but the 2,465 Kills they racked up during the event proves every word of their cerebral motto: "Nenhum obstaculo e tao grande se sua vontade de vencer for maior" ("No obstacle is too great, if the desire to win is greater").
We leave you this week with an awesome rendition of the GTAV "Beach Weather" girl by ErnestoRock2 given a suitable Christmas twist by Sweeeet55 for Consumer Products Crew. Not only do they have a sweet emblem, but as the only Crew on Xbox to beat the 121,000 strong hordes of the Payne Killers Crew members, Consumer Products were top of the tree on the Xbox Event leaderboards. With well over 4,100 Feuds won, it should come as no surprise. Sons of GTA didn't make it onto any of the Event leaderboards, but we must give respect for the holiday-themed version of their emblem featuring the men of GTAs past. You'll have to make room for three more in there next year, lads!
Previous Editions of the Crew Cut:
Leave us a comment
Commenting is open to all registered Social Club members - general rules of common courtesy, decency and behavior apply. Check out our full terms of service here but especially mind these important golden rules:
1. Anyone posting links to or discussing supposed "leaks" about our games here on our own site will have their commenting privileges suspended indefinitely.
2. ALWAYS comment on-topic, your comment should be specifically relevant to the game and news item in the post itself.
3. Do not spam comments – this includes promoting your own site or YouTube channel etc.
4. Refrain from posting game story spoilers and keep your comment strictly on topic to this story - spoilers and off-topic comments will be deleted.
5. The comments section is intended as a place for our Social Club community to comment on and discuss the news and content posted with each other; it is not a place to demand official responses from Rockstar. If you want our attention on something or if you have something unrelated you'd like to say, email us at mouthoff@rockstargames.com.

Thank you everyone for your understanding and cooperation. Note that your email address will not be displayed, only your registered Social Club Nickname (or User ID # if you have not chosen a Nickname yet). Not a Rockstar Games Social Club member? Register your account here.
Register with Social Club...
To gain access to the Social Club you will need to sign in with a valid Social Club account. Don't have a Social Club Account? Click sign up below to create one.
or Sign in.