Join Our Max Payne 3 Social Club Multiplayer Event this Saturday with TRIPLE XP All Weekend
Posted: December 13, 2012 3:51PM | Author: R* K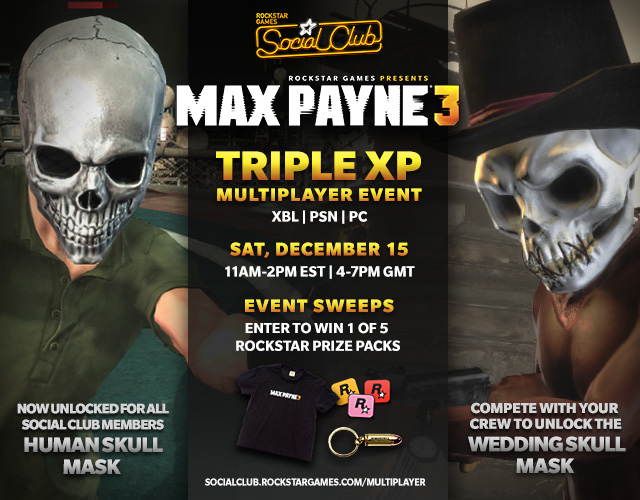 Update: The multiplayer event has now concluded but Triple XP will be active all weekend long. Thanks to everyone who joined us.
By popular demand, the first Max Payne 3 Social Club Multiplayer Event of our Winter Calendar is a weekend affair - taking place this Saturday, December 15th from 11am to 2pm EST (4-7pm GMT). So put any holiday shopping plans on hold for a few hours weekend warriors and pick up those dual M10s to battle it out in our live-streamed event along with other members of the Rockstar Games community.
You'll also get to bask in the warm glow of
TRIPLE XP
all weekend long - and as a special bonus we're unlocking the fearsome
Human Skull
mask for all
Social Club
members. Now your opponents will have to face the Grim Reaper dead in the eye as you attempt to put them six feet under. As long as your platform ID is linked to your Social Club account, you'll find this awesome new skull is already unlocked in the Head Items section of your Multiplayer Loadout.
Also, rally the troops from your favorite user-made Crew for this event, as we're rolling out new Crew leaderboards and unlocking the Wedding Skull mask for the top 10 user-made Crews on each platform. Please take note that this only applies to user-made Crews, so active members of top public Rockstar Crews like the Payne Killers and Read Dead Rustlers will not receive the Wedding Skull. Crew leaderboards and Wedding Skull masks will go live at noon ET on Monday, December 17th and once we release the skulls they will only be available in your Loadout when you're actively repping that top 10 Crew.
During the event our team of Rockstar Dev players will be live-streamed on the
Social Club Multiplayer Events page
alongside our official hosted chat and sweepstakes - where you can enter to win one of five Rockstar prize packs. As with all of our Max Payne 3 events we will be posting player leaderboards after the event so you can see how you measure up against your rivals. Also, don't forget to check out our third bonus stream on the
twitch.tv/rockstargames
page, where we also host weekly impromptu playsessions and our ongoing series of Dev vs Crew challenges.
The full event details, including who to look for and how to participate are laid out below:
OFFICIAL ROCKSTAR IDs
Participating official in-game Rockstar names will be:
MaxPayneDev1 (Xbox 360)
MaxPayneDev2 (PS3)
MaxPayneDev3 (Xbox 360)
MaxPayneDev1 (PC)
SWEEPSTAKES
Enter to win a Max Payne 3 prize pack on the events page, including a Max Payne 3 t-shirt, bullet keychain and stickers. Five winners will be randomly selected. Official rules can be found here.
COUNTDOWN
If you're unsure of when the event will begin in your time zone, have a look at the countdown on the Social Club multiplayer events page.
HOW TO FIND US
When the event starts up on Friday, enter Max Payne 3 multiplayer and select the Social Club Multiplayer Event playlist. We'll play a mix of Soft Lock and Free Aim, so look for the names listed above. We receive many requests from players who wish to play with our Devs, and we do our best to accommodate them all. During the event, our Devs will jump in and out of different lobbies to get a game with as many different fans as we can. If you can't get in a game with our Devs immediately don't forget to remain patient and make sure you get out there and represent for yourself and for your Crew.
FUTURE PLAYSESSIONS
If you want more time to play our games with us, your best bet is to follow us at our official Facebook, Twitter, Google+ and Steam pages so you can get the word when we're going online for some impromptu multiplayer.
Leave us a comment
Commenting is open to all registered Social Club members - general rules of common courtesy, decency and behavior apply. Check out our full terms of service here but especially mind these important golden rules:
1. Anyone posting links to or discussing supposed "leaks" about our games here on our own site will have their commenting privileges suspended indefinitely.
2. ALWAYS comment on-topic, your comment should be specifically relevant to the game and news item in the post itself.
3. Do not spam comments – this includes promoting your own site or YouTube channel etc.
4. Refrain from posting game story spoilers and keep your comment strictly on topic to this story - spoilers and off-topic comments will be deleted.
5. The comments section is intended as a place for our Social Club community to comment on and discuss the news and content posted with each other; it is not a place to demand official responses from Rockstar. If you want our attention on something or if you have something unrelated you'd like to say, email us at mouthoff@rockstargames.com.

Thank you everyone for your understanding and cooperation. Note that your email address will not be displayed, only your registered Social Club Nickname (or User ID # if you have not chosen a Nickname yet). Not a Rockstar Games Social Club member? Register your account here.
Register with Social Club...
To gain access to the Social Club you will need to sign in with a valid Social Club account. Don't have a Social Club Account? Click sign up below to create one.
or Sign in.