Details for the Red Dead Redemption Multiplayer Event with TRIPLE XP (December 7th, 4-7pm EST)
Posted: December 06, 2012 2:30PM | Author: R* Y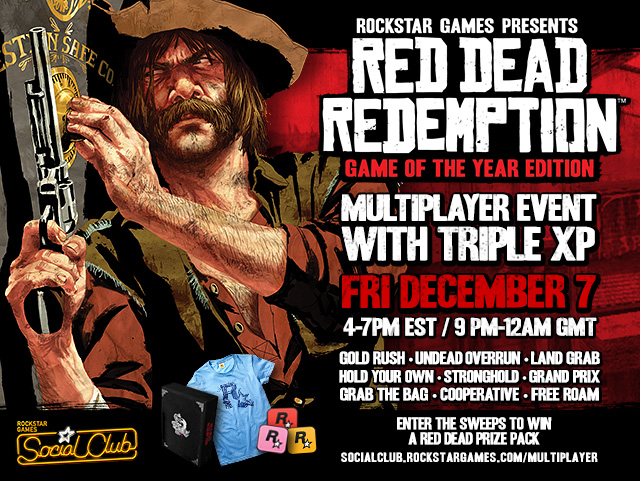 Update: The event has ended, but Triple XP is on all weekend long. Enjoy!
We're kicking off our winter slate of Social Club Multiplayer Events Friday December 7th with a Red Dead Redemption Triple XP throwdown across both platforms. Join us in Free Roam on the Red Dead multiplayer frontier at 4pm EST / 9pm GMT with your favorite mount as we'll be playing through all of the game's mutliplayer modes including a few rounds of Undead Overrun from the Undead Nightmare expansion. We'll be online until 7pm EST / 12am GMT, but the Triple XP will be live all weekend long, even after the event comes to its conclusion.
We're streaming three of our four official dev players during the event - with two live video streams and chat hosted at the
Social Club Multiplayer Events page
, where you can also enter for a chance to win one of five Rockstar prize packs that include a
Rockstar t-shirt
, a deck of Red Dead playing cards and some assorted stickers (entry period begins at midnight EST on the Events page and lasts throughout the day). Our third dev player will be streaming on
our TwitchTV page
, which also includes a Rockstar-hosted chat.
OFFICIAL ROCKSTAR IDs
RedDeadDev3 (Xbox 360)
RedDeadDev4 (PS3)
RedDeadDev5 (Xbox 360 on Twitch)
RedDeadDev6 (PS3)
HOW TO FIND US
We'll invite some players during the event, but please keep in mind that we might not necessarily be able to get you in right at the beginning. Lot of players often attempt to send over friend requests and messages simultaneously, and we try to give priority to those asking in a respectful manner via chat or in comments... please don't spam!
To get started, select Multiplayer from the main menu, and choose Normal from the list of difficulties. We'll hop into some Hardcore matches during the day for sure, but we generally like to get started with Normal difficulty.
ADDITIONAL TIPS
Want to earn Triple XP, and fast? First lead your posse to Warthington's Ranch, then head to Pike's Basin, a Gang Hideout between Armadillo and MacFarlane's Ranch. Have a look at the in-game map, as both locations are marked in big letters. We recommend doing this with three or more players in a posse. Twin Rocks is another possibility, located northwest of Armadillo, but it doesn't reward as much XP as Pike's Basin does.
If you're having issues finding us or getting an invite, watch one of the video streams. Take note of the mode we're playing, and you might be able to join us by selecting that same mode in your game.
Submit your Gamertag or ID once in the comments section for this article about an hour before the multiplayer event begins. Let us know whether you're on PS3 or Xbox 360, and we'll be able to get you on our list and invited to the next available game.
Feel free to drop your own tips in the comments below in advance of Friday's festivities...
Previously:
Recap, Video & Screens from the Red Dead Redemption Social Club Multiplayer Event on September 13
Recapping the July 27th Red Dead Redemption PSN Social Club Multiplayer Event
Red Dead Redemption PSN Social Club Multiplayer Event Recap Featuring Contest Winners and Fan Videos
Leave us a comment
Commenting is open to all registered Social Club members - general rules of common courtesy, decency and behavior apply. Check out our full terms of service here but especially mind these important golden rules:
1. Anyone posting links to or discussing supposed "leaks" about our games here on our own site will have their commenting privileges suspended indefinitely.
2. ALWAYS comment on-topic, your comment should be specifically relevant to the game and news item in the post itself.
3. Do not spam comments – this includes promoting your own site or YouTube channel etc.
4. Refrain from posting game story spoilers and keep your comment strictly on topic to this story - spoilers and off-topic comments will be deleted.
5. The comments section is intended as a place for our Social Club community to comment on and discuss the news and content posted with each other; it is not a place to demand official responses from Rockstar. If you want our attention on something or if you have something unrelated you'd like to say, email us at mouthoff@rockstargames.com.

Thank you everyone for your understanding and cooperation. Note that your email address will not be displayed, only your registered Social Club Nickname (or User ID # if you have not chosen a Nickname yet). Not a Rockstar Games Social Club member? Register your account here.
Register with Social Club...
To gain access to the Social Club you will need to sign in with a valid Social Club account. Don't have a Social Club Account? Click sign up below to create one.
or Sign in.